Google and Facebook vet returns to Microsoft to work on Teams for consumers
Amit Fulay returned to Microsoft to work on the consumer version of Microsoft Teams.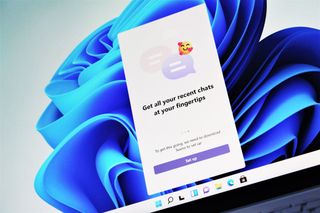 (Image credit: Windows Central)
What you need to know
Microsoft hired Amit Fulay, a former product lead at Facebook and Google.
Fulay will work on Microsoft Teams for Life, the consumer version of Microsoft Teams.
Fulay started his career at Microsoft in 2007.
Microsoft hired former Facebook and Google product leader Amit Fulay this week, according to a report by Geekwire. Fulay will work on the consumer version of Microsoft Teams, known internally as Teams for Life. He will report to Manik Gupta, who recently joined Microsoft as a corporate vice president over Teams Consumer, Skype, and GroupMe. Fulay's LinkedIn profile (opens in new tab) states that he began his role in September 2021.
Microsoft's recent job listing (opens in new tab) for senior program manager on the Teams for Life group sheds light on what Fulay will likely do for the company, though it's important to note that Fulay's LinkedIn profile states he is vice president of product, not senior program manager:
Microsoft is clearly pushing the consumer version of Teams. The new Chat app in Windows 11 is powered by Teams.
An internal memo seen by Geekwire announced the hiring of Gupta. It says that Fulay "will be invaluable for us to build a world-class [Teams for Life] product and turbocharge our consumer-oriented thinking across all of Microsoft."
This is a return to Microsoft for Fulay, who started his career with the company in 2007. Fulay also has experience working at the same company as Gupta, as both worked at Google.
News Writer and apps editor
Sean Endicott brings nearly a decade of experience covering Microsoft and Windows news to Windows Central. He joined our team in 2017 as an app reviewer and now heads up our day-to-day news coverage. If you have a news tip or an app to review, hit him up at sean.endicott@futurenet.com (opens in new tab).
*snaps fingers* Duh, that is what Teams is missing to be a compelling consumer option: a relentless tracking of your online activity!

Yeah, the companies he worked for were built on that (online tracking, data collection, and circumventing privacy - or pretending like it doesn't exist) and that DNA definitely lurks, I would imagine. Hope he can transcend it.

It's the damn branding.... 🤦‍♂️... "Teams for life" ... that's THE most tone deaf product name for a consumer chat application. When we speak about teams in general terms - we generally talk about collaboration with individuals who are not 1)in your family unit 2)social circle. The only exception is a sporting or group focused activity with friends and family. Given that due to the pandemic most people have used Teams as work producitivity tool. The last thing anyone wants is to use a product that reminds them of work. So yeah, "Teams for life" is the most tone deaf product name ever 🤦‍♂️🤦‍♂️🤦‍♂️🤦‍♂️🤦‍♂️. They should just take Groupme and incorporate the best of Teams into that.

Well, the branding and the fact the TEAMS for Life (aka Consumer TEAMS) doesn't actually do any more than existing chat apps. It could. I keep noting that there are things I could use some of the features of 'commercial' TEAMS for. A Scout troop could establish a "TEAM" that supports chat, and a shared calendar and document repository for permission slips, outing announcement flyers, merit badge resources, etc. Same thing for a youth sports league. I have a little hope with a Googler coming in. I have always had the impression that many features added to Android happen because some engineer had a great idea for something he wished something did. Don't know if this guy will have this level of insight, or be in a position to implement anything, but there isn't anyone at MS doing it.

@SvenJ ha, don't get me started. Axing the mobile division is sure paying dividends right? /sarcasm. Rooms on Wp8.x had alot more of the functionality as Teams does. It also used the windows live messenger back end. That's all I'll say about that. In terms of branding, I would love to see a resurgence of the Windows live messenger. But that won't happen. Skype as a brand is a not even a husk of its former self. That was a waste of 9 Billion Dollars. I've lost track how many times Microsoft has played jenga with basic features with Skype. The most notable, is the presence controls. Instead of improving it they made telemetry based decisions and made it worse. Then they had to back track. I mention this as it impacts the overall brand image. Now, all that's left is GroupMe which has organically grown in many places. So, naturally adding the functionality of rooms would be best. But Microsoft always knee jerks and they will probably go too heavy and ruin GroupMe too.

Agree about the "Teams" branding and it's unfortunate work-related overtones. It sounds like some corporate execs idea of capitalizing on the positive Teams brand name while distancing from Skype's negative public image. But it's not a name consumers will identify with. Simply "Microsoft Chat" would be a far better IMO.

Hmm, "Microsoft Chat", yup that's a much better name.

Great idea! "Microsoft Chat" sounds very family/friends friendly. I like it 👏🏻

I agree 100%, they are trying to get us to use Teams at work, we have a 4 week trial and this is the end of week three and so far it is not doing so well, I don't want to use Teams at work, so why would I want to use it at home? I don't use Whats App either, I do use Facebook Messenger if I really have to, but that is once in a blue moon. I do use discord, for group chat, but for friends and family I use SMS, it does the job.
MS have come too late into the field and while companies may use it, I think MS will struggle to make a impact into the consumer market.

I have a sneaking suspicion that opinion is really not shared by your colleagues. If it was you would have given some anecdotal examples to bolster your comment lol. Also if you had concrete examples of what was wrong with teams you would have mentioned them too. So, why is it the Teams trial in the org you work with "not going well"?

My opinion is shared by those I have asked, they seem to think the same as me in that it is not needed or required and why it is not going too well is because after 3 weeks, less than half a dozen people are using it out of around 250. Teams is ok for what it is supposed to be used for, which is for people working off site, but not for people in the same building, it don't make sense. Why would I want to use teams to chat to someone who is only a few yards away from me?

I have some suspicions that your company may not be the kind of company they are targeting. Not a dig. You mention, "why would you send something in teams when they are yards away?" Even before C19 many of my colleagues were in different locations, either remote workers or abroad. These days we have adopted hybrid working and most staff are in one or two days tops, so the ability to communicate efficiently is key. For us teams is an indispensable tool.

This is what I have been trying to tell our managers and I even went on Yammer to explain why people are not using it, and that is the first time I have ever posted anything in Yammer, and we have had Yammer now for 5 years, or more. I can understand teams for say the ones who do go off site, those who do deliveries and that sort of thing, but not for the majority of us.
I work in a warehouse in a large store, so we are not office based, we are moving all the time and to be honest, I am not sure where they think we would have the time to even use Teams. If we stopped work to use it, I am sure that would be wrong. I certainly don't have time to use it, I unload and load up lorries and sorting out stock and if there is nothing to do in the warehouse then I put out stock.
I don't normally have my phone with me anyway, I tend to keep it in my locker. It seems other people there think the same way. I can understand where teams and other services like it fits in, but I sometimes feel
technology is used for the sake of it.

He has like 15 work days to make it perfect...

Most people will not be getting the upgrade pushed to them for about 6 months more. Only people who buy new pcs will have the preview version of temas for life as is. In 6 months I could see a big improvement to branding and functionality by the time it actually its the general population in aboit 6-10 months

Why not just keep improving on Skype? Seems like a waste of resources and poor management to me but what do I know.

Improving Skype? Hah, you joke.... they did try but instead they kept making things worse. Not to mention to shift from p2p took waaaay to long. Secondly, Microsoft seriously messed up mobile integration. Plus with no mobile division Skype never got the benefits of from people with actual experience in that space. Yes, that 9 billions was a waste. Axing the mobile division was a bigger waste - It's set back Microsoft decades. Now, the only thing they can do is use WoA and cshell. In terms of Skype, the damage is done. It's now a toxic brand in many places due to removal of basic features and their tone deaf responses when they reinstated them.

I think Microsoft's marketing team needs a shuffle. They don't know how peoples minds and the fact that certain names are associated with certain things? They tried making Skype a messages platform for god's sake. When you say Skype people think video chat. Just strengthen that. Instead they make huge shifts, things go bad, and they replace it. Now Teams for consumers still calling it Teams?
Windows Central Newsletter
Thank you for signing up to Windows Central. You will receive a verification email shortly.
There was a problem. Please refresh the page and try again.