Windows 11 ships with new 'Chat' app powered by Microsoft Teams
Teams is a core part of the Windows 11 experience.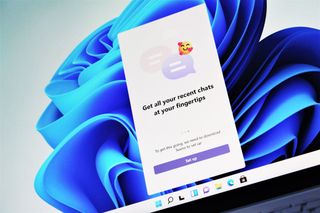 (Image credit: Windows Central)
What you need to know
Windows 11 includes new "Chat" client pinned to the Taskbar.
It's powered by Microsoft Teams for consumers, and replaces Skype as default in-box chat app.
It features quick access to recent chats, and lets you start text/voice calls in a few clicks.
Microsoft took the wraps off Windows 11 earlier today, and revealed some interesting changes and additions. One such addition is the inclusion of a new, preinstalled "Chat" app that the company says allows customers to connect with friends, family, and colleagues through Microsoft Teams.
Image 1 of 2
This new Chat client is powered by the consumer version of Microsoft Teams, and gives users the ability to quickly share text, images, documents, and start chat or video calls directly from the Taskbar. Microsoft says that because Teams is cross platform, this will allow you to reach anyone, anywhere, regardless of whether they're using a PC, Android, or iPhone.
The Chat UI features a "Meet Now" button at the top, which lets you create a video call and invite anyone without needing a Microsoft Account to join. It also supports texting via SMS to Android and iPhones too.
It appears that this new Chat experience replaces Skype as the built-in, de facto messaging client for Windows, as Skype is no longer preinstalled on Windows 11. The "meet now" feature on Windows 10 has been replaced with the Chat app, which is now pinned to the Taskbar by default.
What are your thoughts about Microsoft Teams being pinned to the Taskbar by default on Windows 11? Let us know in the comments. And be sure to check out the rest of our Windows 11 coverage at the link!
Windows Central Newsletter
Get the best of Windows Central in in your inbox, every day!
Zac Bowden is a Senior Editor at Windows Central. Bringing you exclusive coverage into the world of Windows on PCs, tablets, phones, and more. Also an avid collector of rare Microsoft prototype devices! Keep in touch on Twitter: @zacbowden.
Will they allow sms for one on one Chats? Like Skype used to?

Skype didn't use SMS for 1:1 and what would be the point when you just chat 1:1?

They did, in case your contacts didn't have a Skype account. There was a Toggle to switch between sending a message via Skype or sms using your Sim from your phone. Very similar to Apple messages app.

They did allow even if they had Skype account. Obviously it is useful when you don't have Internet but have cellular connection. I don't even get the question what would be the point. But I am happy to hear how is it any better when having something other than 1:1 as the question itself implies it is pointless only when 1:1.

When a contact DOESN'T have a Skype account, I could still at least message them from my pc using sms is the point. Instead of going to another app. 1:1 makes sense. Sometimes I don't need to message an entire group.

According by the presentation yes.,

I still wonder when people will be able to Teams for personal accounts. Tried setting up my family with it, but says they can't sign in with their Outlook.com Microsoft accounts.

I've been doing that for many months now actually. I'm in the US, though, so not sure if it's something not rolled out to everyone yet.

I put my family on it here in the US. But after a while we went back to Skype for personal chat (still used Teams for business use, in that realm, it's without peer). However, if Teams Personal is built into Windows Taskbar (like Skype was for a while via My People), that would be a reason for us to go back to using personal version of Teams.

I agree. the personal version lacks a lot of polish compared to the business counterpart. But what they showed off today regarding teams personal does seem like a very different version and implementation than currently available. Hoping for lots of improvements in that area with Windows 11. Maybe just maybe it can come to combat the likes of telegram... beating whatsapp is too much to ask... but it may be a good start to making it a more househould name.

Works with Outlook.com accounts here in the UK too. But no one else was on it so I've not used it since. WhatsApp is to entrenched.

I wonder when Microsoft and Zoom start playing together in the same sand box. It would be awesome...

Will be interesting to see how this all works. I have my private Microsoft account and my work account on my machine.
My assumption is I'll still need the teams Desktop app for the corporate environment while the chat app is linked to my private account.
Or, and that would be awesome, the chat app let's me switch accounts or even combines both...

In the Teams app, just click your account icon and you can add account. For now, the ONLY other account you can add is 1 personal account. This is the #1 or #2 User Voice complaint that you can't have more than 1 work account (consultants with more than 1 client need multiple work accounts), but you can have 1 work and 1 personal account active at a time.

Correct. This is for Skype Consumer not Microsoft 365 accounts. If you want to switch between accounts you'll need to use the Desktop app. As it's integrated into Windows though I'd probably keep them separate.

I believe the app will actually be installed by default to enable the personal teams chat button functionality...and you will just switch profiles as can be done today if you need to go to work. how that affects what the button shows... not sure. But I think the taskbar button will always be personal. work will require the desktop app to switch to work profile.... But the app should be preinstalled. Who knows though.

For a while, they were promising interactivity between Teams and Skype (never worked for me in my testing). That would have been better. Maybe they ran into technical problems there and decided to just try to get everyone to use Teams, but because it doesn't automatically set you in Teams just because you had a Skype account, this seems like a painful step that will kill Skype and surely not 100% of those users will make the move to Teams -- many will go with competing options. This seems poorly executed to me. On the positive side, I would say that Teams Personal is about the same as Skype for the basic features and for Chat it's even better than Skype, so for anyone who wants to use it casually, most of those users will be fine. Teams is missing some of the mature features of Skype, like the ability to pay for a calling plan and call direct to landlines or send SMS (you can do VoIP in Teams, but it's a way more complicated project to set that up and I think it's really just an enterprise feature, not available for the personal accounts). Also you can't turn off "Auto mic adjust" in Teams like you can in Skype.

Skype for Business and Teams not Skype and Teams. The former works, the later isn't supported. Skype and Skype for Business are two totally separate products/systems. Skype for Business was Lync which Microsoft just renamed.

Looks great but no one uses Teams Consumer so I'll likely uninstall it like I did the Skype powered Messages app. Your Phone already supports SMS.

That is the problem, no one uses teams consumer. Most people I know use WhatsApp, I don't use it myself, i just use SMS. I do use discord for a few people, but we changed from skype. The chance that we will go to teams is pretty slim. So teams on Windows 11 will be bloat for most people . I presume Ms is hoping, if teams is installed as default on Windows 11, people may start using it.

"replaces Skype as the built-in, de facto messaging client for Windows, as Skype is no longer preinstalled on Windows 11." Ouch. It's incredible how they took an app that essentially had a monopoly on the market when they got it, one so ingrained into our culture that its name was an eponym for video chat, to now being so tarnished that they are literally replacing it with their own in-house competitor (with, ironically, one of the most generic names possible).
Windows Central Newsletter
Thank you for signing up to Windows Central. You will receive a verification email shortly.
There was a problem. Please refresh the page and try again.