Google Assistant vs. Cortana: Which is better for you?
Google Assistant and Cortana are both great at the basics of being a smart assistant, but there are some differences when it comes to platform and home automation support.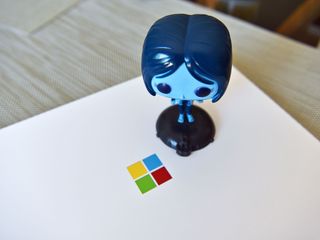 (Image credit: Windows Central)
If you're back and forth between Google's and Microsoft's ecosystems, one of the bigger sticking points can be the virtual assistant that each company offers. Yes, both will be able to tell you the weather, stock information, and help you navigate. But, the assistants differ when it comes to where they're supported, and accessories you can use with them.
Here's how Google Assistant and Cortana stack up.
Where are they supported?
Of course, it doesn't matter what Google and Microsoft include with Assistant and Cortana if they aren't available where you live. Google Assistant will be available in 52 countries by the end of 2018. Meanwhile, Cortana is available in 13 countries and seven languages (opens in new tab). Do note that the capabilities of each assistant will vary from region to region and language to language.
What platforms are they supported on?
The next trick to finding out which assistant is best for you is finding out what platforms each is supported on. Cortana is available on Windows 10, Xbox, iOS (opens in new tab) and Android (opens in new tab). Cortana is also built into the Harmon Kardon Invoke speaker. For even better integration, Android users can set Cortana as the default voice assistant.
Google Assistant is available on iOS (opens in new tab), Android, Android TV, Android Auto, Wear OS watches, Smart Displays, connected headphones and speakers, and the Google Pixelbook, though there is evidence to suggest it will come to other Chromebooks in the future. There's also evidence to suggest Google Assistant will be coming to the Xbox One.
More: Here's every device with Google Assistant built-in
What can you do with each one?
Both assistants are great for the basics of answering questions, completing web searches, setting reminders and checking the weather. Both assistants also work with smart appliances, including building your own IFTTT recipes. Google Assistant does have an advantage in this field by working with a lot more brands than Cortana does.
Which one is best?
Deciding which smart assistant is best for you comes down to the other services you use. If your main PC runs Windows, you use Microsoft services like OneNote and Office 365, and your Xbox is your main entertainment system, Cortana is going to be a better fit for you. Meanwhile, if you're mostly using Google services — even if you have a Windows PC or Xbox — Google Assistant is going to be better for you.
If you're completely neutral, Google Assistant will be the better choice because it's supported by more home automation vendors, more smart speaker vendors, and is available in more countries.
What say you?
So which assistant do you think is a better match for you? Let us know down below!
Windows Central Newsletter
Get the best of Windows Central in in your inbox, every day!
Google Assistant is miles ahead of Cortana

Miles ahead? You liar! It's on a totally different galaxy! I can't stop laughing! Hahaha!!! Cortana vs Google Assistant! Hahaha!!! Genius piece of comedy!! I'm gonna cry!! Can't stop laughing!! Hahaha!!!

I enjoy Bixby the way I did on WP8.1 when Cortana was just released.

As I slowly add more smart home elements, I can guarantee that Google Assistant will take over my main assistant at home once I have an Android phone. My wife already has an Android phone, although doesn't really use Assistant. I'm considering the BlackBerry Key2, which has that convenience key that changes depending on what profile you're on (home, work). I will probably use that to set Google Assistant to the button at home and run all my home automation through that. The remaining question will be whether I bother interacting with Cortana directly at work or not. I don't really need to. I just need it installed so I can do the behind-the-scenes stuff like pick up where you left off. Then the convenience key is free for the BlackBerry Hub or Outlook.

If you're adding more smart devices, definitely go Google. Once you get your Android phone it'll make even more sense. Cortana had potential years ago but she's fallen by the wayside.

The article didn't address privacy nor the quality of personal assistant / AI features.

If privacy is an issue, you wouldn't be using any of these services.

Nice try. But Cortana is an abandoned PoS.

Considering I have an Invoke and switched my phone to Cortana, I guess she wins by default. :p

If you had to switch to Cortana, she wasn't default, was she? :P

Like Windows Phone before her... Cortana is dead.

Have a package that shipped from Amazon yesterday, and noticed that Cortana did NOT pick it up. She used to do that. If Cortana is supposedly the AI queen, how come she can't see a simple email from Amazon anymore and auto track it or at least **offer** to track it for me with one of her annoying popups? Looks like another abandoned MS "effort". She probably only tracks packages sent to fortune 500 corporation addresses now. ;0) Thank you so much for all your abandonware Nadella! PS. This is on my LAPTOP! Not a phone!

BTW this sort of thing really makes me doubt "Andromeda" will ever see the light of day. By the time it gets here the OS will be stripped of all things "mobile".

"The OS will be striped of all things mobile"..... What does that even mean?
What OS? Windows 10?

There are things that you would commonly do on a mobile device like interact with a digital assistant. Microsoft has been stripping these sort of things out of Windows and/or letting them fall behind the competition. I don't think you needed to ask that question. You knew exactly what he was saying.

This article should also feature the vision behind both. Cortana is definitely developing into another direction now.
For all ' 'regular' smart assistant stuff Google assistant is clearly better.

I wouldn't have thought that Microsoft would be in par with Google on this, but they are actually of equal value in my country, neither of them being available. 👍

None. I see no use in them. I have a mouse and keyboard.

I have a Windows Phone device, a Surface3, and a Lenovo W10 machine... All have Cortana enabled, and I use her for what I can.
...........
I've never even used Google Assistant, and I can guarantee it's most likely better. I can guarantee it's better. Lol
........
Windows Central Newsletter
Thank you for signing up to Windows Central. You will receive a verification email shortly.
There was a problem. Please refresh the page and try again.