How to set Cortana in Microsoft Launcher as your default Android voice assistant
Want to use the new Cortana in Launcher for Android all the time? Here is how to do it.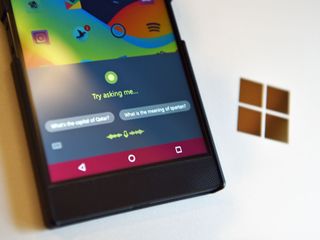 When it comes to Microsoft's services on Android between Cortana – the Android app – and Cortana in Launcher for Android there is some overlap. I recently wrote about the different UI designs with the Launcher version looking much better, but the question for many is, do you need both?
Moreover, did you know you can set the Microsoft Launcher version of Cortana as your default voice assistant? Here's how.
How to set Microsoft Launcher Cortana as default
Before we get started, make sure to read our other quick guide on how to enable Cortana in Microsoft Launcher if you are currently outside the list of supported countries.
The process for assigning Cortana – the Microsoft Launcher version, not the app – as the default is straightforward. Assuming you have Android 7.1.1 (the most common these days), here is how you do it:
Open Settings > Apps and hit the cog wheel in the upper right corner.
Select Assist & voice input.
Select Assist app.
Choose Microsoft Launcher.
Perhaps a more natural, direct way is just to use the Settings search and type in "voice" and choose Assist & voice input. You can then jump to steps 3 and 4.
If you are on Android 8.x the process is similar, but there are some changes in the menu structure and choice option:
Open Settings > Apps & notifications.
Tap Advanced.
Choose Default apps.
Tap Assist & voice input > Assist app.
Choose Cortana (with the microphone).
The confusion on Android 8.x is if you have both Cortana the app and Microsoft Launcher installed there are two Cortana listings, which is an early issue. The one highlighted in the image below is the one you want to pick.
Once enabled, every time you long press the Home key on your Android phone you'll get the new Cortana experience found in Microsoft Launcher, which I find more satisfying. You can always, of course, change it back following the same steps.
Do you need both Cortanas?
The next obvious question is, do you need both Cortana experiences on your Android phone?
For now, the answer is it depends. The Cortana app still has some advantages like being a full app that reveals your Cortana interests (weather, reminders, package tracking, news, etc.) and upcoming events in one location. Plus, you can access and modify the Cortana Notebook, devices like the Harmon Kardon Invoke, and general Cortana settings.
The Cortana app can also do things like send a text or make a phone call, which the Cortana in Launcher cannot yet do (it's still in beta, so hopefully it will soon). When set as default the Cortana app suddenly becomes much more useful.
Some of the above functionality is also duplicated in Microsoft Launcher. For instance, the Launcher has a mini-weather app (widget) and can pull in your calendar and To-Do lists from the cloud. That info then shows up in the Feed (swipe left). What the Microsoft Launcher does not offer is a centralized place to view and modify Cortana settings.
Whether any of those differences matter to you depends, of course, on how you use Cortana on Android. The Microsoft Launcher version – for now – is a lighter, more ambient version versus the dedicated app. But when you set the Microsoft Launcher Cortana as default for voice-assistant, the differences begin to fade.
Hopefully, Microsoft ports more Cortana functionality into the Launcher version in the future making it less of a choice for current users.
Related reading:
Daniel Rubino is the Editor-in-chief of Windows Central, head reviewer, podcast co-host, and analyst. He has been here covering Microsoft since 2007 when this site was called WMExperts (and later Windows Phone Central). His interests include Windows, Microsoft Surface, laptops, next-gen computing, and for some reason, watches. Before all this tech stuff, he worked on a Ph.D. in linguistics and ran the projectors at movie theaters, which has done absolutely nothing for his career.
Ok, Galaxy S8+... everything is different. And this is why I dislike Android (along with 82 other things).
I'm on 7.0 and can't follow any of these instructions... Nightmare.

Just go to settings and press search. Then type in Assist and Voice Input. How tough is it?

Typing Assist and Voice Input doesn't bring any results. You need to look for Phone Assistance App. You can search for Phone Assistance App, or use these steps: Settings>Apps>Default apps>Phone assistance app>Phone assistance app>Microsoft Launcher.

Yeahhh...forgot to mention that. If your phone has a custom OEM "skin", well, it makes it more difficult.

"Together, not the same." This is exactly why Android is great. If you like locked down platforms, Apple does it best.

Apple doesn't do it best. It's simplest but certainly not the best / most efficient.
How do you switch between AppA → AppB → A → B → A → B with iOS?
Double tapping Task button fast? Android camp does has some nice phones, but there are a lotta more bad phones too, esp phones from Japanese manufacturers. Overheating problem, water-proof but not really water-proof, Xperia SL (with bad key design + camera won't focus), custom battery saver that prevents app running properly.
Other problems such as custom ROM with supposed-to-be-removed-API. OpenGL game runs fine on stock ROMs but black screen from Galaxy, lowering max API level does make it run but why?

Yep, it's strange how Android fanatics think of it as an advantage. OEM to OEM customization look good on paper, not for real life application when it comes down to productivity.

This is a nightmare. WP is gone. Sigggghh
.......
Oh, well.... Just payed this Lumia 950 off so I could lower my monthly expenses. Now, it's mine... But, if I would've bought an Android device back in 16 I wouldn't feel "stuck with it".... Who knew?🤷🏽🤷🏽🤷🏽😭😂

What are you talking about? kid windows mobile is dead not Windows Phone. It called Andromeda os it will show off on 3 surface devices surface mini aka fordable device surface phone and surface watch. It will probably lunch sometime this spring.

Andromeda will a) not replace a phone and b) not fix anything anyway. It's not just Windows Phone that is dead, Windows is dead as a going concern. It now exists solely as a legacy platform to run existing enterprise applications, and nothing more. That is, the only programs that run on Windows are programs that have run on Windows for years now--there is no new Windows development. Why should a folding form factor change that reality one bit?

Wrong, Andromeda when folded is the general size of a phone with the ability to phone and text. However, it does not fix the app gap unless PWA's do that. It also will not be out until the end of the year at the earliest and will NOT be refined in any way since it will have major new rewrites to Windows (OneCore, API changes, and CShell). So, another year later with a second device and there might be something to the device.

How do you know that. You haven't seen device and haven't played around with it. I'm sorry that Microsoft is coming back in the mobile market with Andromeda OS. It will look like Windows 10 mobile. thanks all will be based on the same source code. They will be three devices 1 surface Mini 2 surface phone 3 surface watch With pwa they will be no more app Gap.

It's clear you've lost your little mind.

Warn me of what? This 950 is still better than that low end piece of Android crap phone you have. When you grow up, get a real job, and get a real device, then you might be able to open your mouth. Still doubt that part, though. Go sit down.

This comment didn't age well I guess (just like all of your others). So how's Android?

Hi Dan, Thx for the tips. I had these questions though, Is there a way to use long press on headphones to activate cortana? Also can i activate it by saying hey cortana? I'm useing one+ 5T running android 8

This is very useful, thanks!

I really, really hope that MS can put text in the car into Android through Cortana. It's stupid that this isn't built into the OS. I'd even use Google Assistant if it was. Android Auto is NOT an equal substitute for this feature.

In my car, I have a dedicated button I can long press and it activates google assistant over bluetooth. I can tell it to send a text or if I have texts it will read them to me, though I have to ask. The main thing that was better (for me) was that Cortana on WP would automatically tell me over bluetooth that I had a text and if I wanted to hear it, reply, etc. The other thing that was nice for WP, was that Cortana also was a phone number in my contact list so if I didn't have a button to call your assistant (or only had phone bluetooth but not media over bluetooth) you could still use Cortana. I do agree though that at least in this particular usecase, Cortana was better than what is on Android or ios. In fact the car integration was the main reason I moved off WP since it was fantastic in WP 8.1 on my Icon; but bluetooth was completely broken in WP10 for such a long time I just gave up.

This may have been answered many times before, but will Microsoft ever be able to have a voice activated Cortana without a long press or app launch? I do a lot of driving so by necessity I have to use Google Assistant for voice activation.

Not unless they make their own Android phone or Google adds support for third parties to have this functionality.

that is why I can wait for the surface mini.

i think it is best to keep using the google assistant if you are outside the U.S.

wow, I I just downloaded the Microsoft launcher wow it awesome. ps can't wait for the surface mini come out aka fordable device.

Surface Fordable, I like it.

No, I don't want to use Cortana in launcher. It can't shut its mouth when opened and reduces the places where it can be used.

Yeah tried it, but unfortunately Google Assistant is far better. I imagine that's especially true if you're outside the US and you get the cut-down version of Cortana. Until that changes, no dice.

I don't use Google Assistant becuase I try to minimize my interactions with Google. But yes, it is incomparbly "better" if you're not a Google-phobe.

Why? Cortana sucks on Android.

Cortana sucks everywhere. UI is ugly/ inconsistent/confusing, less features, slow compared to Google Assistant. It makes me think why does Microsoft always have poor quality apps (except few like office, Outlook for Android) compared to Google. May be they don't have proper talent like Google or a less capable manager

Can Cortana send text in UK, all she will do for me is open the message app and stop?

I tested Cortana verses Google Assistant on my Note 8. Google is just so much faster. You want to talk useless, that would be Bixby. My wife uses Bixby. She seems to like it. I have no use at all for it. I will leave Cortana on my home button for now and see if things get better...

You just don't know how to use bixby. It's great. Can do things like "open the camera and take a photo", then "send my most recent photo to my wife". Or "say hello to Mike on Facebook Messenger". These are basic examples but it's waaaay better than anything else I've used for these kinds of commands.

There's even more complex commands that it can decipher and action all the way for you once you learn how to structure them.