Google Chrome finally arrives in the Microsoft Store on Windows 10 ... sort of [Updated]
Google has introduced a new "Chrome Installer" app on the Microsoft Store that acts as a portal for downloading the official Chrome browser.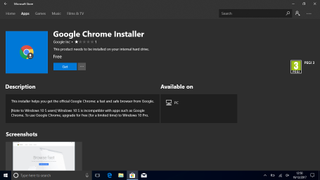 Updated December 19, 2017: Microsoft has now pulled Chrome Installer from the Microsoft Store.
Google has today launched its Chrome web browser in the Microsoft Store on Windows 10, allowing users to head to the Windows 10 app store and download Google's ever-popular Chrome browser ... well, sort of. It's true that you can now download Chrome via the Microsoft Store, but not directly as the app Google has submitted isn't actually a browser.
It appears Google has submitted a "Google Chrome Installer" to the Microsoft Store, which means what you're downloading from the Store is an installer that'll then proceed to download Google Chrome normally. This means the Chrome browser itself isn't a Microsoft Store app; it hasn't used the desktop bridge, it isn't a Centennial app, and will not be updated via the Microsoft Store either.
Why has Google done this? Likely to bypass Microsoft's limitations that conclude any browser on the Microsoft Store must use Microsoft's own rendering engine. Google Chrome doesn't use Microsoft's rendering engine, obviously, and as such isn't actually allowed on the Store. That, or Google was feeling particularly lazy and didn't want to go through the effort of running Chrome through the Centennial bridge.
Because Chrome still isn't technically in the Microsoft Store, this Google Chrome Installer doesn't work on Windows 10 S. It'll download, but when the Installer tries to install Chrome itself, the process will fail as the Chrome browser isn't coming from the Microsoft Store. So this begs the question; why is this in the Store if it isn't for Windows 10 S users?
It's likely in there because a few people might be looking for Google Chrome in the Microsoft Store, and up until now have been met with nothing but spam apps that somehow bypass Microsoft's approval system. Google putting an Installer in there gives Google an official home in the Microsoft Store for the few people who are looking in there for apps. This is only a good thing.
Of course, it would be better if Google had just put the actual Chrome browser in the Store, but either Microsoft or Google aren't allowing this to happen. Fact of the matter is; if Microsoft wants people to use the Store, it might be a good idea to have the proper Chrome browser available in there.
See Google Chrome Installer in the Microsoft Store
via Mehedi Hassan
Get the Windows Central Newsletter
All the latest news, reviews, and guides for Windows and Xbox diehards.