Google Maps now works with Surface Duo's dual screens
That hinge is no longer a problem for Google Maps.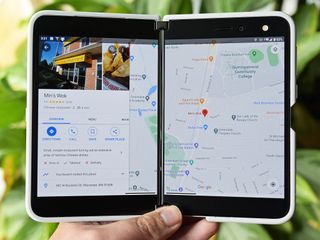 (Image credit: Daniel Rubino / Windows Central)
What you need to know
Google Maps now works with Surface Duo's dual screens.
The latest update now lets Maps work around the hinge, adjusting maps and information across both displays.
The update is rolling out now with Google Maps version 10.50.3.
Update: And for some reason, the optimization is now gone, making it sound like either some A/B testing or server-side tricks happening.
The Surface Duo's hinge is no longer a pain with Google Maps. Google is rolling out an update to Maps today with support for dual screens, allowing it to organize maps and information around the hinge between the displays. The update is available as Maps version 10.50.3.
Rather than spanning a map across both displays without regard for the hinge, cutting off vital information, Google Maps is now aware of the hinge's presence. This allows it to organize the map and any other information around the hinge without treating the displays as one large screen. You can see an example in the screenshot below.
You'll get side navigation for viewing information on businesses on the left side of Maps with the rest of the map split between the two displays. Importantly, if you find a location or tap the "center" button to locate yourself on the map, it doesn't center the map in the middle of the seam. Instead, it shifts the location to the right for visibility.
Microsoft's dual-screen concept is still relatively new to the Android ecosystem, so developers are just starting to add support for hinge awareness. For now, that means you'll see a lot of apps treat the two displays as one giant screen.
For its part, Microsoft's Office suite and other apps have been designed to take advantage of this dual-screen setup, and it appears Google is ready to start tweaking its own apps, starting with one of its most essential. Just make sure you've got one of the best Surface Duo cases before you head out on your next road trip.
For more apps optimized for Surface Duo, you can bookmark this page.
Double the fun
(opens in new tab)
Two screens are better than one

Microsoft delves into the future of foldables with an ambitious dual-screen device, featuring two ultra-thin 5.6-inch AMOLED displays bound by a 360-degree hinge. This pocketable inking-enabled Android smartphone marks the latest in the Surface lineup, geared for mobile productivity.
Main
Windows Central Newsletter
Get the best of Windows Central in in your inbox, every day!
Dan Thorp-Lancaster is the former Editor-in-Chief of Windows Central. He began working with Windows Central, Android Central, and iMore as a news writer in 2014 and is obsessed with tech of all sorts. You can follow Dan on Twitter @DthorpL and Instagram @heyitsdtl.
I just updated the app, but no, content in the hinge still get's cut out.

I don't think that's what the article is talking about. It seems to be more about centering the map and such.

The whole left menu/nav system is new; before it was just at the bottom/top like in single screen. And the map now doesn't center you at the seam.

"but no, content in the hinge still get's cut out."

Well, the only way around that is just to make the map just on one side, which seems like a waste of space.

Launcher 10 supports Surface Duo. May u consider making a video for it? I want to see how windows phone would look like in such form factor.

That's a system wide problem. Every spanned app that is not specifically designed to avoid that area is missing information, Word, Excel, etc. To follow on, when the center gap can obscure an entire spreadsheet column, that's wrong. That does not happen on two monitors side by side, if you span a spreadsheet across them. Either MS, or Android, is treating the screens as one wide screen, disregarding that part of it is not visible. This is evidenced by the screen shots that come out as a single wide screen, not missing the column you can't see on the physical device. That needs to be fixed.

You just have to move your spreadsheet around like you would normally do in a spreadsheet. It's not rocket science. The Surface Duo is the first phone I've ever used where a spreadsheet can be reasonably done on a phone. Look at my screenshot. You have a full sized keyboard with a roomy view of the spreadsheet. Now, will I be working hours in a spreadsheet on the phone? HEck no. But if I need to add data in a pinch, I won't be hating life. https://imgur.com/hLgpu8a https://i.imgur.com/hLgpu8a.jpg

So it seems that Surface Duo has Google blessing unlike windows phone 😊

I'm telling y'all. Duo is a hit. I love it so far.. Barely any issues, and it's running great.. The battery isn't bad at all; about the same as my Note9. Not missing NFC, but I do miss wireless charging. The more I use it the more I find out that things once considered an issue are actually intended functionality.. It definitely doesn't behave like a smartphone, and it's definitely more useful than a smartphone ever could be.

"Not missing NFC, but I do miss wireless charging." It would be the other way around for me. I have numerous wireless chargers in my house but I could live without that for a generation. Lack of NFC would be a major bummer though. When I had a Lumia 925 and 950XL, I didn't think that mobile payments were a big deal. I then got an LG V30 and V40 and have been very much enjoying using my phone for payments. Since the relevant authority here in NSW, Australia rolled out digital drivers licenses through their app, I haven't had to carry a wallet at all. My banking app supports cardless cash at ATMs if I really get stuck so that's a boon. It wouldn't be the end of the world if I had to start carrying a wallet again but it would feel like a significant step backwards.

Yeah, I'm pretty bummed about about the mobile payment thing.. I agree. But, I can't stand plugging this thing in at night, and trying to find the port in the dark. I guess we all have our preferences. 🤷🏾‍♀️

I've mentioned it before, but Fossil Sport watches are closing out for $99. They support Google Pay. You can dig around for different case and band colors, but start here. https://www.windowscentral.com/e?link=https2F2F... That's a dirt cheap entry into Google Wear and solves the NFC/Pay issue. Probably with more finesse than hauling out the DUO to tap on a payment terminal. The sport is actually pretty good, and if nothing else may help decide if you want to invest in something more expensive.

The Duo is like a device from 2013 at best. Huge disappointment and clearly MS needed a write off.

What a dumb comment... It is a great first gen device. The minor issues it does have will be solved.

Don't bother engaging with the ignorant, its a waste of time.

"The Duo is like a device from 2013 at best. "

This device couldn't exist in 2013 and no other OEM has made anything similar.

"Huge disappointment"

So you own one?

"clearly MS needed a write off."

I question if you know what a "write off" actually means.

"and 'They' are the ones writing it off..." - Cramer

They had USBC in 2013?🤔🤔🤔

Yea, no difference in how the app works for me either.... still very much not optimized, just stretches out across the displays.

Hmm...i might try Min's Wok next time I'm around Worcester.

"Update:
And for some reason, the optimization is now gone, making it sound like either some A/B testing or server-side tricks happening." Don't we want to change the title now? And maybe ask Google and maybe Microsoft what's going on and what the plans are, instead of just randomly guessing?

This is... special.
Google touching 3rd party API? Is Google gonna make this API official? Maybe MS is working with Google on this "Duo screen" API thing?
Only time will tell.

I don't think they are touching the API. I can span pretty much any app. What happens on run of the mill apps seems a bit random. Most seem to rotate to use a tall portrait screen. Some get wide. Google Maps is likely doing what it thinks it should on a tablet.
Windows Central Newsletter
Thank you for signing up to Windows Central. You will receive a verification email shortly.
There was a problem. Please refresh the page and try again.