Google's Project Stream will let you play AAA games in Chrome
Testers of Project Stream will be able to play Assassin's Creed Odyssey on Oct. 5.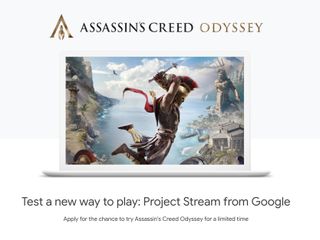 Thanks to services like NVIDIA GeForce Now and PlayStation Now, the gaming industry has been experimenting a lot with the act of streaming video games over an internet connection rather than running them locally on a console or PC. Now, the latest company to dip its toes in the streaming games market is Google.
On Monday, October 1, Google formally announced Project Stream — a new technology from the company that is designed to stream AAA video games to your computer using just an internet connection and web browser.
Per Google's announcement post:
To kickstart Project Stream, Google's looking for people in the U.S. to test drive the service with the opportunity to play Assassin's Creed Oddysey for free starting October 5 and going through mid-January. All you need is an internet connection of 25Mbs or higher and a desktop or laptop with Google Chrome.
What's the ultimate goal of Project Stream? While Google's yet to say one way or another, it's very possible that this will tie into reports from earlier this year of Google working on its own gaming console called "Yeti." We already know that Yeti will have a focus on cloud-based streaming, so it only seems logical that Project Stream is our first introduction to that.
Google's holding an event on October 9 to unveil the Pixel 3 and 3 XL, and should the company take some time to go into further detail about Project Stream and/or Yeti, we'll be sure to let you know.
Get the Windows Central Newsletter
All the latest news, reviews, and guides for Windows and Xbox diehards.