GoPro Windows Phone app updated with support for new Hero+ LCD camera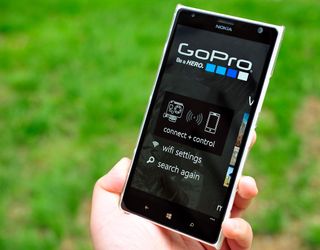 Connected camera company GoPro has a new camera that will go on sale June 7, the Hero+ LCD. Ahead of its launch, the company has updated its Windows Phone app, which adds support for the new camera.
Here's what's new in the 2.7.0.3 version update:
Adds support for the new HERO+LCD camera
Revised app-to-camera pairing flow with video-based assistance for new camera setup
Improved reliability of camera firmware update feature
General bug fixes
The GoPro Hero+ LCD will be sold for $299.99. Here's a quick description:
Keep in mind that the GoPro Windows Phone app is still not compatible with 512MB devices.
Download GoPro from the Windows Phone Store (free)
Windows Central Newsletter
Get the best of Windows Central in your inbox, every day!
How is this camera different than my Lumia's camera (the hardware + the software)

Its rugged and mounts to your bike/skies/jetpack... Inherently ruggedized and water proof, has its own internal storage and is designed to capture action video from the ground up... Yes you COULD rig your phone in a special waterproof housing to do something similar but ot would be no where near as elegant, still be way less rugged, way less.convenient to use AND you'd be risking a $600 phone getting damaged or falling off... All and all the gropro is a MUCH better solution for its use case.

Well in the same Way a DSLR is different to your lumia... so in every way

Have you been living on another planet?!
Here's what an action camera can do;
http://youtu.be/GUEZCxBcM78
No phone can do that...waterproof case or otherwise. They just aren't optimised for high speed action - and the OIS just ends up giving a rolling shutter effect.

lol is this a real question?

Users with 512 mb ram whining in 321...

Well people who spend 300$ for an action cam most likely spend more than 99$ for a phone :)

Lumia 900 ! Hehe. Or the 720 really.

I was expecting questions about will out work with 512 =)

This is awesome!! Other camera companies should do the same! Like ricoh with It's theta 360degree camera! :D

Gopro is a great company. Im glad they support windows.

Every time I see an ad or a movie with these cameras I really want one. Then I remind myself that a GoPro would be overkill for filming while I sit in front of my computer and eat fast food.

That's pretty funny, but seriously, I wonder how many people buy a GoPro because they dream about doing all these cool things and then never use it once because they never actually do those things. I wouldn't be surprised if 80% of GoPro sales fall into that category.

I guess its similar to gym memberships, especially after the new year.

Yea, bought one for my motorcycle. Was fun for a couple months but got to be a PITA. Can't leave it on the bike while I get something to eat, go to the store, etc... Now it just gets put on for road trips which is maybe twice a year. Then I bought a Phantom drone. It gets used a few times a week now and has been for the last seven months. Don't see that ending. The uses for it in that regard are pretty widespread.

I sort of fall into that category. It's nice to have on occassional road trips but for every day use its not very user friendly.

Thank you for updating the app, I'll be getting me one next week!

I need to get a GoPro camera for snowboarding. I'd love to be able to link it to my phone.