Gorgeous Surface Studio video brought to life by robot and Xbox controller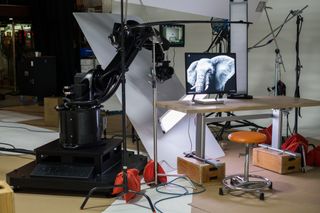 When Microsoft debuted the new Surface Studio alongside a gorgeous reveal video, it stunned onlookers with a mix of tight product shots set to a cover of "Pure Imagination." Now, it has been revealed that Microsoft had a little help from a couple of surprising tools in putting the video together: a robot and an Xbox controller.
As reported by The Beat (opens in new tab), Microsoft enlisted the help of KIRA, a robotic camera arm from Motorized Precision, to pull off the fluid shots of the Surface Studio and Dial seen in the video. KIRA was controlled using the dedicated MP Studio Windows app that could control every aspect of each shot, ranging from arm movements to focus and zoom. The app can even receive input from an Xbox controller, which Microsoft used to capture some shots.
While the resulting video itself was pretty impressive at first look, it's even more impressive after learning of what went on behind the scenes to capture each shot. If you're interested, you can check out a look at what KIRA looks like in action in the video below.
Dan Thorp-Lancaster is the former Editor-in-Chief of Windows Central. He began working with Windows Central, Android Central, and iMore as a news writer in 2014 and is obsessed with tech of all sorts. You can follow Dan on Twitter @DthorpL and Instagram @heyitsdtl.
Amazing. Microsoft have become cool. Google have become evil. And Apple are just downright boring now.

Google have become evil? ;-)

When a company buys other Application companies and promptly ends support for Windows devices, they're considered evil.

Not to mention publicly disclose some exploits on Windows without warning. This happened twice, one recently (you can check the news about a day ago), and one was circa 2014-2015.

You do know that they were warned right? Google have not changed thier policy, its actually consistant, I still detest them though.

Except MS. Google and Apple still stand on same place... In this year

Ya they exchange roles every few years to keep it spicy.

Never thought I'd hear people calling MS cool, but the Surface line sure is cool.
Wouldn't matter if they were losing money on these, the potential for a positive change in public perception is monumental
I showed the vid to my apple luvin anti M.S 19 year old daughter and her friend, they both protested but watched the video and said wow, that is so cool.
Keep it up MS, great work. Just when we thought all was lost and MS had lost their way, especially with the younger generation, they bring out this.
What a superb product.

Google has always been evil.

This was very inspiring!!! Loved it!

I can't decide on saving for this, or a Surface book.

I can't see how you can have that dilema. Those are two completely different devices... it's like deciding between a car and a shovel.

Maybe wants both, but can't decide which one to save for first?

$3k for a shovel ! Diamond studded handle?

Nope. It's like deciding between a car and a monster truck. :)

If you're out and about a lot the Surface Book is a great choice. If you're working at the same place often, the Surface Studio is miles better suited. Your choice on which device to buy isn't which is better - they're both entirely different devices for different needs. Your choice is what your needs are.

That is splendid, now lets see some showing of it on UK airtime MS :)

I don't need or have room for one of these but I so want one, simply stunning!

LIVE! . . . No pun intended lol.

Dare I say, Microsoft is actually getting much better at marketing. That video made me feel things. It offers a glimmer of hope for Surface Phone.
Windows Central Newsletter
Thank you for signing up to Windows Central. You will receive a verification email shortly.
There was a problem. Please refresh the page and try again.