Got a new Lumia 640 or Lumia 640 XL? Here's where to start!
The Microsoft Lumia 640 and its larger sibling, the Lumia 640 XL have been with us for a little while now and are being picked up by more new owners every day.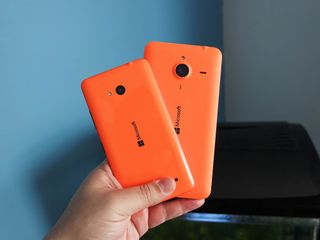 If you're one of them, we've compiled a quick guide to help you get started, especially if you're new to Windows Phone as a platform. Read on and we'll help you through it!
The basics
Everyone needs to know the basics, and if this is your first Windows Phone, welcome! To help you get started with a few things you might want to know to get into your new phone check out the links we've collated below. They cover the bare basics like taking a screenshot to something a little more advanced (but still useful) like moving apps to your microSD card.
How to speed dial on Windows Phone 8.1
Those are just but a few of the things you might want to know, but they'll help many get up and running. If you want to go digging for more, and even explore some more advanced tutorials, be sure to stop by our How-To hub.
Help & How-To from Windows Central
And not forgetting everyone's favorite personal assistant, Cortana. Capable of doing a lot for you in the course of your day, check out the link below for everything you need to know about her.
Claim your free Office 365 subscription
For the first time with one of its Lumia phones, Microsoft is offering a free one-year subscription to Office 365 with the 640 and 640 XL. It doesn't take much to redeem but it offers you so many benefits both on and off your phone. The links below will guide you through how you claim, what you're getting and how to manage your account.
How to claim your free Office 365 subscription on the Lumia 640 and 640 XL
Download the best apps for your Windows Phone
The Windows Phone Store is full of great apps to suit all needs, but, finding them can still be a task.
Fortunately we're here to help you wade through and separate the wheat from the chaff. We've rounded up all kinds of different best apps for different situations, and you'll find them all available to browse at your leisure at the link below.
The best Windows Phone apps
The best Windows Phone games
Download the Windows Central app, of course!
You knew that was coming, right? But seriously, the Windows Central app is something you should absolutely download. We'd love you to, but besides that it's a great way to keep up to date with everything happening in the world of Windows Phone (as well as Microsoft in general, Windows and Xbox) on the go. We've got a live tile, a lock screen, forums access, it's all there. We're pretty proud of it, so we hope you like it, too!
Join in the discussions in the Windows Central forums
The Windows Central forums are a buzzing, vibrant community filled with enthusiasts from across the globe. There's a wealth of knowledge, dedication and enthusiasm in there and any new members will be made to feel most welcome.
Want to shoot the breeze about the latest, rumored devices? Got a question that you can't find the answer to anywhere? Just want to chat with some like minded folks? Jump in, there's something for everyone.
Hopefully that little lot will help you on your merry way. To keep up to date with the very latest on both phones, be sure to bookmark the pages linked below.
Lumia 640 - Everything you need to know
Lumia 640 XL - Everything you need to know
If you've got any tips for new Lumia 640 and 640 XL owners be sure to share them in the comments below!
Windows Central Newsletter
Get the best of Windows Central in in your inbox, every day!
Managing Editor - Tech, Reviews
Richard Devine is a Managing Editor at Windows Central with over a decade of experience. A former Project Manager and long-term tech addict, he joined Mobile Nations in 2011 and has been found on Android Central and iMore as well as Windows Central. Currently, you'll find him steering the site's coverage of all manner of PC hardware and reviews. Find him on Mastodon at mstdn.social/@richdevine
What are the benefits of office 365 on your phone?

The same as your PC. You get to connect your company account if you have on Office 365 to your phone...get on with your shared docs, SharePoint links, exchange mails etc etc. But honestly once the Windows 10 Office apps come onto the phone...you will see the true power of 365

Isnt sharepoint already baked in

More space on your Onedrive to put videos and music to stream to your phone. Free Skype minutes to call people.

The free 1 Year Office 365 subscription can be used to install Office 365 on your Windows PC, as well as the above mentioned benefits re extra OneDrive storage an free Skype minutes.

Seamless experience on pc, tablet and phone along with 1 tb of onedrive store and 100 skype call minutes.

The main benefit is that it makes your Windows Phone that much more awesome than any iDroid device.....
............
That is, until MS makes 365 available for iDroid...

Get the full specification from here

Think MS just said f it and will release these in the US with w10? Two more, rumored, months, might as well wait...

Pretty sure it's up to the carriers... and they seem completely uninterested.

MS sells a few phones, albeit 3rd party ones, with no carrier support. I feel something else is going on.

Starving the market, to promote a big rush of sales coincident with the W10 release? I have no desire to be a W10.0 guinea pig.

International 640 are sell pretty well in the U.S. here by talking with an eBay seller! I going wait till they match the price of the cheapest U.S. carrier's 640 and jump on board with buying an international 640!

I was thinking the same thing. Att has the Lumia 640xl page up but there is no release date. I really think they are waiting for Win 10, that or hoping we'll spring for whatever (more expensive) phone comes out next.

I saw this story of Fox Business today (check out the video in the link below) The guy from Micorosoft Consumer division in the video says that the 640 will come out later this summer. So it's looking less likely to come out this month. Why is MS waiting for summer is anyones guess? Unless like you said they are waiting to release it with Windows 10 and it be the first W10 phone in the US. http://video.foxbusiness.com/v/4232853201001/microsoft-launches-new-smar...

They are shooting themselves in the foot with this release date for this phone.....

It has been so long since WIndows had a flagship/halo phone that Microsoft now thinks the 640 qualifies for that role, and are saving it for the W10 release? They've played such a losing game with their brand that that is, sadly, a plausible theory...

Would be great, but when are we going to be able to get our hands on it?

My windows central forums in app doesn't look like that!

Neither does mine. This app is ugly...

Smelling a massive update for windows central app???

It's because that picture is from Tapatalk app.
http://www.windowsphone.com/s?appid=913ffd61-3ba0-435c-a894-9d3ec7e78d6e
Download it, and add windowscentral forum on it.

Oh yeah, Tapatalk. They've mentioned it many times, especially for the photo contests.

Exactly where I got it from.

What is Taptalk? It like Siri or Cortana?

Damn... What's taking the 640XL so long, very disappointing from MS, distribution wise

That Office 365 subscription was just a boon for my PC...super !!!

Whenever I get another Windows Phone, I ALWAYS install Windows Central.

I am skeptical we will see those phones in Canada... I will have to wait until Win10 is out for a new Windows Phone. It sucks to be Canadian.

Lumia LowEnd and LowEndXL... Yawn.

Mid-range bro, it's low-end for the more power hungry Android.

640 is the fastest phone I've ever had. A sidestep from flagships whilst waiting for W10. When the 940 comes out, this is going to be a worthy backup phone.

Same here, just jumped to WP from Android (samsung) and happy with my choice... Patiently waiting for 940...

I'd like to get started with a new 640 or XL here in the US (at least by December) Happy New Year everyone!

Want to be new to the 640... But I can't get it!! Really need to replace my 920.

Jay Bennett có thể kiểm tra lại ứng dụng Windows Central trên điện thoại Lumia 640 được ko ? Tôi thấy nhiều chỗ hiển thị toàn xuất hiện răng cưa :(

Cjaing ching chong toe ton ti (just kidding :D )

Does Jay still do the app? Not seen him around these parts for a long while.

At&t what is the hold up?

Seriously, what is the holdup? Dyin' to get my hands on that xl already. They said late April aaaaannndd.....

Forget these low/mid ranges, I want the 940XL!!!

And it must have Glance. W/o it phone will be useless as 930

I like dumbs who thinks glance makes the smart better or worst.. It really doesn't change anything at all .. Buy a watch and deal with it.. 930 is amazing and not having glance doesn't make it useless..

I knew some idiot like you will comment something like that. I shouldn't have deleted the "that's my personal opinion" part from first comment.

well double tap on my 930 is just as fast as glance was on my 920.. so there is basically no difference.

I want the 1530XL!! Yes, you read it right!!!

7" phone...really? 4.7-5.7 is the size ur gonna get from a flagship now

I take nothing less but 8".

No, of course I dont. I live in the US!!!! AAAAAAAAGGGHHHH!

Bought a orange 640 three weeks ago. It's just great, still using my 1020 for special pics though :)
Great to have rich picture and Lumia Moments on the 640, and a lot of functions that are missing on phones five times the price... :P

Just bought one for my wife, very happy. coming from a 920 until the new flagship is released. she cannot believe how much lighter it is and how the colours are more intense on the screen. Got it from Carphonewharehouse, a lot better than ee or O2, cannot miss the dayglow orange, looks good

Can I just ask how your wife is getting on with the 640? Very tempted to replace my 920 for one as the battery is poor now. Is there anything she misses? I know that there is no camera button, zeiss optics or wireless charging, but I think I can live without those for positives the 640 has over the 920, weight, battery life etc.

Just asked her and she reckons that she has not really noticed any difference, she's not a power user but uses it to make calls and sms, facebook, internet and weather apps. So all good.

one thing I noticed was the lack of space, put all the photos and music onto a micro sd.

Thanks for the info. I'm not really a power user either so doubt I'd notice much difference apart from maybe the camera button and wireless charging. Good to know it's not much of a downgrade from the 920 if I do swap, I'll just make sure I get a micro SD if I do.

Still waiting for the 640 on Metro PCS.

Am I the only one who thinks the front camera on the XL looks out of place? Lol

How so? Seem like it's on the same spot as my 920/930.

Haha its just very close to the ear hole.

One of these days you're gonna take a pict of your ear by mistake and post it on 6tag!! LOL

We only read reviews of these phons, but does anyone know when they will be available in the US?

The photo in my Lumia 640 seems so over processed :(

Off-topic kind of, but when are you guys going to update this WC app so links/photos/vids are inline? Can't be that hard! ;)

Couldn't tell you how hard it is. That's why I write stuff, Jay does the technical stuff.

Got one wile ago the 640 in cyan its excellent

When is T-Mobile going to begin selling the 640XL??

They've only announced that they will carry the 640.
Would love it if they changed their minds and get the XL as well though.

Since those wont be able for continuum it doesn't matter at all to me, well personally speaking irdc just waste of money.. Waiting for l940

Build 10080 windows 10 TP.. IS it coming to 640 XL

Fine. But not fine: not THAT available though, as for them "being picked up by more new owners every day". Fail MS. I guess we'll just have to wait (more)


Got mine today and it is so damn GREAT!!!!

Well, in the US this information is pretty premature.. still waiting on T-Mobile and AT&T to get their act together release the phones. It's pretty bad when other countries had released the phones already and these two carriers havent.. What's the hold up??? Angree Face.

The first thing i do every morning is check wc to see if U.S. launch is underway. But nope. This wait is truly interminable. Cry sniff gulp sob sigh.

A little off topic, but may also increase desperation: is there a "microsoft Ringtone"? Anybody? WinCentral editors?

Amazed that this is not for sale in the US yet.After all the fanfare and hype when it was announced, one would have thought that it would be a sure bet to be seen on AT&T and T Mobile. I was waiting for it, but I needed a new phone so I bought the 635. Now I probably will stick with that and not get the 640. By the time it finally does comes here, there willl be another phone announcement that I will want instead. The longer that they delay, the lower sales will be when it finally comes out.

my local t-mobile store salesmen says the release has been "delayed"

Thank you for the Microsoft press release masquerading as tech journalism. And I use the word "journalism" very very generously.

I got free Office 365 key (L640) but I still haven't registered it, does that key expire once I obtained it (if not registered now)?

Build 10080 windows 10 TP it coming to lumia icon but not come to lumia 640 XL.:(

Microsoft website still says "Coming Soon"..........so who in the USA is getting any of these two phones?

U can get it from Flipkart http://fkrt.it/TwC4mfNN

Got my First Lumia 640 Xl from Flipkart and it amazaing and Filled with features. Lucky to own it

Am absolutely furious with Microsoft France because I preordered the 640 XL from there two of them over a month ago. The launch date was the 15th May and still not processed. A French agent was rude asking me who told me to order from France. I pointed out it was cheaper from France and offers a variant not available in the UK. I said I was told my order would be honoured by an English agent; but no one can tell me when they are sending my phones. It is getting really frustrating waiting for these phones. I want the dual sim LTE variant and from Europe there are no customs charges and we save about 40 quid on the Microsoft UK price. Am getting Cyan and Orange phones. Grrrr. I need my phones. My 925 is getting really unreliable and crashing a lot.
Windows Central Newsletter
Thank you for signing up to Windows Central. You will receive a verification email shortly.
There was a problem. Please refresh the page and try again.