How to manage your Office 365 account and installs
With the amount of free subscriptions Microsoft is giving out of late to Office 365 there's a good chance there are a number of new users.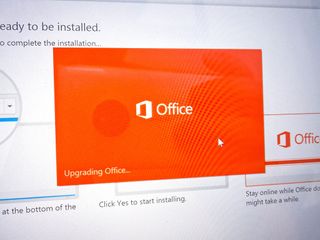 Office 365 offers a degree of convenience in that you can easily install the desktop and mobile apps to use with your account on a number of devices. But if you're new to the service, it's not immediately apparent how you go about managing what you've got installed and where.
Here's what you need to know.
How to install the desktop apps
The first thing you'll want to do with any Office 365 subscription is install the desktop apps to your Windows PC or Mac. How many different computers you can use depends on which subscription you have. The personal subscription, for example, only allows one desktop install. The home subscription allows five. Here's how you go about getting the apps:
Navigate to Office.com

(opens in new tab)

in your browser
Click on "My account" and sign in with the Microsoft account your Office 365 subscription is attached to
Click "Install"
You'll then get an installer on your PC that will do all the work for you. Simple!
If you want to install the 64-bit version of Office (32-bit is the recommended default) or install it in a different language, simply click on "Language and install options" and choose your preferred language.
64-bit Office will then be found under "Advanced install options," available to select in the dropdown box presented. This is also where you'll see options to install the Office 2016 preview if you want that instead.
Managing installs
Regardless of your subscription tier you'll have an upper limit on how many times you can install the Office desktop apps. Your account management page will show you which devices you're currently using an install on and how many you have available.
If you're out of installs and need to install the desktop apps elsewhere, you first need to deactivate one of your current ones.
In the same screen you should see an option highlighted in blue next to each install, specifically beneath the date you installed on each computer. Just click it and follow any on-screen prompts to free up a slot to move to another computer.
Other devices
Office 365 subscriptions also allow you to install on a certain number of tablets. This includes Android and iPad, with each taking up a "tablet" slot against your account.
Any activations on these devices can be managed in this section in much the same way as desktop installs.
Payment and billing
If you're using a free subscription then you won't have yet handed over any payment information. But, come the end of your 12-months you'll be asked to end or continue your subscription.
The payment and billing part of your account is where you keep track of exactly when your subscription year ends and whether or not you're set up for an automatic renewal.
At any point in your subscription you can set up an auto-renewal option so you don't have to worry about remembering to pay if you intend to keep the service on for another year. Just look for "Set up an auto-renew subscription" towards the bottom of the page.
Just below this there is also an option to "Renew with an Office product key." If you have a key, perhaps through purchasing an Office 365 voucher in a store, this is where you'll need to redeem it. Click the link, enter the code in the box that appears and you're set.
Thankfully Microsoft makes managing your Office 365 subscription super easy. It can be a little confusing at first, but with everything well presented and in one place you'll soon get to grips with it.
Richard Devine is an Editor at Windows Central. A former Project Manager and long-term tech addict, he joined Mobile Nations in 2011 and has been found on Android Central and iMore as well as Windows Central. Currently you'll find him covering all manner of PC hardware and gaming, and you can follow him on Twitter and Instagram.
What about phone? Facing problem... Successfully subscribed to office365 but unable to open in office...

Same here for lumia 1520, lumia 1020, 520 and 640 lte + my collegue's 1320, 735 and 830 :))

That's just showing off how many phones you have...not adding something useful to the discussion ;-)

Is showing that it is a major problem and maybe Microsoft will do something about it. My girlfriend has 1020, me 1520 and 640 and my father has 520. :)

Is it perhaps that the Office 365 on phone relates to business subs right now or something? I can't log in myself but all my OneDrive docs are there and I can open and edit them without needing my subscription account logged in.

Love the release note for nero's backup app update today
"psst.. We broke background backup but now its fixed!"

I currently have a Office Home subscription (allowing five installs) but I also keep getting yearly subscriptions for free via tablet purchases. However, I can't install / utilise the free personal subscription with a home subscription. Is there a way yet so we can combine subscriptions?

I don't think so it is available. But you can always ask their support forum

Short answer is no. Go see Thurrott.com for a good story on this

I would like to correct you Richard that the Windows version of the Office touch apps too will require a 365 subscription to access all the advanced features. The level of free accessibility will be much more than the iPad and Android versions but still to totally unlock all the features you do need a subscription. This has been told by MS and Office GM Jared...they have said that the Windows version will have the same revenue model as the other versions...

Huh. Got link? Because in January they said free and nothing more than that. Changed the post in any case.

I think the free one is only onenote

I am searching for it but I will post it once I find it out

I had office 2013 proplus, and recently I have installed office 2016 preview, I don't see the difference between them.. Did you guys notice something on 2016?

Real time collaboration is available on the docs

Laso change in exchange mail accounts configuration. unfortunatelly leads to situation that in our company environment i cannot connect to Exchange Server. On Office 365 it works, on Office 2016 doesnt. Did not work alsi on technical previews of 2016. Therefore i had to rollback to official Office 365. Dont know, what exaclty they changed, its a bit pitty.

What i'd really like to know is how to use, but keep separate, my personal office account and my work office account.

What os the difference between the 32-bit and 64-bit version?

Office 365 business is a very different monster than Office 365 Personal and Home. Personal and Home are basically the same thing as the free online office apps with more OneDrive space and the ability to use the downloaded office apps. In Office 365 for business, web based outlook is different and OneDrive is a completely different product. Here's some of the bizarreness: Office 365 Home users use a more basic version of the Outlook web app (which I actually like better). Office 365 Home users see ads in Outlook.com. You can pay a seperate yearly fee to get rid of ads. Office 365 Business uses SharePoint under the covers for OneDrive and it sucks. As a developer, there are a bunch of file types I can't upload because SharePoint would doesn't allow them. Normal OneDrive doesn't care about file types. Office 365 Home users can't set up a custom domain for their email (anymore). Office 365 Buiness users can set up to 900 custom domains. So, as a software consultant, Home gives me the version of Outlook.com and OneDrive that I want, but Business gives me the ability to manage custom domains. What I really want is Home + custom domains. It was really frustrating figuring all this out. The documentation is horrible; "Office 365" in the docs really means "Office 365 for Business"...most of the time. Chat support is also terrible: Me: Does Office 365 Home allow custom domains? TechSupport: No, you have to pay for a subscription to Office 365 for that. Me: Office 365 Home is a paid subscription. TechSupport: If you have Office 365 Home you need to upgrade to a paid subscription Me: I AM paying for it now. Please stop implying that I'm not a paying subscriber. TechSupport: You need to upgrade to Office 365 for custom domains. Me: I have Office 365, do you mean Office 365 for Business? TechSupport: Yes, you need to paid for version. Me: I'm paying right now...see above. See link to your own product page And on and on...

Will the office 13 users who bought them get a free upgrade offer to office 16 when its out?

I got free 365ProPlus from my universirty :) hahaha

One thing I didn't realize about Office 365 was the online capabilities. If your on Bings home page and logged into a Microsoft account you can access the whole office suit by using office online. So I am able to use Office 2013 on my work computer that has Office 2007 installed. Pretty cool
Windows Central Newsletter
Thank you for signing up to Windows Central. You will receive a verification email shortly.
There was a problem. Please refresh the page and try again.