How to download and install the Microsoft Office 2016 public preview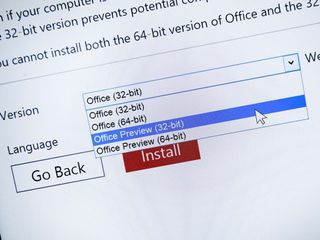 Microsoft has announced the public preview of its latest version of one of its flagship software products, Office 2016. Public preview means exactly that, anyone can go ahead and load it up on their Windows PC and play around with it for a while.
There are a couple of different ways to go about getting your hands on it, and they hinge on whether you're an Office 365 subscriber or not. Here's what you need to do.
For Office 365 subscribers
If you have a current subscription to Office 365, you'll need to get the Office 2016 preview through your account management page. Here's where to look for it:
Log in to your Office "My Account" page
Look for "Language and install options"
Click it
On the next screen you'll want to click on "Additional install options"
In the dropdown box you'll see go ahead and select the Office Preview 32-bit or 64-bit installs as required.
By default Microsoft recommends installing the 32-bit version of Office regardless of whether you're on a 32-bit or 64-bit version of Windows as it helps lower the chance of issues with third-party plugins.
For everyone else
If you're not an Office 365 subscriber then you'll just need to download the package from Microsoft:
Visit https://products.office.com/en-us/office-2016-preview

(opens in new tab)

You'll see download links for 32-bit and 64-bit versions of the Office 2016 preview
As above, Microsoft recommends the 32-bit version by default
Make note of the product key on this page, you'll need it to authenticate your install
What happens when the trial ends?
Microsoft describes both scenarios as such:
For Office 365 subscribers:
For non-Office 365 subscribers
It's also important to note that installing the Office 2016 preview will overwrite any current Office installs on your machine. So, if you're not prepared to live with potential bugs, bear in mind you can't run both side-by-side. If you have a spare machine it'd be worth loading it up on that instead.
Windows Central Newsletter
Get the best of Windows Central in in your inbox, every day!
Managing Editor - Tech, Reviews
Richard Devine is a Managing Editor at Windows Central with over a decade of experience. A former Project Manager and long-term tech addict, he joined Mobile Nations in 2011 and has been found on Android Central and iMore as well as Windows Central. Currently, you'll find him steering the site's coverage of all manner of PC hardware and reviews. Find him on Mastodon at mstdn.social/@richdevine
Without 0365 Sub after trial one needs to reinstall using Original product key? If the original product key is/was used during initial installation why does it have to expire? Confucianism!

Your original product key. For your purchased version of Office. You need a different product key to install the preview.

I think that the non-O365 version is an ISO.

You mean the links under "All other Office users" (https://products.office.com/en-us/office-2016-preview); if so then no, they are EXEs but it's not the actual Office installer.

Never, that would be too easy

I'm stuck on "streaming", I've been waiting for two hours... Is it normal? Office 2013 was a lot quicker.
Also, how much time lasts the trial version?

Ok, so I'll just try to be more patient next time. The instalation went fine and the trial lasts 180 days, that's nice!

So, 6 months give or take. Not bad at all.

Office 2016 sounds ugly. They need to call it Office 2017

Will this new office also be free for those having non-original copy of office just like win10?? :P

I think it will be "free" for office 365 subscribers, in that those people can upgrade to the latest version as long as they have a subscription active. I doubt they will give it away to those who just bought office. They seem to be moving toward subscription models.

He's referring to pirates. When you steal something it's always free.

What I don't like about Microsoft is they don't follow one protocol... They go by market game and give support... WinVista dint got office 2k13 nor will get 2k16!
Same should be win7 .. It shouldn't get office 2k16 but m sure it will get 2k20 also.. It would be next xp!!! Problem is ppl who buy winvista r now left in cold or one who cannot get later versions... Either due to hardware concerns or some other.... I think they must have a protocol.. And must be followed by all OS ... M afraid same will happen with win8 .. And we all b all in lurch if v cannot upgrade .. Coz of hardware limitations or some other concerns..

If it runs Vista, it also runs 7. If it runs 7, it also runs 8 and 10.

Well ... Win10 specs r yet to b out! May b many old system running winvista or bought during early win7 days may not get win10... Ms themselves some system may not b able to run win10.. Like my old system.. It ran winxp, winvista n win7 but couldn't run win8 due to processor limitations! (execute disable bit) and my old lappie although could run win8 .. But couldn't run win8 well!

I'm gathering that your first language isn't English?

I guess His first langusge is Hindi...

Are you certain that it'll overwrite all existing Office software? I own Office 2010 & have it installed, I have 365 installed as well. Will it overwrite 2010? I have no more installs remaining. I need to keep 2010 as a back-up in case I can't continue with 365 for whatever reason.

It cannot be used alongside Office 2013, which is what Office 365 gives you right now. It doesn't mention older versions in the FAQ.

I beleive 2010 and 2013(365) are completely different kernels thus they don't bother each other.

I installed a few hours ago. It doesn't seem to affect the 2010 install. Both 2010 desktop and 2016 run nicely simultaneously. So it seems you can go ahead just fine. I just love that Excel allows two files in separate windows, and even Dragon now works with the streaming version. just to be complete on original 8.0

nice if they would have provided us iso files...

Why can't you just go and download it from Microsoft?

yeah doing that, i just said its nice if they do

Because I'm installing on multiple computers: W7 and Virtual W10.

Funny how the applications are still called 2013 :)

I tried to install Preview without manualy uninstalling 2013 and I saw separate Microsoft Office 2016 folder, but after uninstalling and install - only MS Office 2013. Strange behavior :(

FYI RPC for remote exchange connections does not exist in outlook 2016...

You cant connect to an Exchange server ? really ? Oh, well uninstall..

You cannot connect to an exchange 2010 server remotely from what I can tell. It works on the internal network but it looks like they pulled RPC and Outlook Anywhere in favor of MAPI-HTTP. The problem is that only exchange 2013 sp1 supports it. So basically at this point we have a bunch of users on o365 that can upgrade immediately (and I bet it prompts them to do it) but they wont be able to connect to our exchange server outside the building unless we spends tens of thousands of dollars upgrading. (nicely played MS) Having said that I bet there will be a large amount of backlash from SMB's the bought into the SAS model but run their own exchange server because they have more users than makes sense for hosted exchange but nto enough to justify upgrading server software and licenses all the time.

Well currently this is a preview. No-one is being prompted to update. If, however, the issues are still present in the general release, that becomes more serious.

Sorry Dave I accidentally reported your comment instead of upvoting it. I completely agree with what you are saying. Microsoft just cant help but to c0ck things up. I just installed 2016 and attempted to connect to our hosted exchange server, I say hosted becasue we dont actually have an exchange server, we use a third party hosted service, and I cant connect. I bet they (and all of my clients using the hosted service) will be happy when they find this out! What a joke.

Hopefully there will be enough of an uproar that they will release a MAPI-HTTP connector for previous versions of exchange prior to the release of Office. I get the need to push forward and the argument for an exchange conenction that survives hibernation is grounded in the real world requirements of todays tablety devices but lets not punish everyone else.

Curious as to what version number is on the install? Is it 16.0.3930.1008 or some other build number?

Hi did you ever find an answer? I'm wondering if my preview from before got auto-updated to this public preview version... I have teh 3930.1008 version. Thanks

Installed this. Why not? Already running Win 10 Fast ring on my Surface Pro 3 and Lumia 1520...

Your living the risky life. Trust me roll back on at least one of those

Yeah, it's proven to be a pain in the ass already, but I'm riding it out at this point...

Yeah, I considered putting Windows 10 on my Icon before I learned it wasn't available for it yet. Even if it was, I waited too long to get the Denim (and Cyan) update to go messing with that.

Installed it earlier today... And its pretty goooood like it should :-)

do you have outlook installed with it?, I installed and outlook is missing.

Once trial ends? Rearm. :D

Sure, I'l give it a shot on Windows 10, wont install on my production (my home production) Windows 7 machine...

No Outlook on my install ? Crap, I tried to run 2013 outlook and it wont let me, I guess I have to uninstall 2016, I need Outlook... If I could run Outlook 2013 with office 2016, I would but I cant run both...bye bye for now..

Yup same for me, no outlook, 2013 won't run (specifically outlook 2013), all other '13 work.


Mmmmm, well, I am on a Mac and have been using Office 2016 Beta for Mac for a while. I was hoping the Windows versions of Office 2016 would be as nice if not better than the Mac version. I am disappointed. The layout is quote different and on a retina display the icons and text better suit the new Mac OS X 10.10 than Windows. The lines and text are very very fine (as in thin). Immediately upon opening Word and Excel, the ribbon looked all wrongly proportioned. And Outlook had massive "Mail" "Calendar" etc words along the bottom to swap between them. Really ugly :-(

Does anyone have Outlook 2016 on their install ? I tried to install the 64bit version and it did not come with Outlook (I need Outlook), and after installed my 2013 outlook would not run ? How to I get a verion with Outlook 2016 on it?

Do you see Outlook 2013 app? As I can see it now has two feedback smiles, and Version: 16.0.3930.1008 under File > Office Account > Office Updates. Installed form O365 subscription.

i am using office 365 for business, when i go to the download page it just offers the 32 bit (recommended) and 64 bit versions, no preview am i missing something?

I tot office 2016 is been release quite some times ago? Been in my preview for month(s)

where i change the version, only let's e download the 32bits version, and i don't see anyhing to change that! Any help?

Click on "Language and Install Options". On the next page, click on "Additional Install Options". The page will then give you the option to select your version. Good luck.

Is the 32bit version still recommended by default or is the 64bit version up to par now?

I want an offline downloading link with 32-bit OS but unfortunately i'm unable to find anywhere. I found a link that was provided some offline version of MS office 2016 but this link has similar preview links as Richard shared those with us. However, this latest version includes Visio and Project with a free preview. I suggest all office users to have a try before purchasing it...

http://www.Microsoftkeystores.com To buy a genuine product key, go to the site http://www.Microsoftkeystores.com . This is definitely not like some sites which will make you worry about the purchasing safety. The payment process is confidential and guaranteed. More importantly, the product is genuine and with attractive price.

If you're lookinf for Microsoft Project 2016 / 2013 / 2010 License Keys, or Microsoft Office License Keys, go visit licence-activation dot com, tested and guaranteed.

Hello Everybody. If you're lookinf for : - Microsoft Windows 10 / 8.1 / 8 / 7 / Xp License Keys - Microsoft Office 2016 / 2013 / 2011 / 2010 / 365 License Keys - Microsoft Project 2016 / 2013 / 2010 License Keys You can go visit licence-activation dot com, tested and guaranteed Licenses.

I've tested two keys from this web site and I can say that this one is really good.

I never found such a professional onsite shop about product key as the site http://www.Microsoftkeysales.com/ before! Recommended by a friend, then I bought the product there. I think I must share this good site with you. Genuine product and low price! Really help me a lot!
Windows Central Newsletter
Thank you for signing up to Windows Central. You will receive a verification email shortly.
There was a problem. Please refresh the page and try again.