GPD Win 2 hits Indiegogo for Windows 10 gaming on the go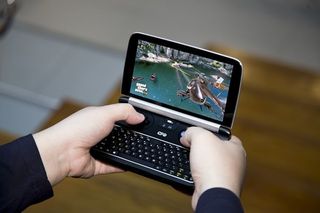 (Image credit: GPD)
The sequel to GPD's PC gaming handheld is officially here. The company recently launched a crowdfunding campaign for the GPD Win 2 on Indiegogo, and it has already surpassed its goal with two months of crowdfunding left to go.
The Win 2 is a followup to the GPD Win, a handheld PC that our own Jez Corden found to be quite impressive in his review – if a little on the expensive side. For the Win 2, GPD has upped the specs of the device, which it says has helped it to achieve some solid performance and framerate increases in a variety of popular games. Here's a look at the hardware particulars included with the GPD Win 2:
Intel Core™ m3-7Y30
lntel HD Graphics 615
6 inches H-IPS Technology
8GB Memory
M.2 SSD 128GB, Replaceable, No Capacity Ceiling
162×99×25mm
ABS + Aluminum alloy
2×4900mAh, In Series
About 6~8 hours of battery life, it should depend on the actual working conditions
According to GPD, these specs were enough to help the device push Grand Theft Auto 5 to an average of 38 fps at maximum settings. Heroes of the Storm performed at an average of 49 fps at low settings, while DOTA2 managed to hit 70 fps at maximum settings. Each game was tested at a resolution of 1280 x 720. You can check out how the Win 2 compares to the GPD Win, at least according to GPD's own testing, in the chart below:
As far as inputs are concerned, the GPD Win 2 comes with a miniature keyboard, as well as twin joysticks, a D-pad, and your standard array of gaming buttons. Aside from slight design changes related to the device's accents, the biggest outward design change is the position of the thumbsticks, which are now closer to the edges of the interior. The device also features a slightly larger screen and double the RAM of its predecessor.
The GPD Win 2 obviously won't be for everyone; running full Windows 10 on such a small screen presents its own challenges, and playing full PC games on a diminutive device is a niche market anyway. Further complicating things is the price, which comes in at $649 during the Indiegogo campaign. That'll shoot up to an $899 base price once the device launches later this year. However, the GPD Win 2 is certainly an interesting product and, judging by its backing so far, there's clearly enough interest for it to hit the market.
If you're interested, you can back the GPD Win 2 now at Indiegogo. Units are expected to start shipping in May.
Windows Central Newsletter
Get the best of Windows Central in your inbox, every day!
Dan Thorp-Lancaster is the former Editor-in-Chief of Windows Central. He began working with Windows Central, Android Central, and iMore as a news writer in 2014 and is obsessed with tech of all sorts. You can follow Dan on Twitter @DthorpL and Instagram @heyitsdtl.
how is it dead for you? Care to explain?

I can explain what he's probably thinking.. He probably doesn't trust these funded projects because they have a bad track record, and a lot of time fall through.

The first gen was a massive hit. I think this will be as well.

I can see some Andromeda devices like this hitting next year.

Why not this year or last year or 3 years ago?

Why not during the Salem Witch trials?

A gaming device with Intel HD Graphics 615... must be joke. Plus the ridiculous price of $899.

Using the core m3 is a significant upgrade compared to the gen-1 atom. Nice little device!

Pretty cool looking thing. Still don't understand the A/Y button color situation, though. The first one was the same way (but colored letter on black instead of the fully colored buttons on this new one), but was advertised as having a built in Xbox 360 controller. Weird to me that X/B follow the scheme in this instance.

Not sure why running Windows on a small screen is a problem. You DO know it has a built-in way to increase the DPI, thus making everything on screen larger. Or just use the built-in mouse mode with the joysticks and it's not a problem at all.

Interesting device... I think a Switch is probably a better investment for portable gaming though.

Next Iteration will run on ARM with telephony.

Depends on how Windows on arm devices performs in x86 gaming.

I would rather get a Surface pro with the same processor and integrated graphics for this price point! And search for a on-screen controller software or get a cheap Xbox controller!

Surface pro will not fit in your pocket.
This device only targeting pocket gaming enthusiasts.

It is not good enough to hold in your pocket! Especially if one already have a Smartphone or carries a wallet.
It still gonna be in the bag of there owners;")

It is niche device for handheld gaming enthusiasts. First generation device was well received by its target audience.gdp win 2 is expensive but with core m3 and ssd storage it is worthy upgrade.

I am telling my preference! Nothing against the device or the market it is targated towards! Buying a surface pro gives you more options of use case.

I heard the previous one had some quality issues? like communication, battery issues, delay and using site associated with malware for driver downloads, etc...

I'm not sure what I can play using this device... Minecraft?

If you're not sure what you can play with this device, then your imagoination is too limited. Direct from the Indiegogo page, some example games and their FPS. Bear in mind that the screen is 720p native, and that is more than sufficient for a 6" display at arm's length: "Grand Theft Auto 5" maximum settings at 38fps; "Heroes of the Storm" 60fps, team battle at 38fps, with an average of 49fps; For "Overwatch", its framerate on menu screen is 120fps, 80fps when walking in the map, and a stable value of 50-70fps when in during matches, with an average of 83fps; "League of Legends", even on maximum settings, 60fps can be achieved, heavy action sections at 48fps, an average of 54fps; "DOTA2" maximum settings at 70fps; "The Elder Scrolls 5: Skyrim" with average of 53fps; "World of Warcraft" with an average of 30fps.