With the Nintendo Switch dominating the airwaves during the last couple of weeks, you have to wonder why Microsoft has gotten into the action a bit more in this space. Powerful x86 hardware is extremely hard to cram into such a small device, but that's irrelevant when Windows has hundreds, maybe thousands, of lightweight titles that will run extremely well on low-end hardware. This is where the GPD Win truly shines.
What is GPD Win?
The $499 GPD Win is a handheld full Windows 10 PC, complete with a touchscreen, Intel Atom processor, and active cooling. The manufacturer says active cooling provides better performance than the passive cooling found in other Intel Atom devices, such as the Surface 3.
A unique aspect of the GPD Win is the fact that it comes with an Xbox 360 gamepad embedded in its base. It has a full QWERTY keyboard, mini HDMI-out port, a full-size USB 3.0 port and a USB type-C port for rapid charging. It comes with a modest 64GB storage, but it also has a microSD card slot for up to 128GB of additional drive space.
Image 1 of 2
GPD Win tech specs
Swipe to scroll horizontally
| Category | Specification |
| --- | --- |
| Dimensions | 2.35 cm x 15.5 cm x 9.7 cm |
| OS | Microsoft Windows 10 64bit OS |
| Processor | Atom X5 Z8700 64bit Quad Core 1.44GHz, Up to 2.24GHz CPU |
| Graphics | Intel HD Graphics 405 |
| Display | 5.5-inch In-Cell OGS IPS Multi-Touch Screen 267ppi |
| Resolution | 1,280 x 720 Resolution |
| RAM | 4GB LPDDR3 RAM |
| Storage | 64GB eMMC |
| Ports | USB Type-C, HDMI, Bluetooth 4.1, Wi-Fi |
| Power | 6,900mAh battery (listed six to eight hours of gaming) |
Hardware design
I was skeptical when I initially saw this device in pictures. I didn't check out any of the reviews before getting my hands on it, so I had no idea what the build quality would be like. But the GPD Win feels wonderfully solid.
Sporting a typical clamshell configuration, the GPD Win has rounded edges underneath, which ensure it feels pleasant in hand over long periods of time. The screen is surprisingly sharp and vibrant, albeit with slightly poor viewing angles and an aggressively-reflective glossy screen.
The screen itself is 5.5 inches, making it smaller than my Lumia 950 XL. It would have been ideal to see the company fill the display's wide bezels with more screen, because full Windows is pretty painful to stare at on such a tiny display. The manual comes with instructions on how to tweak Windows fonts and icon sizes to suit its screen better, but there are plenty of Windows aspects that aren't configurable, which will lead to eyestrain for some users.
But the GPD Win isn't designed to replace your word processing solution, nor is it intended even to be used as a tablet or laptop — despite having the option to do so. Light web browsing with zoomed web pages is pretty easy, however, and UWP apps tend to scale a lot better on smaller screens, making the GPD Win a viable device for quick website sessions, social media, or other Windows Store apps. Win32 programs suffer the most from the GPD Win's screen size, so don't expect to run Visual Studio on this thing.
The Windows 10 PC shell simply isn't intuitive on screens this small, even with the optimizations. The additional scaling of tablet mode helps to some degree, at the cost of losing easy desktop access.
That said, the GPD Win has a mini HDMI-out port, allowing you to utilize an external display. This vastly improves the device's usefulness outside of gaming scenarios. Thanks to HDMI-out, the GPD Win has what is essentially Continuum on steroids. Lots of steroids.
This is full blown Windows we're talking about here. You can install any program you like, as long as you understand the limitations. The Intel HD graphics aren't going to allow you to edit a 4K video in Adobe Premier with any efficiency, but with HDMI-out, an external Bluetooth keyboard and a mouse, you could easily process Word documents, send email like a boss, and even export Netflix to a TV or projector. The downside is that there are no rubberized feet, and when coupled with the GPD Win's light weight, extra cables can cause it to slide all over the place. You have to be quite careful with your positioning if you plan to use it on a desk, but that's not what the GPD Win is really about.
Going mobile
The GPD Win feels incredibly comfortable in hand, and its smooth plastics and rounded edges feel nice. The construction feels incredibly reliable. There's no creaking on the base or on the screen, which is a credit to its materials and manufacturing process.
The GPD Win is a little on the heavy side, though, clocking in at around 600 grams. The Nintendo 3DS is around 325 grams by comparison, and a Lumia 950 XL weighs 165 grams. If you have weak, nerdy arms (like me) you might find yourself a little strained holding it up for long periods.
When it comes to navigation, the joysticks function as mouse cursors, with the left and right triggers acting as left and right mouse clicks. It's a decent enough solution, given the fact there's no room for a trackpad, but it can be rather sluggish compared to simply using a real mouse.
The touchpad is often far quicker than using the joystick cursor, and it's surprisingly accurate, even on Windows 10's sub-optimized shell. There are some other strange design quirks, however.
The GPD Win's speakers are on the sides of the device, right where you rest your palm while gaming. The speakers pack a punch, though, giving my Surface Book a run for its money in terms of volume, though they aren't as clear. If you plan to use the device on a plane or while traveling, you will probably use its 3.5mm headphone jack and some headphones anyway.
The GPD Win also features a full QWERTY keyboard with additional buttons for certain functions, such as the Xbox 360 controller's left and right joystick buttons, volume controls, and the Xbox home button. It does a decent enough job as a keyboard substitute, but you won't want to use it to play any games using WASD controls, except maybe turn-based titles. The keys are quite hard to press, although the topside of the base holds firm, even when you press down quite hard on the keys. The keys are slightly textured and have grooves to help orient touch typists, so with practice, you could probably type fairly quickly on it. It isn't backlit, though, so no typing in the dark for you.
When you close the clamshell, it goes into sleep mode instantaneously, and the fans turn off. I've tried it quite a few times and found it to be reliable, which is a far cry from the notoriously-iffy sleep reliability on the Surface line. Play some games, browse Facebook, close the lid, put in your pocket — job done.
Gaming on the go
Windows has decades worth of Win32 games, and there are an impossible number of titles that run extremely well on the GPD Win. You're not going to be playing Battlefield 1 or the Witcher 3 on this device, though. You need to think of it as a vehicle for playing optimized Xbox 360-era titles, and even emulating classic console games if it's legal to do so in your territory.
The GPD Win supports both DInput and XInput. DInput is the legacy Windows gamepad API, with XInput replacing it for Xbox 360 and Xbox One controllers. You activate it by flipping a switch above the keyboard, allowing you to control both modern and older games that don't support XInput.
Some games seem to freak out when you use the switch, however. So sometimes it's better to flip the switch from mouse to XInput while the game is loading so it loads thinking you have a controller plugged in. It's not ideal, but it works, and that's really the whole story of the GPD Win.
The buttons, triggers, bumpers, and joysticks are all high quality and a pleasure to use. Usually, I can't stand third-party Xbox controllers, but the GPD Win does the configuration justice.
The most annoying thing about the gamepad is that the L3 and R3 joystick buttons are found on the keyboard, rather than the joysticks. This makes playing many modern first-person shooter (FPS) titles a cumbersome endeavor, reducing the number of viable games. Using the latest Vulkan API, DOOM 2015 runs fairly well on the GPD Win. But without the joystick click for executions and health regeneration, I can't imagine it would be terribly fun to play.
Still, there are potentially hundreds of games that function well on the GPD Win. I was able to run less intensive games, such as Minecraft, Rivals of Aether flawlessly, accompanied by more intensive X360-era games, including Bioshock and XCOM: Enemy Within.
GPD lists the battery life in the six-to-eight hour range, but I found it to be around the five-to-six hour mark while playing XCOM: Enemy Within. I also hadn't completed the performance tweaks GPD recommends in the device's manual, nor did I adjust the screen brightness or enable battery saving mode for extra juice. So six to eight hours is probably fairly accurate.
It's a bit pointless to run full-blown graphics benchmarks on this device, but for an idea of what sorts of games you can expect to run on the GPD Win, here are a few frames-per-second (FPS) test clips. Note: The "Video FPS" is the one to watch because the "Recording FPS" was occasionally bottlenecked by the eMMC storage getting filled up.
XCOM Enemy Within on GPD Win: 15 to 20 FPS at 720p, low settings
Bioshock on GPD Win: 25 to 55 FPS at 720p, low settings
Rivals of Aether on GPD Win: 55 to 60 FPS at 720p, max settings
Overall, the gaming experience on the GPD Win is top notch. Having a device that can store and play dozens of Steam titles is wonderful for traveling and other scenarios where your full PC or console might be out of reach.
Windows is a blessing and a curse
The GPD Win has the popular Nintendo Switch thoroughly defeated in terms of the volume of games, but does that make the Switch any less compelling? Unlike with the Nintendo 3DS, Switch, or even mobile phone platforms, you will often find yourself battling against Windows itself to make decent use of the GPD Win.
Image 1 of 2
The GPD Win instruction manual comes with reams of suggestions for tweaking Windows to promote performance, including things like disabling the firewall, modifying Cortana via the registry, and so on. I did quite a few of these things, but it exemplifies the fact that Windows itself is simultaneously the GPD Win's biggest strength and biggest weakness. Sure, you get loads of games, but for quick-access gaming on the go, Windows 10 is nowhere near what I'd consider intuitive.
Yet, I'm still drawn to the device. You have to be a certain type of gamer to want the GPD Win. If you're willing to go through the optimization processes per game, tweaking settings and circumnavigating the foibles with XInput and other drives, you could cram it with dozens of powerful Win32 games to play on the move. If you're the type of person who wants everything to just work, a Nintendo 3DS might be a better option.
The most compelling aspect of the GPD Win is the fact that full Windows is increasingly approaching a point where it can run on mobile devices. CShell will hopefully solve the issues with Windows 10's poor scaling on smaller screens. The GPD Win is literally a sim card tray and a hands-free headset away from being a great Windows 10 cellular PC, complete with phone capabilities and ultra mobility.
If Windows is to survive the onslaught of mobile, Microsoft should be looking towards devices like the GPD Win as an example of what Windows can accomplish on a mobile device, leveraging the decades of rich software capabilities the OS has accumulated. Even with the scaling issues, Win32 adds so much value to the prospect of Windows mobility and Continuum that it would be a complete folly to overlook it.
Beyond gaming, full Windows on the GPD Win also exposes the weakness of the Windows Store, particularly on devices designed for mobility.
GPD Win review: Conclusion
The GPD Win is an amazing handheld PC that fits nicely in an era of Windows hardware innovation. It feels pleasant in hand over long sessions. And even when you run intensive games, the active cooling prevents the GPD Win from getting prohibitively warm. In comparison, a gaming Surface Pro 3 could double up as a frying pan.
The GPD Win isn't perfect, with speakers that rest against your palms, less-than-modest weight, and unfortunate L3 and R3 joystick positions. But my general experience has been nothing but positive.
Like any gaming PC, the GPD Win is what you make of it. The vast majority of users on Steam don't have PCs capable of matching the Xbox One in terms of power. Most dedicated PC gamers know their computers' limitations, and therein lies the GPD Win's greatest strength and greatest weakness.
Pros:
Powerful hardware for its size.
Great build quality.
Awesome features and ports.
Cons:
Odd positioning of speakers.
No joystick buttons.
Screen could be bigger.
Full Windows ensures the GPD Win has hundreds of viable games in its library, across Steam, GOG, and other PC game retailers. The full OS also ensures that sometimes games won't run, you might hit compatibility issues, and you might find yourself tweaking settings and configuration files just to get some games to load. But that's a small price to pay for hundreds of games. After you set up your library, you're pretty much good to go.
For $499, you're going to have to really want to PC game on the go. If you fit that description, I think it's thoroughly worth the price. This sort of device will benefit massively from CShell, but it truly offers a glimpse at the future of full Windows on smaller screens.
The GPD Win is concentrated awesome in a pocketable package.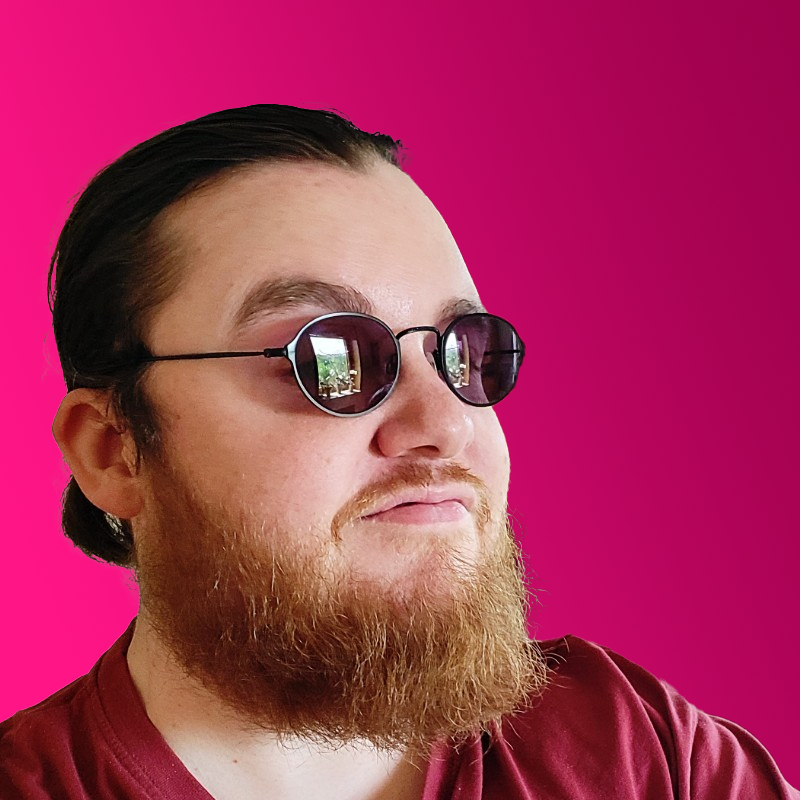 Jez Corden a Managing Editor at Windows Central, focusing primarily on all things Xbox and gaming. Jez is known for breaking exclusive news and analysis as relates to the Microsoft ecosystem while being powered by caffeine. Follow on Twitter @JezCorden and listen to his Xbox Two podcast, all about, you guessed it, Xbox!