Grandpa and the Zombies roll into Windows Phone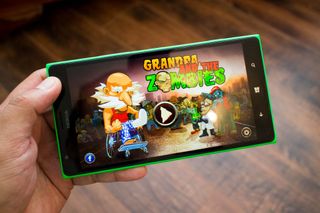 Popular zombie TV series, The Walking Dead, is coming back very soon. But while you wait, perhaps you want to play a fun zombie game on your Windows Phone device? "Grandpa and the Zombies" lets you play as Grandpa Willy who has just woken up in a hospital full of zombies. There are 120 levels available. We've just installed it on our huge Nokia Lumia 1520. Take a look at our gameplay video!
Features:
3 different worlds and a total of 120 levels
Horrible zombies – flee from Halitosis Jack, Bevil and Revil or the Forklift of Death.
A new challenge in every level
Comic-style graphics for adults and children
Controls are easy. Swiping in one direction steers Grandpa Willy that way. He's in a wheelchair and will only roll only as far as he reaches a wall or obstacle. The goal is to reach the elevator without touching a zombie that causes harm.
The first two zombies you encounter move in the same direction as you swipe. One can hurt you, while the other can't. Other things get introduced as you progress through the levels. For example, a broken floor with exposed electrical stuff can fry zombies if they step on them. There's also a blob of paint that stops you in your tracks.
While the main goal is to get into the elevator, there's also the familiar three-star achievement. Grandpa Willy loves candies. You can collect all three candies per level. You need these candies to unlock the other worlds.
If you need help with any of the levels, you can use a bomb to quickly destroy one of the zombies or tap the hints button.
"Grandpa and the Zombies" has been available for iOS and Android since early 2014, but we're glad Windows Phone gamers can now play it too. We're having a lot of fun with it. Go download it now and let us know what you think.
Thanks for the tip, windowsphoneth
Windows Central Newsletter
Get the best of Windows Central in your inbox, every day!
Madfinger should port Dead Trigger 2 to WP.. They're whining about piracy and game hacks on FB and Android yet still refuse to bring it to WP

That sponsored by metro PCS article is embarrassing.

Meanwhile, PVZ is still not free haha

Got excited for a second. Thought it was a PvZ2 announcement

I've been waiting for this game for so long now! Wonder how long it'll still take until it gets here =/

Looks pretty cool and challenging. I'll be sure to download it when I get home!