Green Screen of Death will soon replace blue for Windows Insiders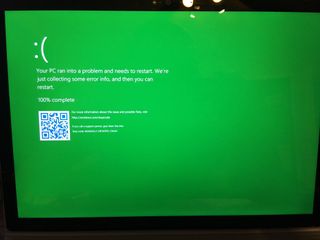 Windows Insiders will soon be treated to a brand-new hue when their computers crash. In fact, the Blue Screen of Death (BSOD) will be changing to a Green Screen of Death (GSOD) in an upcoming Windows 10 build — though the change is only intended for Insiders.
The change was first teased by by Microsoft Senior Program Manager Matthijs Hoekstra on Twitter, and was later confirmed by Twitter user Chris123NT (via MSPU) in an unreleased build 14997 that was recently leaked. There's no clear reason why green was chosen over any other color, but it will only be for those testing new Windows 10 builds in the Windows Insider program. The purpose of the color swap appears to be to make it easier for Microsoft to differentiate between errors in test builds and those in production.
Aside from the GSOD, there's a lot more coming along in build 14997. Check out our hands-on post for a full look at what's new in the unreleased build.
Dan Thorp-Lancaster is the Editor in Chief for Windows Central. He began working with Windows Central as a news writer in 2014 and is obsessed with tech of all sorts. You can follow Dan on Twitter @DthorpL and Instagram @heyitsdtl. Got a hot tip? Send it to daniel.thorp-lancaster@futurenet.com.
BSOD sounds so much better than GSOD.
.
But well, it's been 4 years since I've seen a "BSOD" :D
.
Windows 7 had many of these. Yet to see one in 10.

I've had more bluescreens on 10 than I have had on any other version of Windows. Mostly on an fully updated Surface book. I probably get 3 BSOD's a week.

You need to do a full Windows Defender virus scan probably. Not the quick scan. Also try the new offline scan. It helps in most situations.
..
If that doesn't help, then do a clean install. Only solution I think :/

Sounds like classic HD problems, but does the Surface use SSD?

yes surface pro/books use SSD

I got them a lot the first 6 months I had my Surface Book (Day 1 buyer here) but I havent had any issues lately. Sorry you are still having issues.

you either lying or straight up silly if you haven't taken to warranty repairs.

Same. Ive done everything and can't fix it on my SP4!!

Agreed, I use the SP3, and I get about 3 a week as well. However, my situation started about six weeks ago, and it occurs mainly when I have the mini display port connected or when I reposition the keyboard/type-cover.

oh don't bother, this site is microsoft's fanboy palace

Well, if you are having 3 BSOD's a week then you're did some terrible damage to your Windows installation/hardware or you're directly causing it. It's not common and by now, I've not had a BSOD in ages (not really, but the last ones were caused by my faulty, already replaced HDD).
Try a clean install, it should solve it

should be RED but feminist would take it as an insult towards them

No, no we wouldn't. When commenting, speak for yourself, not for others! I think people who don't understand what feminism even is shouldn't be trying to decide what would and would not be considered insulting to them. Instead, perhaps consider that you deciding that the color red somehow means to everyone whatever you think it means, perhaps THAT is insulting.

Jessicator hit it on the head. Just because feminism has "fem" people take it the wrong way. It's about equality. Either way they wouldn't use red for psychological reasons, namely red representing anger. I don't understand the green, I think friendlier shade of blue would have been just fine.

Nooooooo..... They can't change it! They have to live with the BSoD till the end of time! I hated it when I used to get the black screen errors.

They only change it for Insiders builds to easily differentiate if the user reporting is using Insider builds or Production builds.

Maybe if your streaming your viewers won't see it if you have a green background then they wouldnt know if you crashed. But since a green screen eliminates a background, what happens once the screen they are watching gets eliminated? Will they just see into your room or would it then create a black hole?!

They wouldn't see anything because it's a crash unless someone is streaming the output from a computer that's crashing.

Well, maybe they run some computers there to test somethings, sometimes. Maybe

Or would they see an image of a computer crashing, inside image of a computer crashing, inside image of a computer crashing,....?

I wonder how this change will affect those men that are colorblind.

The QR code is sill there :)

@ Catholic Tec Geek:
Non-descriptive Colour Screen Of Death

Yep. Changing the color of the crash screen for testers only isn't special.

Well... I wouldn't say its "special". New features, under-the-hood improvements or bug fixes are more "special". Changing the colour of the crash screen which only appears if an insider's computer crashes isn't really a special change... Its just different haha. Doesn't really matter though to be honest

Matthijs dit had oranje moeten zijn.

They had to differentiate between the insiders and the non-insiders in order to hedge against misleading whistle-blowers.

Let's hope we don't get to see it, am I right? Hahaha! But seriously, I almost never see the BSOD since Windows 10.

Lucky! I don't come across BSOD that often so its not usually an issue. Usually if I'm messing with (or just mass-updating) drivers etc, but I guess that's expected haha

Green seems fitting because crashes make me sick.

Option 1. Fix the underlying causes of blue screens.
Option 2. Change the color. Yay?

No software ever built is perfect and error-free, and an OS is not a 'hello world' program, so yeah option 1 is discarded.
Wish the color could be random, or at least related to each kind of error, could be helpful to solve them

Noooooooooooo. People will repel more than they did when they removed the start menu :)

Wow. That's long expected progress!

Why not BSOD with Black? :D

That was in XP. Maybe also ME?

Its color should Match the System accent color. Not that I see it so much, but consistency is a very important thing :D

A welcomed new feature :D

Wow! A much awaited update.

I got the BSOD on my HP 2 in 1 a couple weeks ago. The Microsoft store basically told me that it's my fault because I had the preview version of Windows 10 on it. They did a hard reset and then told me that I would have to pay to upgrade back to Windows 10. I ended up buying a Surface Pro 4 from Best Buy instead.

Imagine that? You received an error because you installed a pre-release OS on it. Also, I thought windows 10 CD keys are now embedded into the bios now?

Tonight I have had my first bluescreen on w10...

BSOD? GSOD? Why can't we have PYOSOD?

Bsod is better than gsod and when you see a bsod it is sort of like something from the past I think and it's annoying definitely but it has sentimental value to me. It has been around for years, I remember it happening on Windows 95. I mind if they change the color for no reason but if there is a good solid reason I am okay with it. A good solid reason is not it will make it more accurate at finding why it occurred.

I don't believe I've ever had a bsod on retail windows 10. Insider fast ring, yep.

Would be better if it didn't die in the first place... Don't you think?

its a bit too similar to xbox dashboard colour green for me
Windows Central Newsletter
Get the best of Windows Central in in your inbox, every day!
Thank you for signing up to Windows Central. You will receive a verification email shortly.
There was a problem. Please refresh the page and try again.