List of file formats that Microsoft's Groove Music app supports
Need to know what file formats you can play in the Groove Music app on Windows 10? Here's a handy checklist.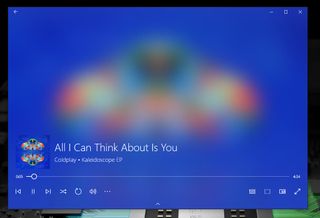 Microsoft's Groove Music app built into Windows 10 is easy to overlook if you're not a subscriber to the streaming service. The truth is, though, it's actually a very capable music player with very little fluff.
Just recently, I was pretty surprised to find out that lossless audio FLAC files played without a hitch in the Groove Music app. Gone are the days you when you needed to seek a third-party player to listen to lossless audio. But while there's a lot that the Groove app can play, it won't play everything.
Here's a handy checklist of the audio file formats you can enjoy in the Groove Music app on Windows 10.
More: Everything you need to know about Groove Music on Windows 10
Supported file formats
.mp3
.flac
.aac
.m4a
.wav
.wma
.ac3
.3gp
.3g2
.amr
This list doesn't cover everything, but the most common bases are all there. For more information, including details on specific codecs, check out Microsoft's help page (opens in new tab) where you will find the audio-nerdy answers you seek.
Richard Devine is an Editor at Windows Central. A former Project Manager and long-term tech addict, he joined Mobile Nations in 2011 and has been found on Android Central and iMore as well as Windows Central. Currently you'll find him covering all manner of PC hardware and gaming, and you can follow him on Twitter and Instagram.
Does it play high resolution audio without downsampling? I have some 24-bit/96Khz files that I know VLC plays

Majority of my library consists of FLAC 24-bit/96Khz files. I can assure it plays well on my 640XL.

What about 'try and see'? If you have a pc, you probably have Groove installed. If not, do it now. If you don't like it, uninstall...

It is important to note some of these file types will not stream from OneDrive. If I remember correctly, .wav was one that I had on my cloud and would not be recognized by Groove. Had to use an .mp3 converter for streaming.

"will not steam" have you tried putting them in a steaming bag on OneDrive first :D

WMA, including WMA Lossless, streams perfectly fine from OneDrive. Most of my music collection is WMA.

.wav then maybe? I just know some music wasn't recognized without the conversion

.WAV is a raw uncompressed digital audio format, so yeah WAV probably doesn't work.

Yeah. Just couldn't remember which one I had the issue with. Was a while ago.

Amigo, please pin down your issue. No need to create a "ghost" where no problem exists. We'll otherwise be delighted to help you out with problems.

FLAC. I had to convert all my FLAC to WMA Lossless to be able to stream them from OneDrive. This was months ago, maybe they changed it in newer versions.

I believe flac is another format that will not stream via OneDrive.

It would be cool if you could add whether or not these file formats are stream-able from OneDrive to this list also.

IMHO, Groove's features are on par with the other services. But add in more playable formats and storage/streaming from OneDrive, and it's the winner for me.

.wav can be 16 bit, 24bit , 32 bit floating point and more. What does GM actually play back and if so play back without altering?

Vote for .ogg playback in the Feedback Hub:
https://aka.ms/O5c5nl

Why the hell doesn't groove use directshow filters?

Does it really support .FLAC?
The Last time I tried, it hanged up my PC. Had to use vlc to play them...

Yes it does, although it doesn't seem able to read all the tags correctly

just a point: ive noticed that the groove tends to favour bought music over downloaded mp3's. I have several 100 tracks on my phone and its the bought - paid for tracks that seem to supersede any I have downloaded or have been sent to me by friends. any one else?

You can change that behaviour in settings somewhere. I turned it off so my lossless tracks take precedence over anything store bought.

Gone are the good old days of plugable codecs. This is probably my biggest peave about grove and why I don't use it. Its kind of like the DOS days where every application required printer drivers to print. Now every media software has to have their own codecs to play something that Microsoft doesn't think is popular enough.
Windows Central Newsletter
Thank you for signing up to Windows Central. You will receive a verification email shortly.
There was a problem. Please refresh the page and try again.