Groove Music, Movies & TV get minor update with bug fixes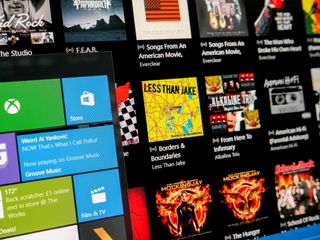 Groove Music is now receiving an update with bug fixes. Microsoft has been steadily addressing issues encountered by users, adding new features and polishing the user interface at the same time.
Today's update to Groove Music — which brings the version number to 3.6.1325.0 — is limited to Windows 10 desktop, but the mobile app should also get the update shortly. If you've got feedback on the music streaming service, make sure you let Microsoft know (opens in new tab).
Movies & TV is also picking up a minor update, which is available on both Windows 10 as well as Windows 10 Mobile.
Windows Central Newsletter
Get the best of Windows Central in your inbox, every day!
Harish Jonnalagadda is a Senior Editor overseeing Asia for Android Central, Windows Central's sister site. When not reviewing phones, he's testing PC hardware, including video cards, motherboards, gaming accessories, and keyboards.
Still streaming to wifi speakers doesn't work

I can't believe that up till now groove still lacks the genre category. I started sending MS this feedback months ago.

so what??
its not important.

whats important to some maynot be to others, wifi play back is very important to me as I do it all day while I'm working.

Hey...you still cant edit metadata in either. Thanks for listening, Microsoft. Stop telling us you are listening...the lip service is getting insulting. Just admit you think we are to stupid to know what we want and be done with it, you arrogant baboons.

Its been how many years since they released the original Xbox Music app? Lmao and it still lacks the features and polish that Zune had. I dont understand why they didn't adapt the design and interface of Zune onto this Metro app and rebranded it. Really. That was perfection.

Where is it on uservoice? The only ones I see in regards to metadata, the max has 5 upvotes. In a democracy that's not going to be enough. Unless there is a different one listed with a higher number in uservoice, that's democracy and not arrogance. If that's the case then if your vote for president didn't end on up being president then would you say the government didn't listen to you. It's a bummer but I have some ideas that don't have many votes either. That said, if you can list the title of your feedback I'll upvote it.

How about his one (723 votes):
http://groove.uservoice.com/forums/209733-microsoft-groove-feature-sugge...
And this one (669 votes):
http://groove.uservoice.com/forums/209733-microsoft-groove-feature-sugge...
And my one (701 votes) and (point 3), but marked as completed!?:
http://groove.uservoice.com/forums/209733-xbox-music-suggestion-box/sugg...

Oh and another one (445 votes):
http://groove.uservoice.com/forums/209733-microsoft-groove-feature-sugge...
Ao far I've found over 2000 votes in 5 mins checking, I hope you don't work in for a polling station (or MS feedback agile planning team)!

Thanks. I'll add mine. Maybe the reason why they don't see them is it seems the search doesn't work. I've seen a lot of repeats of the same requests by a lot of people instead of up voting the first. At first I thought is was because people didn't search first. Now I'm wondering if it's because the search is broke. When I searched for just the word metadata I didn't get much. Sorry, I don't work for MS. It would have been better if I did because then it would show they saw the request. I hope your not implying I can't perform a simple search either. I can't get a good read on what you mean considering some people attack ones trying to help here.

And if you want to cover everything (hapless, smart playlist, metadata, etc) just vote for the one asking Zune back because I has twelve billion votes already. That wont happen though, because they close it down to stop people for voting for it even more.

In my book Google personally takes the for arrogance. Tens of thousands voted to have a way to turn off conversation view in GMail and for over two years they refused or ignored the feedback. The whole office said a big FINALLY the day it was announced you could turn it off.

If they're really trying to fix issues then they better start with the name. Groove Music is simply horrible.

I think XBox Music was the best. XBox means entertainment.

I liked Xbox music better as well. Apparently they want to pull in users that don't recognize it as a Microsoft property, and see it as a standalone product.

I thought it was funny when they said that XBox Music was confusing and people didn't recognize it as music?? As if people will see the word Groove and go ok, I get it. I think they just need to pick one name, stick with it, and market the crap out of the name. Winamp wasn't descriptive but there was a time when it was synonymous with music because you heard it all the time.

MSN Bing Xbox Groove Music by Microsoft.

I wish Jay Bennett or Mobile nations would update this Windows Central app, it is so boring now, need new features, start making for windows mobile 10 version at least..

"im bored of app pls update w something 4 my short attention span" Yeah naw

I just wish I would stop getting feed errors on all my Windows devices. I have to read Windows Central on my Android tablet which in a way seems weird. Speaking of weird, Windows Central costs $0.99 in the store. In Google Play Windows Central, Android Central, and iMore are all free?

Yeah. I do like the app but it's been super slow on W10M. I paid for it long ago, but I should hope that my $1 would come with an update or two.

Because the app is unofficial, that's why it's $1, and they don't really care about windows phone

I noticed the publisher was different but I thought I read it was the official. It would be a bit sad and strange that a news site dedicated to Windows Phone only has an official app in a competing platform.

GROOVE LIVE TILE WORKS XD THAT FRIST FOR ME

Whats up with the names lately? Zune was cool, xbox music was fine, Groove and Movies and TV are horrible. I dont like to say: Hey , lets watch a movie on "Movies and TV" :/

Its actually"Microsoft Movies and TV". Which makes your last line even more hilarious
I have the feeling that's getting rebranded too, they just haven't figured out to what yet.
Lets hope I'm right because MS Music and TV is really.. I mean its not bad on paper but when you put it the way you did, its awful lol

© Coming Soon MSN Bing Xbox Music (Formerly Known As Zune) by Microsoft

Glad to see so many W10 app updates, but after months of using the tech preview on my everyday phone, I've decided to downgrade back to 8.1. Outlook has stop sending emails completely (says email addresses aren't valid), Office apps like Excel don't open most files and doesn't recognize my 365 subscription. I wanted wait but can't anymore.

But it's just getting good! Seriously, I can't even use WP8.1 any longer. What phone are you using the tech preview on? Try doing a fresh install, I think it's very useable right now - using on L640.

It's really not. Windows Phone 8.1 is still better in almost every way, and that's despite Windows Phone 8.1 sucking total balls in nearly every way.

No equaliser settings in groove... No visualisation settings...

>Visualization What modern media apps still have this? Does iTunes still do visualizations?
I think the Now Playing screen would be fine if they added all the little particle effects back like they had on Zune.
Beautiful app that was.

Zune desktop is still the definitive standard of a media player. That was like the peak of creativity for media players. Maybe someday Groove will catch up on some of the awesome aesthetics of Zune.

Groove should be made free to all Windows phone owners...!!!

I asking this honestly. You can't install the basic version on a non Lumia for free?

He's probably referring to the Groove Music Pass. The app itself is free for everyone.

Well finally they solved the issue of the stupid lagging zooming in on album art. Now it zooms smoothly.

Yes a new update for Groove !!! Ooooh noooo... stil no DLNA "Cast to" support to play my music on my network speakers :-( This is soooooo disappointing. What about all the people who bought DLNA speakers, which worked fine with Windows 8.1 and Xbox Music, but are useless with Groove on Windows 10. Such a feature loss is not acceptable, Microsoft ! If you need DNLA streaming, vote here : http://groove.uservoice.com/forums/209733-microsoft-groove-feature-suggestions/suggestions/9079087-groove-music-application-playto-and-dlna-support

And suddenly someone decides that music should pause when you minimise the app to the taskbar. How stupid can things ever be

Pauses on mine, too. Must be insider preview related?

That seems quite likely, since I'm using Windows 10 10240. In any case, it's surely something that's going to be fixed. I'd go ahead and report it anyway.

Still doesn't order multi disk albums correctly. Which is understandable I know, as it would require a lot of resources for R&D to figure out the sort algorithm to order by TWO different integers. Anybody got any ideas ro help MS solve that?!? ;)

C'mon people. Its "Films & TV" and not "Movies & TV".

It's Movies & TV on mine. Looks like Microsoft can't even decide themselves.

Zune is still leagues better. Just fire it up and see how it manages ALL your media in one place then compare to this crud and any sane person will recognize the sheer ineptitude of Microsoft and their so called "developers". The whole lot of them should be fired, especially the lead manager on this project, billions of dollars in profit every year and they are all just utterly inept. Should be ashamed to accept a paycheck for producing such rubbish.

All it would take to make all of us happy is for them to rebrand the Zune software to Groove, add in syncing with WP and android, and update the UI just a touch for W10. Call it Groove 5.0, easy as pie.

Ha the headache a while back when I did a clean install on all my devices. Tried 3 times to find someone in support that took the time to even understand how the service works and what my problem was. That's the issue not even the people that work for it use it.

I actually like "Groove Music" as a brand. Much better than Xbox Music. In terms of features...well...there is quite a bit of work to do. That all being said...there is an awful lot of hate around here lately. Since my 1520 has been fixed and I've been using the latest version of Win10 I couldn't be happier. I was almost going to switch to the dark side of iPhone. Not anymore. I'm pretty happy. Groove music obviously has a liking way to go...but it will get there.

I switched after four years of windows phone back in June. I if the OS isnt in an acceptable state by the time the new phones come out then i might just be done for good.

The awful lot of hate follows a couple of years of an awful lot of empty promises and outright neglect.

I switched to iPhone after many years with Windows Phone and couldn't be happier. Yeah the UI on the iPhone is boring, but at least everything works as advertised. With Microsoft, everything about them is "COMMING SOON" year after year. For every update Microsoft releases, they add 1 "new feature" and remove 2.

Microsoft have only themselves to blame for the hostile attitude of their remaining phone user base, after alternately neglecting, then mismanaging, then again restarting their platform by stripping out features and making things worse. At this point, I don't blame folks here for looking at Redmond with a jaundiced eye and a 'show me' stance.

Still a long way but for summary, Groove needs to be like Zune + WMP.

WTF? This latest update still has the bug where the search textbox won't bring up the onscreen keyboard. Such a pain on a tablet. Nothing says lack of attention to detail as a fundamentally broken UI bug front and center on the app's main screen that never gets fixed.

Does anyone have problem with their Groove? Mine can't detect all my audio files even though I already included the folder to be watched

http://www.windowscentral.com/microsoft-looking-fix-groove-app-not-findi... ​Check there :)

Looks like they've made up their mind that color should be in the taskbar. I really liked those all white icons but... this will (hopefully) grow on me. But for now..... :-|

Harish, if that screen shot is your music collection, you have good taste in music sir.

The app is only "Groove", not "Groove Music". The fact, that "Groove" seems to be not obvious enough for a music app has been missed by MS. Even WinCentral doesn't get it. At least it makes selling the service possible.

The product is called Groove, the service is called Groove Music Pass, the app is called Groove Music.

I'm glad to see I'm not the only user/subscriber of Groove. I love it.

Groove music's taskbar icon is now colorful

I thought the point of Universal Apps is that they share code. Why didn't mobile get this update? Mobile still on 3.6.1299.0 for Groove.

Hmmmm my windows 10 store on my Pc still crushes.

I had a problem with the sidebar acting all weird. It seems they fixed it with this update.

Needs more than just bug fixes.... - Bring back tap-and-hold and/or swipe to select a track and album (wtf is up with the "click this button way at the top to allow selections", its so inconvenient for playlists where you have to scroll all the way back up and then all the way back down to select a track at the bottom of the list) - Matching, syncing, and OneDrive integration is still problematic. Why do I get two of the same tracks showing up?? One shows up as "locally saved" and the other as "stream from OneDrive." If I have my OneDrive music folder synced, it should only show up ONCE as "locally saved." - Bring back ability to buy from the Groove app. Redirecting to the store app is terrible design since it doesn't even direct you to the song. It just goes to the music home page.... Also you can't search by artist name in the store app (wtf?)... - Edit metadata. Sometimes it is just wrong, but there's no way to fix in Groove. You have to use a 3rd party app and pray that Groove will recognize and update the changes.. which brings me too.... - Groove needs to be able to refresh the library! Either manually or automatically!!! If I delete a song from OneDrive or a local folder or move a song to a different location, sometimes it doesn't register in Groove and it still thinks the song is there, or it thinks the song is still located at the old location!! Needs to be able to refresh the database!!!!!!!!!!