Groove Music snags handful of tweaks on Windows 10 Mobile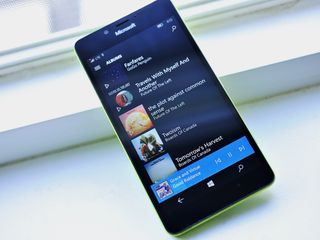 Microsoft has rolled out a fresh update to Groove Music for Windows 10 Mobile. The update pushes the app up to version 10.18011.1341.0 and, surprisingly, brings some of the same new features and tweaks that recently hit the desktop version of the app. Here's a look at what's new (via Windows Latest).
One of the biggest additions is that there's now a toggle in the settings menu for displaying artist art as your lock screen. When toggled on, whatever artist you're currently playing will show up as your lock screen wallpaper. Additionally, the settings menu also now includes options for modifying your storage settings and manually managing and syncing your OneDrive music. Currently, however, the option to sync with OneDrive appears to be causing an error message, and tapping the "manage" option takes you to the OneDrive website.
Finally, the long pressing on an album or song will now give you a "Play next" option, letting you select that full album or song to play after your current track.
It's worth noting that the equalizer feature that recently rolled out on desktop isn't available in this update. Given the bugginess of the OneDrive sync option, however, it'll be interesting to see if this update was meant to roll out on mobile, particularly since Windows 10 Mobile is no longer a focus. Microsoft recently rolled back a Photos update on mobile that apparently mistakenly rolled out with several desktop features.
See at Microsoft (opens in new tab)
Windows Central Newsletter
Get the best of Windows Central in your inbox, every day!
Dan Thorp-Lancaster is the former Editor-in-Chief of Windows Central. He began working with Windows Central, Android Central, and iMore as a news writer in 2014 and is obsessed with tech of all sorts. You can follow Dan on Twitter @DthorpL and Instagram @heyitsdtl.
I've had this update for a while now so I would say that if they were going to roll it back then they would have done it by now.

Ya...what the heck is this. My version is newer than what the article lists. We have had this update for a while, you're right...I have had the versison 10.18011.13412.0 since Feb. 9th. lol

I thought this was a universal app
Why's the desktop version ahead?

That doesn't mean the same thing it used to mean.

Desktop gets things first, because of RS3. Mobile gets things later, because of RS2. Desktop and phones are no longer aligned.

the roll out can still happen at different time

Yeah I do Google music dose not feel the same for me.

The equalizer, article author, is not in the Groove app on phone. It's in the Extras section of the general settings menu. So it is included as it always has been. Seems WC staff have forgotten how Windows Mobile works?

Well, they don't use it anymore, so....

Still, surely they remember the good old days? If not, just ask me to edit the articles to make sure they are correct. I've had no such request email so far.

Updating a dead app on a dead platform. Interesting strategy. Like digging up a corpse to change its clothes. The lockscreen option would have been nice when the platform was still relevant...I really missed that feature from WP7/8.

I think it's because Andromeda is coming out soon and this version of the app will be on it. They are still testing apps on mobile devices to make sure they work properly.

That's exactly it, even early Andromeda builds are being tested on existing Windows 10 Mobile devices purely to see how the interface is going to look on mobile devices.

That's exactly it, even early Andromeda builds are being tested on existing Windows 10 Mobile devices purely to see how the interface is going to look on mobile devices.

Smart, starting the article with ' it's not dead yet'.

I thought MS was no longer rolling out new feature updates to WP apps. Didn't they roll back a recent update to the photo app and state something about no longer rolling out feature updates to WP apps?

There is resistance, even within MS. Doubtless those responsible will get a kicking from Ol' Nads at some point though.

Win10 mobile is coming back....

I can't stand how all of my music that was part of my Groove subscription still shows up in my music mixed in with my OneDrive music collection. I wish they'd get rid of it for me since it is part of their cancelled service.

I feel ya man. I had to purge all my stuff from one drive one night and create seperate playlists for that very reason.

People are still using this app?

Unfortunately, i'm a streamer and had no choice but to find something else. Didn't make sense for me to use two different apps.

Yeah, I feel you. However, I still use Groove, because I have a ton of music stored on OneDrive.

How does one get this update? I've got a Lumia 950 with 1709/10.0.15254.249 and going to About in Groove shows 10.17086.2471.0. Store shows no updates(I got the OneNote update this morning, Photos/Feedback Hub/Word/Excel/Powerpoint on Thursday, so I know the store works).

It's probably only for the US like most things MS produces.

not true, I'm from Canada and I have the latest build and I do indeed see the lock screen option on groove... I have the HP X3 if that has anything to do with it.... ALSO I use Groove every day and it rocks... just wish it still supported streaming....

Nope, got it here in the UK as well.

My Groove Music updated two days ago...

My grove version is 10.18011.13412.0....!
Is this the same version indicative of the incorrect version in the article?!

Microsoft made a smart move adding the lock screen option, but they need to shine it up a little bit!👌

You know we all love it when Microsoft slips an update in our Groove. 😉 Still the best audio player.

Windows Mobile has equalizer built in on OS level, that is why Groove does not need it separately.

I notice as well mine has the same acrylic on the blue bar as seen on Windows 10 Desktop, different than the picture of this article. Anyone else have this?

So, I had this crazy idea. For different resons I've been using Spotify lately. However, this Groove app is really great, and although I can stream my mp3's from OneDrive I just hade this crazy idea. WHAT IF MS OFFERED A SPOTIFY STREAMING SERVICE IN GROOVE? I don't know why, but for some reason I believe this would have been awesome...

People in the Feedback Hub (myself included) have been begging for Microsoft to do just that ever since it was announced that Groove music pass was being discontinued. It really wouldn't be hard at all to implement, it just comes down to whether Microsoft wants it to happen. Right now they seem to be doing everything they can to push users off Groove and W10M, for reasons probably only known by Satya Nadella.

Not only this app get updates on my Lumia 950, many others also. I've received this one, Groove, already feb.5. OneDrive, Word, Excel, PowerPoint, OneNote, Outlook Mail and Outlook Agenda, Microsoft Phone-Assistant, To-Do, Film and TV, Authenticator are all updated after feb.5. Latest feb.20 Roamit and WorkingHours but many more. My Lumia 950 with Windows 10 Mobile isn't dead add all, but alive and kicking!👍🏼

I miss Groove. I changed to Spotify in December when the emails from MS were coming through, and have to say that the Spotify app on 950xl is absolute rubbish.

I also have the new "Play next" in the context menu for a song. And in the "Now playing", you can now reorder the list and remove songs. But maybe this is from a previous update.

This one is very much alive...

I still have the older version on my phone and my laptop that is on the insider program. I even updated my apps with no change.....