Microsoft rolls back recent Photos app update on Windows 10 Mobile
Microsoft's recent Photos app update for Windows 10 Mobile was rolled out in error, and a new update is now reverting those changes.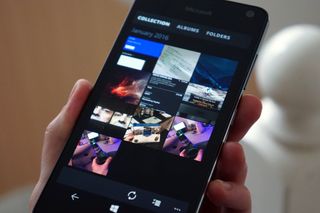 The other day, Windows 10 Mobile users were shocked to see a brand new update available for the Photos app in the Store, that actually introduced new features! Unfortunately, as we correctly speculated at the time, this update was rolled out in error. Microsoft has confirmed in the past that Windows 10 Mobile is no longer a focus, and as such, there are no new features in the works for Windows 10 Mobile.
The Photos app update that rolled out was released by mistake, and Microsoft has today corrected that mistake by rolling out another update that reverts the changes. Microsoft has no interest in releasing new features on Windows 10 Mobile, and the app update that was released last week did nothing but introduce new features. It brought all the features found in the desktop app to Windows 10 Mobile, causing the app to lag and crash often on phones.
Since Microsoft is no longer focused on Windows 10 Mobile, the company is not putting any resources into optimizing any of the new UWP apps found in Redstone 3 and Redstone 4 desktop for Mobile, which is why the Photos app that accidently rolled out was laggy and slow on phones. Microsoft has no interest in trying to optimize these apps, as the user base for Windows 10 Mobile is just too low at this point. Microsoft has only committed to releasing security patches every month for the platform, nothing more.
Microsoft is now more focused on its next attempt at Windows on mobile devices, with a project codenamed Andromeda. This project is a new mobile device that features two screens, and a new version of Windows 10 built on Windows Core OS. This is said to be Microsoft's "re-entry" into the mobile market, leaving behind Windows 10 Mobile for good.
Get the Windows Central Newsletter
All the latest news, reviews, and guides for Windows and Xbox diehards.