Group messaging is now available on the Xbox One Preview and Windows 10 Xbox Beta app
Microsoft is preparing an update for the Xbox One Preview that will enable group messaging!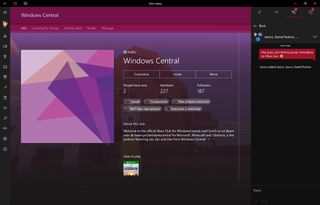 The feature has been hinted at for a while, but for those of us either using the Xbox Windows 10 beta app or in the Xbox One Preview, you can now message groups of friends for the first time.
Historically, messages on Xbox Live were only between two people, and this latest update joins Clubs, Beam and Looking For Group as part of a major social push for the platform.
Here are the details as posted (opens in new tab) on the Xbox Preview Forums. You will need the Xbox Windows 10 beta app (opens in new tab) to access the features if you're not part of the Xbox One Preview. Preview members can simply perform a hard reset to activate group messaging.
Group Messaging
Message your friends like never before with Group Messaging, now available on the Xbox One and the PC Xbox app! Start a new thread with multiple people in the same conversation or share activity feed content to existing conversations. NOTE: To use Group Messaging on PC you will need to download the latest version of the Xbox (beta) app (22.21.28005.0). You may need to visit the Store to download the latest version.
Things to Try:
Message friends about anything and everything!
Share activities, achievements, game clips, and screenshots with others.
Create new group conversations (just select more than one person when creating a new message).
Create group conversations from 1 on 1 conversations (just select "Add more people").
Change the topic of your conversation in the conversation list.
Add people to a conversation.
Leave a conversation.
Delete a conversation.
Mute or unmute a conversation to stop or start receiving notifications.
Select "View people" to view everyone participating in a conversation.
If possible, redeem codes or launch websites from Xbox Live service messages.
Group Messaging Known Issues:
People who don't have access to Group Messaging (non-Preview users) will see your messages later.
You may see a jump in your unread message count. To resolve this, navigate to those conversations to mark them as read (they'll be near the end of your conversations list).
When receiving voice messages and shared feed content messages from another user, you may not receive a notification.
Xbox One users may need to perform a hard reset (hold down the power button for five seconds until the console fully powers down, then power back on) for Group Messaging to be visible. After 24 hours this will no longer be necessary.
The Xbox dev team are showing no signs of slowing down on injecting new features into the platform, heaping additional value onto the service used by almost 50 million gamers.
Download Xbox (beta) from the Windows Store (opens in new tab)
Windows Central Newsletter
Get the best of Windows Central in your inbox, every day!
Jez Corden a Managing Editor at Windows Central, focusing primarily on all things Xbox and gaming. Jez is known for breaking exclusive news and analysis as relates to the Microsoft ecosystem while being powered by caffeine. Follow on Twitter @JezCorden and listen to his Xbox Two podcast, all about, you guessed it, Xbox!
Am I the only one that kinda wants this integrated into either the Messaging app on mobile or the Skype app? It would be kinda nice to have all my messages in one place (text, skype, Xbox, etc.), allowing for one "Seamless" conversation with someone, no matter what device they are messaging me from, or what device I am currently looking at.

I know you're not the only one but having too many messaging services in one place may get convoluted. I would suggest leaving Skype to SMS and chatting with others on Skype. Let Xbox handle the gaming side.

I agree with you. I understand that they want to have certain things seperate to keep stuff in a easy manner but I mean, integrate your stff. We have MS accounts that make a Xbox and Skype accounts. No reason why the Skype app can do SMS, Xbox, and Skype. I'm just saying.

Yeah but what's the use case? Do we need to befriend someone on each service? If I add you on Xbox live, can I see all of your Skype details suddenly? And vice versa? Do they keep it separate inside of Skype as "now sending to gamertag" or "now sending via Skype"? Do we get notifications on both sides? Will there be any distinction between the services or will I just have 10 Skype notifications? Considering Microsoft has their services on (almost) every platform, I think keeping them within distinctive bounds is fine. That said, not like I would stop using xbl or Skype because of a merge in messages. Just my thoughts.

If they do that it should be opt-in IMO, only then would it become visible, after toggling a switch & signing-in etc. Then people who aren't likely to use it, or aren't interested, won't have the extra bloat/clutter for no good reason. I can see how if MS play their cards right... "Xbox platform" could be a spring-board back to life for Skype in the consumer sphere. Which is increasingly being eaten up by FB/Others, even on the video side. Prolly not supremacy again (they lost their chance to secure that years ago), but at least strongly competitive.

I agree, but MS love building the same thing over and over again, rather than making it once and gradually improving it.

Aye that would be awesome

Agreed. Turn it into a hub. And lets call it "messaging hub" then! Do the same for contacts, office, gaming. Oh wait, thats called Windows Phone 7 and they killed that

I wish the Windows Mobile team was as fast as the Xbox One team with these big updates and new features.

Yeah such as finally bringing party hat onto the Xbox app. Ugh I want it!

party hat? F* yeah I want a party hat!

Hey anyone in preview program? I had it on my two previous Xbox Ones and can't seen to get it again. Ugh -_- Posted via the Windows Central App for Android

Sometimes it takes a while to get it. Give it about a day or 2

when will we be able to attatch pics to message???

As if group text messaging wasn't enough on the phone already. =P

If they are smart this would be using the same messaging tech as Skype. Rather than developing and supporting different stuff. Even if slightly separated due to username difference.

"Group Messaging Known Issues: People who don't have access to Group Messaging (non-Preview users) will see your messages later." Later like a few minute later or in a month or so when the feature goes public?

Great news. Updating now.