GroupMe app reportedly adding a way to send and receive documents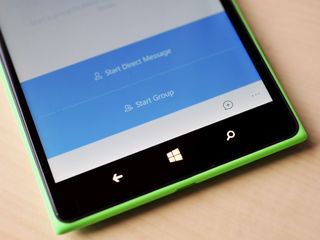 A new report claims Microsoft is adding a way for users of its GroupMe messaging app for Windows 10 to send and receive documents.
Image 1 of 2
The report, which includes screenshots of the document transferring feature in action, was posted by Windowsblogitalia based on what they state is an unreleased internal build of GroupMe. Adding this to the app will certainly be a welcome addition for GroupMe users. Be aware that this feature is still reportedly in testing and may or may not be released in the future.
Download GroupMe from the Windows Store
Windows Central Newsletter
Get the best of Windows Central in your inbox, every day!
Too bad they wont release it on Windows Phone version but I bet somehow it gets to Android and iOS.....

Amazing how you can read an entire post about the Windows 10 version of GroupMe with screenshots, which is on Mobile and PC, and reach that conclusion. Such emo kids around these parts these days.

yeah Daniel I hear you - such ignorant people these days...

He might of meant Windows Phone 8, I use groupme and the windows phone app was the best until they stopped updating it, when I bought a Lumia 950 recently I noticed the app on Windows 10 mobile was different and way better than the old app on Windows Phone 8

Did you even read the article? Unlike some apps, GroupMe actually does update their W10M apps. When I last used it, it felt just like the iOS and Android apps.

Dude, I can bet he don't even used GroupMe. Haters gonna hate but his comment is too senseless.

GroupMe is a hidden Microsoft gem. They really should promote it more.

GroupMe and Skype should have been combined into one app so that people will have more exposure to the service.
.
GroupMe, alone is an amazing service and when I tell others about this, they're like they've never heard of such a thing and it's great. This service works whether you have Windows, Android, Apple, Blackberry, even a basic flip phone!!!!

I disagree with it being combined to Skype, I think it works perfectly the way it is. I agree with the rest of your comment though, I love that it gives options and it is truly multi platform.

Agreed. This feature is missing. Only one i can think of to bring parity with iOS and android.

I hope this makes its way out of internal testing. I have so much use for this. I also hope that documents (and photos) get sub folders to help organize. This and threaded convos are my biggest wants for GroupMe.

Does Microsoft even remember they own GroupMe? Because GroupMe is awesome. I can send messages to numbers as texts and they can reply back, not even needing the app. The conversations and emoticons are great. The syncing between platforms is great. GroupMe was able to be accessed from the groups tab on mobile. And now they are adding document sharing? Forget Skype. GroupMe is the best consumer chat program Microsoft owns... I hope they dont screw it up. Also, too bad no one I know uses it. :(

Maybe they can pinch some of the code-base, & merge it into some of their "top secret" Skype projects :)

I was thinking that. I hope they can. Because its a great base for chat apps :).

Really? That sounds awesome. How do you send them as texts?

Just add people to the group via Phone Number.

Hmm, when I go into add message in the W10M app, it says I can enter a phone number or email, but when I do that and press enter nothing happens. I don't use groupme that much because I don't know that many people on it, but this could help.

Did you go to the group directly and try inviting that way?

Works for groups! Not so much for direct messages but that's ok.

At least you can suggest your friends to use GroupMe. This is how I started using it.
And also I created GroupMe Bots to troll my friends ☺

Thanks for the tip on the messages, been using it forever, and did not know that!

I feel like Microsoft could roll this into skype or use Groupme as a competitior to Slack. I dont see why MSFT want to reinvent the wheel when they have a nice product in Groupme

I guess they will have to pick their battles eventually. For now, I assume the back end design of each platform is so vastly different that merging them may need to completely rebuild each platform. With penetration of smartphones still growing, I guess the advantage of GroupMe working via SMS will diminish, so the only thing Skype really misses is the scheduling feature.

Use Groupme everyday on my Icon and Surface

My next feedback will be Polling feature which is very useful in Group chats.

I started using GroupMe a few months ago, was really happy with it till day 3 when I wanted to send a video, oops it doesn't support video attachments. Helloooo, this is 2016. I thought they'd add video support before documents.

I tried it once but couldn't verify my no.

It's a good app. Now just need to add "send video" feature.

Another case where Microsoft needs to pick one. All the overlap between GroupMe, Skype, and Cross Platform Messaging is unnecessary. Pick one, and make it the all inclusive Messaging App. This is like their multiple email Apps and email Addresses. What a waste of time and money.

Any worse than Hangouts, Messaging, Ello, and Duo?

GroupMe is in a league of its own. I don't think it 100% competes. Unlike Skype and other messaging platforms, GroupMe allows to be accessed using a phone number only and can be fully used only via SMS/MMS without even needing a smartphone. That is a major GroupMe differentiator The group will have it's own phone # you will do SMS messaging with using various codes You can simply use GroupMe completely randomly to schedule and sign up for events with your colleagues or use for active scheduling (asking for people to pitch in with overtime), plan trips, you name it... All you need is a phone and SMS capability, no app required.
GroupMe overlaps Skype only if you use it as you'd use a Skype app. That's where the similarities end. And all of that with a "dumb" feature phone!
What a brilliant idea this was.

I love group me but they have one problem. The setup according to email address. It does not detect all the people properly.

Use GroupMe when chatting amongst my Fantasy football league. Works great.. Lots of smack talking within the group!!

Such a great app where you don't need a smartphone to participate in a group and use SMS service.
Personally, I would have prefered them to finally fix the calendar integration with W10 calendar app, but sending files would be a welcome addition, nonetheless. GroupMe funny stickers have been my favorite for a long time. I still don't understand MSFT's strategy with GroupMe vs Skype, similar to their Office 365 features, which will directly compete with their Slack service. I doubt it is just plain carelessnes or lack of vision and wonder if it is their take on internal competition to push their teams to compete and invent at faster pace? GroupMe occasionally crashes on me whe trying to share photos from the Photos app, but still, GroupMe is a fantastic app and the latest build resolved my major gripe - slow speed. I hope they don't kill it as yet another niche product with a decent user base and force all users to move to Skype, without building GroupMe functionality into Skype first.