GTA: San Andreas is now really available for Windows 8 and RT devices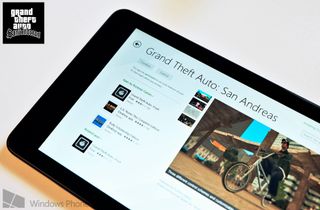 Last Thursday, Rockstar Games teased us by releasing Grant Theft Auto: San Andreas to the Windows Store, only to disappoint in not having the game available for actual purchase. But where there is smoke, there is fire and this morning, GTA: San Andreas is a go!
Head to the Windows Store on your Surface or Windows 8 PC and you can find the game waiting and ready to be purchased for $6.99. That's on top of the $6.99 you may have already spent for the Windows Phone version released a few weeks ago. That's not cheap, but if you're a fan, it's a no brainer.
To be honest, we're glad we didn't purchase it on the phone because we're much more likely to do this on our tablet. The game does look good and Rockstar have optimized the game for mobile, including
Remastered, high-resolution graphics built specifically for mobile including lighting enhancements, an enriched color palette and improved character models.
Dual analog stick controls for full camera and movement control.
Three different control schemes and customizable controls with contextual options to display buttons only when you need them.
Tailor your visual experience with adjustable graphic settings
We're downloading the nearly 2 GB game right now, so make sure you have some time - and hard drive space - to spare.
Note: we're updating an earlier story this morning due to wider availability
Pick up GTA: San Andreas for Windows 8 and RT here in the Windows Store (opens in new tab). $6.99, no trial.
Thanks, Fabio C., for the tip!
Windows Central Newsletter
Get the best of Windows Central in in your inbox, every day!
Daniel Rubino is the Editor-in-chief of Windows Central, head reviewer, podcast co-host, and analyst. He has been covering Microsoft since 2007 when this site was called WMExperts (and later Windows Phone Central). His interests include Windows, laptops, next-gen computing, and for some reason, watches. Before all this tech stuff, he worked on a Ph.D. in linguistics, watched people sleep (for medical purposes!), and ran the projectors at movie theaters because it was fun.
Does it support controller use?

Our question as well. 360 controller support?

Thanks for the quick response!

Nearly 2Gb? On my pc and ps2 emulator the 2005 version is more than 4Gb, i guess they were forced to optimize it

I strongly recommend you don't download this. My Surface Pro is more than capable of running the full original PC version flawlessly (although controls are a bit odd), however this barely runs at all, the graphics are stripped down to the point you can't tell what some things are, just random coloured shapes. It also runs very very slowly! It's completely unplayable!!!

Should be in Italy too, as that is where the tip came from.

What happened to the 4g surface tablets???

Rockstar says they're working on them but there's an issue with the store submission... should be available soon...

Wait, what's a "4g" Surface tablet? I only have the surface 2

I think he means the LTE enabled Surface 2 that they said would come out at the start of the year

Can't save game in CJ's house, when walking on floppy icon the save page appears. There are many empty slots, but if I try to save the game it says save failed. What can I do? Are there anyone experienceing this problem, or is it just for me? I'm on Microsoft Surface RT.

Same issue here :( German version, Asus T100, Win 8.1.

The save error is probably caused by special characters in your user folder C:\users\username (my one contained the German Umlaut "ö"). After renaming it (local profile, safe mode and some registry edits necessary, too!) everything works fine - I can save game and settings now.

Hi, please send me a description step by step what should I do to make the game work.

Same problem, I can't save my game! Did you find a way to solve that??

Didn't I just read the same topic from Rich Edmonds ????

Wasn't working for a lot of us.

Was the other article just deleted??

Daniel is a far better writer.

Didn't Rich Edmonds post about this ~three hours ago?

Yeah because you don't know what to expect from a GTA game

Not on this particular platform numbnuts, but thanks for your valuable insight.

Was it Brad or Ellen said that?

I don't know why I waist money on these games. They're just not fun to me. I spend more than half of my day on wpc than I do the games. If I wanna play games, its usually on my Xbox.

Waist? You made my day bro :DDD

I'm not sure how you waist any time

Thanks guys! Hopefully I didn't "waste" anybody's time...

no xbox live, no f_cks are given
and no trial, that in itself deserves boycott

Indeed, RippOffStar is lazy as fuck recently

Have you not seen what they are doing for GTA Online? Be happy they even released this to WP8 at ALL.

Or rather, what they aren't doing..

For company that have "NO Interest In Mobile Gaming" & contracted another company to do the Porting/Remastering , we are lucky to have it on Mobile\Tablets in the first place. P.S. Even the Xbox version doesn't have achievements.

"P.S. Even the Xbox version doesn't have achievements." <-- This is exactly why the Windows 8/RT and Windows Phone versions should've had Xbox integration. It would've enticed a pretty big chunk of gamers to revisit this historical game, offered for the first time with Xbox achievements. It's a huge missed opportunity by Microsoft and Rockstar.

Because X360 version is just a xbox original version, WITHOUT any improvements, without controll remapping, and without HD resolution support? 360p, come on, even Vice City and III were supporting 1080, or at least 720p. But they're not in the store, because they have some problems. Rockstar were too lazy to patch them, so...

This game predates achievements. It was fun then. It still is. If you want to tell the universe that the game itself has no meaning to you, then buy a calculator and enjoy the meaningless numbers.

Seriously, what's a "4g" surface tablet?

A surface tablet with 4G/LTE connectivity

Games like this make me regret getting a 32gb tablet. Hopefully can install on sd card with 8.1

True! That is the one and only limitation of my Asus T100. It's a brilliant device...I've used it on a dual screen setup all week - editing websites, editing videos, and watching Netflix. Has yet to stutter or slow down. Love it

You kid right? My samsung n130 on win 8 wouldn't budge, however, if what u say is true, then we've gotta give it to Microsoft for Optimizing windows 8, and Intel for bad boy CPUs on mobile

Windows 8.1 is superb on my T100. Don't confuse the old school Atom's with these latest baytrail powered tablets/netbooks. I currently have 15 or so Chrome tabs open, an MS Office document, Live Movie Maker (I'm making some vid's from my Lumia 1020 - 1080p editing). & listening to Nokia Music. All on split screen...and all without any sign of glitch. The start screen - even with all these things open and running - is buttery smooth. & if I unplug it, it'll continue running for around 8-10 hours depending on load. All in a 1kg device. For me, there is literally nothing on the market right now that comes close to being as complete. I can't wait to see the next iteration from Asus (hopefully it'll have a more robust build quality). Remember that your N130 has an old cpu, slow ram - and more than likely a mechanical hard drive. The T100 has a quick processor, quick ram and something similar to an SSD. The result - speed :)

Dont give too much praise to Intel. They came out last with their design (Baytrail Z3770) and still perform slower overall compared with the ARM SoCs, which came out early 2013, namely Snapdragon 800, Tegra 4 and Apple A7. This is despite Baytrail using Intels advanced 22nm FinFET process, while everyone else is still at 28nm planar. Windows 8 new modular micro kernel certainly is an achievement though.

You know far more about the intricacies of the various chip architechtures than I ever will. What I am sure of is that my T100 performs more fluidly than my old Galaxy Note 2...which itself had a pretty capable ARM derived chip. So it isn't all about the absolute horsepower of the chip. It is about what it does within the context of the software it powers. & IMO, Windows 8.1 absolutely trounces Android and iOS. I have lovely touch enabled apps, full desktop capability...fluid performance even when doing full HD 1080p video editing...and I get 10 hrs battery life. I also have full Microsoft Office - and all in a device that cost me less than £220 (Gumtree :) ) So yes, let me be clear - my Windows 8.1 T100 performs everything I want, and it does it fluidly. I therefore don't really need any extra horsepower. If I could have more battery life, great. But I think Intel are onto a winner with this combination.

Purchased!!!! Will kill and take time, especially since it has controller support... I hate tablet controls that mimic a controller.

Can you save the game in CJ's house? I can't.

I will see... So far, I have just kept the game suspened.

I know it'scompletely off topic but evleaks leaked this picture https://twitter.com/evleaks/status/435419441099071490/photo/1

Is this different from the original pc game???

As @Talk4Lig said, that & being Touch Optimized.

Not enough to justify spending another 6€ for it.

Does this sync between windows phone and windows 8?

I can't wait to get home and download this. Anyone played it yet? How are the keyboard controls?

No Xbox Live is a huge missed opportunity for Rockstar and Microsoft. Why they would re-release a game for PC that is already on PC and not add any extra features like Xbox achievements is perplexing. It would've sold better with Xbox integration, especially as the original game didn't have achievements.

Yup, biggest missed chance so far.
Already said that when the WP version was released. Sad days, about time for some good news...

Really?.. But nobody really cares.

I Finished the game 4 years ago on my nexus 7. I'm such a party pooper. But seriously folks. . . windows needs to step up and do something about this Xbox gaming situation. This is key, I say key to the platform to flourish like a little humming bird. Time to be the rabbit in the race of tech instead of the turtle, but I do love me some turtles. I like turtles

4 years ago on a Nexus 7 ? That doesn't make no sense.

Ps2 emulator, but the nexus did come out 2012 I think..

Yep yep, the Nexus 7 came out in 2012.

By "party pooper" he meant "lying troll"

Oh man ! I can't wait for my surface to arrive!!!!

Considering that Rockstar is one of the only companies to support WinRT specifically, it can be forgiven that its not Xbox live...besides it was probably Microsoft that prevented that from happening.

Off topic, but I wonder what happened to Rayman Fiesta Run?

Cloud saving is integrated (you have to log in with your rockstar social club account), but it doesn't work for me. I can't log in.

Hey Rockstar, I'm really happy for you and all, but I'm sure most people would rather appreciate being able to play GTA V on Xbox One.

Speak for yourself. Don't have an Xbox One, don't want one, glad RT's getting some love.

Yes, GTA 5 would be cool on my Xbox one, but I would still buy it on my ps3... All Xbox one games I bought that are multi platform, I have had no real benefit... But I did buy san Andres on windows 8.

I wouldn't even download this game twice. One on windows phone and got to download it on the tablet just a waste of time. Its better to play GTA on the Xbox.

Anybody know if you can play this with a regular old keyboard and mouse? Have the original PC version already, but interested in this for PC because of the "remastered" graphics (hopefully HD, better).

Not that I thought It wouldn't but It crashes on Iconia W510

No cloud saves, no buy. I already bought it on WP8 not realising I wont be able to back up my game saves, which for a game you can play for 100+s of hours is dissappointing. I hope rockstar is working on this!

At least on RT and Windows 8 we can back up our saves if we want. Doesn't help with sharing between WP8 and Windows 8/RT, though.

Not available in Australia. WTF?

Waaa... no AU store release :( Hopfully soon.

Am I the only one who gets horrible perfs on the 1G Surface RT? I mean I had to put everything on low or off and resolution on 80% to make it run ok-ish. Meanwhile I just tried it on my nexus 7 (1G) and it works flawlessly with everything maxed out...

It could be compatibility issues, or the hardware just isn't up to par.

The surface as the same processor and more ram than the nexus...

Awesome game! Glad to see great games coming over. Posted via the WPC App for Android!

Still waiting for it to come to the Lumia 1020 !

I already bought it on my lumia. Will i pay again for my pc?

You might want to read the article before you make a fool of yourself any more: "Head to the Windows Store on your Surface or Windows 8 PC and you can find the game waiting and ready to be purchased for $6.99. That's on top of the $6.99 you may have already spent for the Windows Phone version released a few weeks ago." If you buy it on your phone you have to pay for it again on PC.

Cant save on windows rt, anyone found a way around this? Love the game but if i cant save on i game i already paid, its bull.

When i downloaded a cracked version of GTA San Adreas. it requires directX. When i tryied to download it it told me that some files are missing for my windows directory or something like that. I can easily buy it original from Windows8 Store but what if i have the same problem? i dont want to spend the money for nothing

i have download gta san andreas from windows store and i'm unable to pass cheat codes on it , what can i do now ??
Windows Central Newsletter
Thank you for signing up to Windows Central. You will receive a verification email shortly.
There was a problem. Please refresh the page and try again.