Guncraft will bring its sandbox shooting world to the Xbox 360 on July 14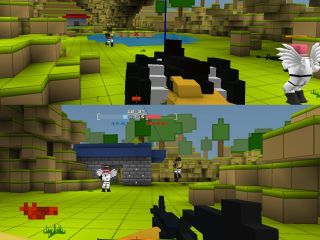 The Xbox 360 may be a nearly 10 year old console, but developers are still making games for it. The latest example is Guncraft: Blocked and Loaded, a console version of the PC sandbox shooting game that will be released for Microsoft's console on July 14.
Guncraft was originally developed by Exato Game Studios, and the Xbox 360 version was made by GameMill Entertainment. Here's a quick summary of the game, which could also be labeled as "Minecraft with guns":
Here's what the Xbox 360 version of Guncraft: Blocked and Loaded will include:
Exclusive Xbox Live maps
Includes all PC add-on content, two-player split-screen local multiplayer
Player-controlled vehicles, perks, killstreaks, class load-outs, clan system, and ranks
Create custom levels, weapons and characters limited only by your imagination!
Outlandish game modes for up to 16 players, including: Lava Survival Mode - where magma slowly rises as players build upward to avoid the instant orange death. It's a new variation of "Last Man Standing"; Onslaught Mode - Where four players band together to fight off endless waves of deadly robot spiders, soldiers, drones, and aircraft; Spleef Mode - Where players drill and destroy blocks on the platform near or under their opponents in order to cause them to fall to their deaths while fervently moving to avoid suffering the same fate.
Exclusive levelling system where you earn new rewards with every other level, all the way up to level 550 (50 levels per ReCraft rank - one base, 10 ReCrafted ranks)
New high-resolution models with an unlockable aesthetics system containing 300 pieces of unique gear to customize characters. Each are individually customizable, giving gamers over 4 billion different combinations New tutorial system for learning the basics of Guncraft and each game mode
Pricing for the game has not been announced.
Get the Windows Central Newsletter
All the latest news, reviews, and guides for Windows and Xbox diehards.