Halo Infinite E3 2021: What we're hoping to see
All eyes are on Microsoft and 343 Industries this E3. Here's what we want to see from them.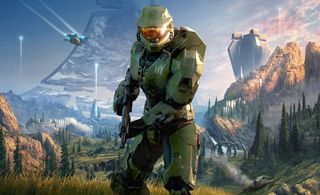 (Image credit: Xbox Game Studios)
Without a doubt, all eyes are on Microsoft and 343 Industries to showcase Halo Infinite during the Xbox E3 2021 event on June 13. Although 343 Industries has provided lengthy technical updates, images of new weapons, and detailed screenshots of graphical updates made to the game in recent months, fans still haven't seen the game in motion since its controversial E3 2020 gameplay reveal.
Since the game was delayed to Fall 2021 and is one of the biggest first-party exclusives launching in the Xbox ecosystem any time soon, it's crucial that Microsoft and 343 Industries showcase how special Halo Infinite will be during E3 2021. Here are five things that we want to see the most from the game at the show.
Halo Infinite graphics improvements and ray tracing
Above all else, it's important that Halo Infinite knocks it out of the park in the presentation department this E3. While the Xbox Series X is the most advanced console available, few titles have actually showcased that hardware being used to its fullest potential. As Microsoft's largest 2021 first-party exclusive for Xbox, Halo Infinite should be the game that shows the world what the console is truly capable of.
Another reason why we want to see Halo Infinite have a strong showing in terms of visuals is that its official gameplay reveal from E3 2020 left a lot to be desired in this department. The game's lighting was noticeably flat in the demo, and quite a few objects in the environment suffered from pop-in issues as well. 343 Industries has shown off improvements made to the game in its monthly Inside Infinite articles, but screenshots are one thing and gameplay is another. It's important for Microsoft and 343 Industries to restore fan faith in Halo Infinite's visual presentation.
It would also be fantastic to see the game being played with ray tracing enabled. Ray tracing support is one of the defining features of the Xbox Series X and S consoles, and Halo Infinite was originally going to get a ray tracing patch post-launch before it was delayed. Therefore, we hope to see it in action this E3, and we also hope that Microsoft announces that the feature will be present when the game releases in Fall 2021.
Halo Infinite open-world gameplay
Secondly, we want to see more of Halo Infinite's open world-style campaign gameplay. The original gameplay reveal showed the player taking a few seconds to figure out where to go on their map, but that's about it — the rest of the presentation looked more or less like a normal Halo level. This time around, we'd like to see more of Halo Infinite's open-world systems at work.
We know that Halo Infinite will feature changing times of day, optional side objectives in the world space, dynamic enemy patrols, and plenty of opportunities for players to use their equipment creatively in a non-linear environment. While these systems sound cool, fans should get to see them in action at E3 so that they can get an idea of what to expect from Halo Infinite's non-linear campaign gameplay. 343 Industries can (and should) still keep some things under wraps for the game's launch, but since very little gameplay has been shown off so far, we think the developer should show more of what separates Halo Infinite from its predecessors.
Halo Infinite multiplayer modes and gameplay
We also want to see a focus on Halo Infinite's multiplayer, with specific attention paid to both its modes and its gameplay. Halo 5: Guardians received a lot of criticism from Halo's fanbase due to its lack of multiplayer modes at launch and its emphasis on "advanced mobility" gameplay that made its weapon and vehicle sandbox less influential overall. This E3, 343 Industries needs to show that Halo Infinite will have plenty of modes at release just like the older Halo games did, and also that the design of the multiplayer stays true to the series' sandbox-focused identity.
If the multiplayer ticks these two boxes, there's a big chance that it will become a global hit. This is because it has been confirmed that Halo Infinite's multiplayer will support 120 FPS and will be free-to-play. Games like Fortnite, Valorant, and Apex Legends have proven how successful the free-to-play model can be in recent years, and support for 120 FPS means that Halo Infinite will lend itself well to competitive gameplay and esports tournaments.
Halo Infinite progression system and customization
It would also be great to see Halo Infinite's progression and player customization systems at E3. Though 343 Industries has explained how the game's "coatings" work on a basic level and some of Halo Infinite's armor coatings as well as weapon coatings and charms have been revealed, there's still a lot we don't know about how we can actually earn earn these rewards. Will players be able to earn XP by completing matches and challenges like they can in Halo: The Master Chief Collection (MCC) to unlock new armor pieces and coatings? Or will 343 Industries use a different kind of system entirely?
Additionally, we also want to see a more in-depth exploration of the customization systems that players will be able to use to express themselves in-game. Can we change the coatings of individual armor pieces? Do coatings come with any sub-options for people who want to fine-tune their look? We know there are weapon charms, but will there be charms or decorations for armor and vehicles too? These are the types of questions that we want to see answered.
Halo Infinite Forge mode and its new features
Finally, we'd love to have a look at Halo Infinite's Forge mode during E3. Since its debut in Halo 3, the Forge level editor has become a staple of the series and has been significantly improved upon with each new release. The latest version of Forge in Halo 5 features tons of different objects to use, basic terrain editing, the ability to change the weather and skybox of the map, and even scripting functionality. Fans have taken advantage of this to great effect, creating intricately detailed custom maps for several Halo game modes, both official and custom. Some fans have even used the creative potential of Forge abstractly to complete cool projects such as a recreation of Halo Infinite's gameplay demo and in-game replicas of current and last-gen Xbox consoles.
With Halo Infinite, we're hoping that 343 Industries has further advancements in store for Forge mode. Namely, we want to see advanced terrain editing, the ability to spawn AI enemies on timers for custom Firefight maps, and more options for scripting. These types of features would help the community create fun custom maps for many years to come.
Your thoughts
What do you want to see from Halo Infinite during the Xbox E3 2021 show? Let us know. For more on our E3 desires, don't miss our Xbox E3 2021 expectations, predictions, hopes, and dreams. Halo Infinite is expected to launch in Fall 2021 (potentially in late November according to a voice actor's account) on the Xbox Series X, Xbox Series S, Xbox One consoles, and Windows 10 PCs. The full price for the campaign is $60, according to a preorder available from Best Buy.
We highly recommend checking out the MCC while you wait for Infinite to arrive, as it bundles all of the pre-Xbox One Halo shooters together for a great price. The amount of value in the MCC is incredible, and it makes it one of the best Xbox One shooters available.
The next adventure in the saga
A new Great Journey awaits

Halo Infinite is sure to be an incredible game filled with wonder, adventure, and more. We just can't be sure when we'll be seeing it all.
Finish the Fight
Halo: The Master Chief Collection
Experience the entirety of Halo history

The Master Chief Collection is a collection of every Halo shooter from the pre-Xbox One era, offering incredible value at an incredible price.
Get the Windows Central Newsletter
All the latest news, reviews, and guides for Windows and Xbox diehards.
Brendan Lowry is a Windows Central writer and Oakland University graduate with a burning passion for video games, of which he's been an avid fan since childhood. You'll find him doing reviews, editorials, and general coverage on everything Xbox and PC. Follow him on Twitter.