Halo: The Master Chief Collection grabs another hefty update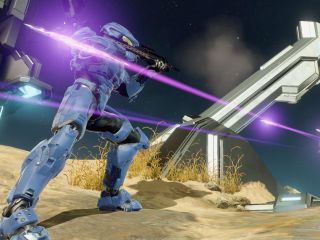 If you're still experiencing some issues in Halo: The Master Chief Collection, there may be some good news today. 343 Industries has just announced a pretty large content patch for the game that should help to cure some lingering woes.
You can find the full list of changes below:
MATCHMAKING
Made improvements to the reliability of Matchmaking parties.
Local split-screen players will now always be on the same team in Halo 2 Matchmaking.
Made an update to allow players to use Voice Chat during loading screens in Matchmaking.
Made an update to ensure that players are not forced into an incorrect party after encountering an issue in Matchmaking.
Resolved an issue where the "Winning Team Won" text was shown in the Carnage Report.
ROSTER
Made fixes to reduce the amount of time it takes to update the Roster:
Players will now be discovered sooner after starting the game.
Changes to the roster will be more immediate to better reflect friend activity.
PARTIES
Made several improvements to party joining and management.
Resolved an issue where players that were in a party could not join another party from the Roster.
Made changes to ensure that parties cannot exceed the maximum party size of a playlist.
Made an update to ensure that Party Leaders can assign a new Party Leader or Kick a player from their party.
CUSTOM GAMES
Made a change to ensure that teams selections are correctly carried over in Custom Games.
Made an update to ensure that player settings do not revert to a previous state after completing a Halo 2 Anniversary Multiplayer match.
Made an update to ensure that players do not disconnect after completing a Custom Game.
Resolved an issue in Custom Games where parties would disband if some players were playing in Split-Screen.
Made a change to ensure that Halo 3 Custom Game variants display correct author information.
HALO: CE
Made various changes and improvements to Halo: CE multiplayer hit registration.
ACHIEVEMENTS
Made an update to ensure that the "Legend Slayer" achievement unlocks when prerequisites are met.
The "Pacifist" Achievement will no longer be awarded for resuming "Assault on the Control Room".
STABILITY IMPROVEMENTS
Made a variety of stability improvements across the following areas:
Matchmaking
Custom Games
Campaign Playlists
Main Menu
CONTROL SCHEMES
Updated the Halo 2 "Green Fingers" Button Layout.
Updated the Halo 2 Anniversary Multiplayer Recon Button Layout.
MISC.
Made improvements to stat-tracking.
Improved language support for Norwegian, Spanish, German and Japanese.
You should receive a prompt for the update upon launching the game. 343 Industries also notes that it is aware that legacy controls are functioning as default in Halo 2: Anniversary and Halo 4 and it is working to address the issue in a future update.
Source: 343 Industries
Dan Thorp-Lancaster is the former Editor-in-Chief of Windows Central. He began working with Windows Central, Android Central, and iMore as a news writer in 2014 and is obsessed with tech of all sorts. You can follow Dan on Twitter @DthorpL and Instagram @heyitsdtl.
Perfect timing, just got back from DIsney World yesterday, so hopefully this work out. I stopped trying to play online after the first update, and have resorted to just reading comments to check for improvements. I hope the reports are good this time, then we can maybe progress towards returning the other playlists and getting the good ones (Assault, Regicide) into the game sometime.

Dear god. I live in St. Cloud. I had annual passes for a few years to WDW, been there about 300x, no shit.

"Winning team won" stated?

Been playing more of the campaign lately. Still making my way through Halo:CE. I got hit with the 'loss progress' on the 8th mission. But, starting over ended up helping me in the long run. Also - i forgot how frustrating the flood could be coupled with the brutal difficulty of the first Halo and its quirks...

I still can't get local co-op to save. So frustrating.

Same here, I forgot the flood was annoying as hell in Halo 1

Finished Halo: CE satisfying. On to Halo 2 tomorrow...

I feel ya, I always played Halo CE on Legendary and heck, I 100% it on the 360 Anniversary ed. Sadly, now that I'm tied with school and work I don't have that luxury to take the challenge anymore and just resort to playing on normal to enjoy the story of Master Chef Posted via the Windows Central App for Android

What you going to school for? I just finished a PhD. I'm so done with school.

"Loss progress"!? LOL Yeah! So this is what's up? I guess I need to start over...

Its still the biggest disappointment of the decade...
Seems slower....

Yeah remastered games are a disappointment especially for current Gen (Xbox One/PS4) how stupid.

Many developers/publishers have dropped the ball. There is a really good article on joystiq.com titled "we're paying for broken games and its unacceptable" or something like that, and its spot on.

"still the biggest disappointment of the decade.." Yeah, no hyperbole there. /s

Still, its a sizable disappointment. I just really don't remember a game that was more broke.

Yes. Thank you that my achievement for completing Two Betrayals has been unlocked after being at done unlocking status since 11/11/14. You deserve a cookie 343 industries

Ooooh, I need to check mine.

No joke I mean. After reading these updates it sound like they could never really call it matchmaking in the first place. Literally every feature that makes up modern matchmaking was either broken or not there. How did this even pass muster?

Seriously, can we stop calling them content patches when they have no new content?

Huh? A patch is specifically for fixing existing code. Sort of like putting a patch on your clothes. You didn't get new features on your pants, just closed up an existing hole.

Calling it just a patch is normal, but why specify "content patch" when it is just fixes. But it was changed already anyways

Yada yada I see a lot of complaining. Its like you've never had a game release with bugs get over it. Its not like the dropped the game and didn't do anything about it,

You clearly have not tried this game.

actually you can play coop on Legendary. By the time you will end all missions, online matchmaking will be working like a charm :p

Matchmaking has been working pretty well for me for the past few weeks.

Eh I cant seem to download it or play the game any longer
Windows Central Newsletter
Thank you for signing up to Windows Central. You will receive a verification email shortly.
There was a problem. Please refresh the page and try again.