Hands on with Acer's crazy liquid-cooled Switch Alpha 2-in-1
Is Acer's cheaper Surface Pro clone worth a look?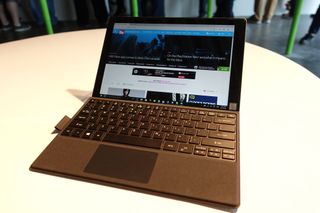 Acer's (opens in new tab) latest 2-in-1 has no fan; instead, a liquid cooling system inside the chassis helps disperse heat caused by the latest-generation Intel Core processors.
But technology alone cannot spur sales for Acer's newest convertible. A tablet sometimes and a laptop others, the design is obviously inspired by Microsoft's own Surface which, back when it was released in 2012, was accused of competing with the very OEM partners that kept the Redmond-based company afloat for so many years.
But the Surface line has been nothing but positive for partners like Acer, inspiring them to think differently about the portable computers they create — especially as Windows 8 gave way to Windows 10, which excels with both touch and traditional forms of input.
Equipped with a 12-inch 2160x1440 pixel IPS touch display, the aforementioned Skylake-based Intel Core i3/i5/i7 chip, either 4GB of 8GB of RAM, and up to 512GB of SSD storage, the Switch Alpha 12 is a fairly rudimentary laptop for mid-2016.
When it debuts in June for $599 USD (or May in Europe for €699), it will have to stand on the benefits of its industrial design. An aluminum chassis houses all the requisite ports, from DisplayPort to USB 3.1 Type-C and HDMI, while the included attachable keyboard is both appropriately clicky and thin. Together, the keyboard and tablet are just over 2.75 pounds and 0.62-inches thick, which makes it comparable to the Surface Pro 4.
How it works together, especially compared to Microsoft's more expensive professional 2-in-1 remains to be seen, but as of today Acer has one of the more compelling competitors on the market.
Windows Central Newsletter
Get the best of Windows Central in in your inbox, every day!
Can you use a pen on it Similar to the surface? If so this may be a nice cheaper option for the kids etc

it has a loot to hold a pen, i assume yes

It has a stylus called an Active Pen. Windows Central for Windows 10-Microsoft Lumia 640

Anyone know what pen technology this uses?

It's not Wacom, I guarantee it ("active" kinda gives it away).

Synaptics digitizer and pen. NOT compatible with Waacom or Surface (N-Trig).

this is definitely great stuff from Acer no doubt

If you're talking about the display it's Pixels Per Inch

LOL, I know the definition of PPI, I was asking what the screen's PPI is... I've seen res & screen size, can work out based on that, but just wondering if anyone knows off-hand.

Oh ok sorry I don't know it :)

Doesn't look like the Acer of yesterday. That is a very slick looking package. Says corporate all over it. Amazing to see the influence the Surface has had on form factor design.

Agreed. This looks pretty nice. It's a little heavier then the Surface Pro 3/4, which clock in at 1.76 lbs if I recall, 2.4 with type cover. And the screen resolution is nice, but not quite as high as the Surface Pro 4. The pen I hear is 256 levels of pressure, also not quite as good as the Pro 4's pen. So basically, this is roughly on par with the still excellent Surface Pro 3, other then the slight increase in weight. Love the USB 3 and USB-C ports. My guess is we will see the DisplayPort on the Surface Pro line be swapped for a USB-C port like we see here, since USB-C can handle DP/HDMI, etc. with a simple adapter. I also love the kickstand. Once you have one, and get used to it's utility even in tablet mode, there's no going back.

I want a Thunderbolt port instead of Displayport........external you docking station to turn your surface pro into a beast at home or work. That's the ticket.

External GPU docking station (stupid auto spell)

The design doesn't speak to what's inside. They're likely still using bottom of the barrel components that'll fail inside of a year or two.

If a totally passively cooled Core powered device is rudimentary I'd love to see what qualifies as more advanced......

I think they mean the 4GB of Ram and modest HD capacity

Where are the display port and HDMI ports? Didn't see those.

replaced by USB type C, which can carry a Displayport signal

Core i3 and 4GB RAM with keyboard for $599? That's a good deal! Better deal than the Surface.

This also proves (and everyone should already know that) that the iPad Pro is an overpriced piece of ****. This is way more powerful for waaay less.

But it's an Acer which = something will go wrong and stop working just as soon as the factory warranty runs out in a year.

My friend has an acer laptop, and honestly they've changed up their game quite a bit. I like this a lot. Posted on my Lumia 830 on Windows 10

I​ still have my Acer S3 when it first came out. Upgraded it to an SSD, and replaced the battery last year. Still works good but now having mechanical issues with the track pad.

That's where you're wrong. I've had an acer aspire one netbook (about 6-7 years old now) and it's only now reaching it's end. It's lasted a very long time and I haven't had to replace any components except for the battery, (but that was my fault as I got a bit of water on it so again not a component failure on their half) +640 on Windows10Mobile

Same here with "an acer aspire one netbook (about 6-7 years old now)​" working completelly, i had to disable the touch screen because of my fault for dropping it from a bed wich cracked the screen, everything else works 100%! Even better, I got a new laptop and that older one stays on 24/7 without a hitch!

Even though you're backing me up (thanks) that not the right laptop you're talking about ;) unless there was multiple Aspire One's.. Although I don't think there was? From what I one of out didn't have touch screen. But hey maybe there was a touchscreen variant I didn't know about haha. +640 on Windows10Mobile

No details about rear and front camera? Maybe that's why Surface Pro 4 is priced higher, it has Windows Hello support.

Surface Pro compatitor for sure!

I have a question about the liquid cooling, that might not be answerable until somebody does a teardown....Is it really liquid cooling, or is it similar to the 950 XL Liquid cooling, which IIRC is actually just means it has a heat pipe (Where as many people think of something like what a desktop PC has as water cooling) The computer looks pretty good overall. I saw somebody using a HP device in Sydney Airport the other week with a similar kickstand design (It was a much larger laptop though)

It must have water cooling as in desktops since its supposed to power a core i7 without throttling

Pretty nice if it can do that. Throttling on my SP3 i7 is sometimes a pain (not that often) but the noise of the fan can be a distraction when you're really pushing the thing. Silent and powerful, could be really nice if the cooling truly works as well as they say.

Don't forget it still has to dissipate heat and so therefore certain sections of the chassis will be pretty hot with an i7 under intensive load.

Gasses can be liquids, not just water!

The Surface appears to be more successful than any of the Surface clones. I hope that this Surface clone lives up to the hype. It looks promising.
Windows Central Newsletter
Thank you for signing up to Windows Central. You will receive a verification email shortly.
There was a problem. Please refresh the page and try again.