Hands On with HP Voice and Data Messengers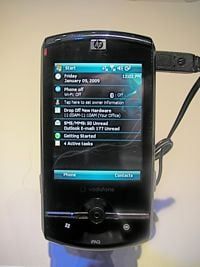 Long rumored and finally revealed earlier this month as "Beauty and the Beast," HP's Voice Messenger and HP's Data Messenger (we sort of prefer the codenames, Oak and Silver, ourselves) are impressively unimpressive in person. That is to say -- they're straightforward Windows Mobile 6.1 implementations with no flies on them. The hardware is slick on both devices. The Data Messenger is the slider and the slide action is just peachy, with a very subtle wave on the keyboard to remind you that there were actually engineers behind this thing.
The Voice Messenger (out on Vodafone) is also quality and if we were fans of sure-type, we'd be (mostly) sold. See, we're not convinced that replacing the d-pad with a touch-sensitive 'swipe and tap circle' is a great idea, but we figure for the casual and fashion-sensitive users the voice messenger is targeting, such distinctions are less important than the (excellent) pocketability of the device.
Neither device has carrier acceptance in the US and given HP's recent track history, you're more likely to see one of them on Rogers in Canada than you are on AT&T or T-Mobile. Still, a lot of folks like the plain-jane HP iPaq 910c, so to see the same company put out some sexy kit is a sort of vindication.
Getcher specs and more photos after the break!
HP Data Messenger
Windows Mobile 6.1 Professional
2.8-inch 320x240 touchscreen
Dimensions: 5.7 x 1.74 x 11.4 cm
128 megs RAM, 256 megs ROM.
WiFi (b/g)
Standard slider keyboard
Bluetooth 2.0 with EDR
Quad-band GSM (850/900/1800/1900), the European flavors of HSDPA (900/1900/2100 MHz)
aGPS
3.1MP camera with 5x digital zoom and LED flash.
1140 mAh battery.
Micro USB for sync and charge.
Micro SD card, up to 8 gigabytes.
HP Voice Messenger
Windows Mobile 6.1 Standard.
528 MHz Qualcomm 7201A Processor
2.4-inch 320x240 screen.
20-key alphanumeric/qwerty keypad.
900/1900/2100 and 850/900/1800/1900 radios.
aGPS.
WiFi b/g.
Bluetooth 2.0 w/EDR.
Weight: 107 grams.
Dimensions: 5.0x1.36x11.4 centimeters.
256 megs ROM/128 megs RAM.
1260 mAh removable battery.
3.1MP camera with flash.
Windows Central Newsletter
Get the best of Windows Central in your inbox, every day!