First the Silver, and now the Oak?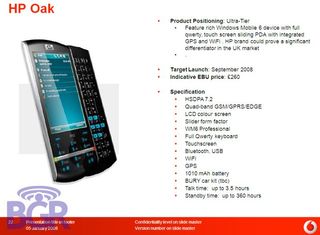 It now looks like a couple of HP devices could be getting a resurrection, or at least some resuscitation.
Word recently came the the HP Silver is back from the dead, and the Wall Street Journal snuck in a piece describing a Windows Mobile 6.1 device with a touchscreen and keypad that will also soon be coming to Europe. It will get the iPaq branding.
The WSJ story doesn't name any names, but WM Power User and Slashphone are speculating that this "new" phone could the forgotten "Oak," which like the Silver was one of the devices we first got wind of in January and then quickly forgot about.
Notice in the photo above the original target launch of September 2008, which obviously has come and gone, just like the Silver missed its July target.
Windows Central Newsletter
Get the best of Windows Central in your inbox, every day!