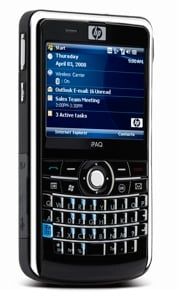 Reason #1043 to read WMExperts: our readers are awesome. Witness: Eric has been following our sporadic coverage of the HP iPAQ 910c and decided it was the device for him. While we here at HQ usually manage to get our hands on darn near every WinMo device available the US, so far we'd been taking a pass on the 910c until we saw it get released on AT&T.
That didn't deter Eric, though, no sir. He's picked one up and sent in a full review of the smartphone. Like with any Windows Mobile smartphone these days, the specs and the pictures definitely don't tell the full story -- there's surprisingly awesome parts and surprisingly quirky parts to every phone and the 910c is no exception.
In other words, you should be clicking through right about now to read Eric's review!
Well I got my HP 910c the other last week and so far I am pretty happy with it. Like all devices there are things I don't like about it but I will get back to that.
The HP iPAQ 910c is a unlocked quad band GSM phone, and sometimes that means you have a lot of setup to do to get your phone up and running on your network. Epically when it is a PDA phone. This was not the case with the HP 910c, when the radio is turned on for the first time, the HP iPAQ DataConnect application detects your provider and populates the MMS and data connection settings. I was able to use everything right away and all I had to do was slide in my AT&T SIM card. More and more unlocked GSM devices are doing this now, but there are still some that don't and populating all those settings can be a pain, especially setting up the Internet connection. With the 910c all this happened completely in the background when I first turned on my device.
I can't report on how well the 3G or HSDPA works on the device because I am stuck with EDGE in my neck of the woods, so if someone has anything they can share on its performance that would be appreciated.
The device is very responsive and really runs like a dream. It is running Windows Mobile 6.1 on a Marvell PXA270, with 256MB ROM and 128 MB RAM. It has a 3 mega pixel camera with an LED flash. The camera can take a nice pictures, but if your subject isn't sitting perfectly still you might as well not even try. Once you press the shutter it takes about 2 seconds for it to actually take the picture. I tried to take a picture of my dog as an example but after 10 attempts I gave up. He would always move just as the shutter would click and I would lose the picture to a big blur. They keep making these cameras with more and more mega pixels, but until they can make them more responsive it just isn't worth it.
As you can see the 910c is almost as thick as my AT&T Tilt (910c is in the foreground). I would say that it is the same thickness as the main body of the Tilt. The 910c is also slightly longer and wider than the Tilt, but the 910c is much lighter overall.
The screen on this device while it is small (2.46 in) is running at 320x240 in a landscape orientation. The screen is very clear and bright and I have had no problems viewing outdoors. The iPAQs have always had very nice displays that could easily be viewed outside. The keyboard is very nicely backlit and you can see all the keys easily. It would be nice if it had a light sensor instead of coming on all the time. Would help to save battery life. My big complaint about the keyboard is I think the keys are too close together, the keys are pretty small, and they are very smooth. Smooth is probably a misleading word here because the each button is raised so you can feel the buttons, but the surface of the keys are very smooth your fingers can easily slide across them and off the key you want to press and onto another key. I have been a thumb typist for years, ever since I got my first PageWriter back in 1997, so even with my fat thumbs I can easily type on this device with minimal mistakes, other than my already bad spelling and grammar.
It includes Google Maps and a link to Google Search on the start menu, but that can easily be moved from the menu; however it can't be removed from the device. I really wish device manufactures wouldn't do this so much. They should allow anything to be uninstalled. It is like that age old fight with companies putting AOL and other bloat ware application on a PC, now they do it with our PDAs. The 910c doesn't appear to work with Google Maps My Location. With other devices like a BlackJack II I have noticed that as soon as you start Google Maps it displays your location, and this isn't the case with the 910c. You have to turn on GPS for it to get your location. I'm not sure why they would include an application that they aren't completely compatible with, and I'm not sure why it isn't compatible. I would be interested if someone has an explanation. Does that feature only work with aGPS? The 910c only has Multimodal GPS, and sorry I really am not sure how Multimodal GPS is different from regular GPS, but I would love to know.
Using the GPS wouldn't be too bad if the HP iPAQ GPS QK Position was working correctly. These types of programs (GPS QK Position) are supposed to download a file that helps predict where a satellite should be in the sky and this is supposed to speed up the time it takes to get a lock on your position. The problem with the application on the 910c is that the file is always expired. You can go download the file and it will show that it is valid for 7 days, and then when you exit and then re-launch the application it shows that the file has expired. This is a minor annoyance, but it is an annoyance. The 910c does have an external GPS antenna connection port on the top in case you need it. My Tilt also included this on the back, but I have never found a reason to or needed to use it.
The battery of 910c is huge it is a 1940 mAh Li-Poly battery and makes up the bulk of the device. I can go over a day without charging. I could probably go even longer, but I have spotty coverage here at home, so the device does a lot of looking for service and that is the quickest way to kill your battery. The charging of the device is pretty simple they use a standard mini-USB connection. The one problem I do have with this is the little cover they have over the USB port. I really don't like this and I expect it to be broken in a few months. I don't understand why you would put something like this over one of the most used ports on the device.
I don't mind the cover over the micro-SD card, but the USB I think is just bad.
I am only using a 2 GB micro-SD card currently, so I don't know how well it works with SDHC cards. In a review from Matt Miller, he had it working with his 8 GB micro-SDHC card; however HP's website reports that it will only work with cards up t a 4 GB capacity.
The Bluetooth on the device appears to work really well. It connected to the Sync in my Ford Edge without any issues and was able to download my address book. The audio quality I thought was very nice. The one issue I still have and find very frustrating is that it doesn't work with the Text Messaging feature of Sync. You would think that a Windows Mobile device running Microsoft's OS and a car running Microsoft's OS would be pretty compatible, but I guess it all comes down to how the device manufacture, and in this case HP, sets up the Bluetooth profiles. One can only hope that someday these will work together. (Eric notes in a later email that there are some other Bluetooth connectivity niggles -- Ah, Bluetooth, such a love/bug/hate relationship we have with you)
For all that I do like about the 910c I have had one very strange issue. After some unknown event I lose all audio through the external speaker. Like I turned it down to its lowest level. I have checked the volume settings on the device and they are normal, and so far the only way I have found to fix this is to do a soft rest of the device. I haven't tracked down what causes this. I would be curious if anyone else has seen this behavior?
Overall I like the device and I will continue using it as my primary phone and PDA. I can just hope that HP will quickly release updated firmware for the device to take care of the sound and GPS QK Position issues. If you like Windows Mobile Professional and you want a front facing keyboard I would recommend this device.
Get the Windows Central Newsletter
All the latest news, reviews, and guides for Windows and Xbox diehards.
I had the same two issues highlighted in the review re: the QuickGPS always reporting the file as expired and the loss of audio. For what its worth, GPS lock on despite the file reporting as expired was on the order of seconds (verus minutes on the BJ2 or Q9h).
I also had problems with the battery life living in an EDGE only location. Despite the seemingly huge battery on the iPaq 910, my Q9h with the standard battery (about half the mAh size of the iPaq) would outlast the iPaq under similar usage patterns.
Due to the battery issues, I am returning the iPaq and awaiting something of a more compelling upgrade to my Q9h.

I also have a HUGE issue with the battery life of th Ipaq 910. In your article you state the battery on yours last more than a day... I wish I knew what your trick was. Most days by lunchtime or early afternoon I'm having to charge the phone (and I talk on the phone very little most days). No bluetooth, no wireless. Just mainly use it for Activesync. I absolutely love the device but I'm having a very hard time dealing with the battery life. I am also having the GPS QK Position issue, but that is minor compared to the battery life problem that I'm having. I've used Windows Mobile phones for several years now and this phone by far has the worst battery life of any of them.

Sometimes, switching the phone mode to be just EDGE will save a lot of battery life - this is the trick that made my Blackjack usable. I just switched to 3G when I needed it, else kept it locked in EDGE mode. Here is how to do it on the 910: Start->Settings->Phone, Band Switch tab->GSM only.

good afternoon, i am a former blackberry admin and just recently switch to winmo devices. honestly the worst part of the winmo devices were the battery compared to a bb. however after numerous phones (perks of being the wireless support for over 1000 devices) the 910c is by far the greatest device plus gets me closer to the feel of the bb 8830. i have the same issues as above but the other thing i have notices is that when i close an application it is still running in the background which takes up memory and shortens the battery life. if i turn blue tooth and wifi off the battery last better than any other touch screen winmo device i have had. does anyone know how to successfully close apps and have them be terminated or do they always run in the background?
tanks

use the task manager in the main manu, where you have control of all app open

My similar battery problems have caused me to search for an extra battery and external battery charger so I could change batteries after lunch each day. I have found the battery but have been unable to find an external charger anywhere. Is it really conceiveable that no one makes an external battery charger? Also I have this issue that randomly the audio for the ringer just stops ringing. As a result I miss calls because I am getting no audible notification of their arrival. When I reset the phone and then go to Settings>Sounds & notifications>notifications and try to test the ring tone I am rewarded with silence. Does this feature not work? Is anyone else having the same issue?

I am not sure why some of you are having such bad luck with the battery life. I would almost say you have a battery with a bad cell in it.
b&dwirelesssupport, that is the way Windows Mobile works. When you close an app you really aren't closing it. Unless the application has an Exit menu item or they have implemented an exit when you minimize the application it will stay running in the background. There are task managers out there that will make the X button actually close the application.
agene, I have had the same sound issue that had trying to test the ring tone. The only way to fix that that I am aware of is to soft reset the device.

As far as task managers go the iPAQ 910c already has a very handy one built-in. Just go to "Start" - "Programs" - "Task Manager". From there you can chose to close an individual program or all programs.
One slick thing I've found to aide in getting around on it quicker is to open the start menu or most menus and simply type the first letter of whatever item I want and it jumps immediately to it or at least to the beginning to the group of items with the common letter in question. Ie., to get to Task Manager I hit the "Start button" - then "P" (for programs) - then "t" (for task manager) - and then click on Task Manager.
My battery was overheateing during recharging to the point that I recieved several warnings about this over the course of the first week of use. (Even on the very first charge!) I'm talking really hot to the touch. I just got off the phone with HP and told them I felt this issue was decreasing my battery life and they are sending me a replacement battery free of charge.
Also I noticed on the HP's 900 series iPAQ's accessories section they are sellling a 3800 mAh(!) battery. This is at the Small Business Section of the HP site. I'm calling for one of those definitely tomorrow along with a CarePaq extended warranty - I can't afford downtime because I travel so much. I just want to call first to be certain if it will create a bulge on the backside of it...
I kind of agree about switching from 3G down to EDGE to save on the battery life. I'm a T-Mobile USA customer so I don't even get to use 3G here in Northern NJ on it (it needs the 1700 HSDPA band to work on T-Mo) but I was in Japan last week with it and it connected to the carrier over there with which T-Mo has a roaming agreement. I also just got back from Austria today and it connected there fine too to T-Mobile Europe. 3G did tend to run down the battery a bit faster in both Japan and Austria, but since I was in roaming mode I used the phone for data use sparingly which probably helped to save some juice.
I did notice however that near Newark airport on 95 the phone detected an HSDPA network which makes me wonder if it will roam into AT&T's 3G network while stateside. I know T-Mo has roaming agreements with AT&T for GSM and I guess EDGE but I'm not aware if this applys to 3G. I'll be in Manhattan tomorrow so I guess I'll see if it will roam on the AT&T network over there. This makes me want to call T-Mo right now to see what the policy is for roaming into 3G networks stateside. Hmmm....
I used the phone in flight mode a lot on the roundtrip flights between Newark and Japan as well as on the one from Newark to Frankfurt to Salzburg. (Reading RSS downloads on Newsbreak and mDigger) I had to knock the screen brightness down a notch as well as set the keyboard backlight to shut off after a shorter time to save juice. Yes it's compromise to have to do so but it's worth experimenting with backlight settings for both the screen AND the keyboard to squeeze out a little more juice on long trips.

I have the 910c and love it.
Although, I think that you must purchase Pocket Plus software because Windows Mobile 6.1 is lacking many features such as the one mentioned above that has to do with programs not fully closing when exiting. Pocket Plus has tons of features that you should at least check out. They offer free 15 day trial so you can see if you like it and if you do purchase it. You may also want to get Pocket Weather. It is a great application that you can get with a discount if purchased with Pocket Plus.
I only experienced the battery problem the first day I had the phone. I have since changed the settings on the backlighting and been sure to put the phone in standby by clicking the silver power button on the top right of the handset when on the phone with someone and when not using the phone. After changing these settings, I have been able to go an entire day without charging the phone. 6am to 12pm and it hasn't run out of battery once. I check email, text, play games, etc throughout the day so i don't believe it is a battery problem more of a setting problem. Also, for those of you who don't have Pocket Plus you probably have lots of programs eating up power and memory since they don't fully close when exiting.

A world class wow gold supplier online. We have mass available stock for most of the servers, so you are able to get your gold wow in a short while. Do you have a hurry using of world of warcraft gold, ffxi gil? Just come to our website, there are wow gold for sale. We provide cheap gold wow in an unimaginable price. We are sure that you will not find a place where you can get your desired cheap wow gold, the cheapest gold.

ATTENTION ALL Ipaq 910c 910 914 916 users
Call HP support at 1800HPINVEN or 8004746836 at the promptsay Technical Support, then say handheld, then say IPAQ, then say YES, say yes for repair and they will transfer you to a tech support rep. Give them your serial number and ask them to open up a case for the bad audio quality, bluetooth issues and short battery life. HP needs to put out a ROM update to fix all these issues but they are holding it back because of the WM 6.5 pending release which could take 6 months. If enough of us demand the fixes to these issues, they will release the rom update. Call and demand a case number/ticket for your issues. If they say that they will replace the phone tell them that is not a solution. The most important thing is to get a ticket number for your case. We need about 100 people to call in and they will release the updates in a couple of days. Thanks for helping.

FOR THE RECORD,
THE HP 910C is NOT compatible with most bluetooth headsets, does NOT have a 2.5mm adapter, uses a proprietary usb headset without any aftermarket options, has very bad audio quality, it is not usable in noisy areas, and the battery life is about 2-4 hours even when you use EDGE instead of 3G.

I too have had short battery life problems with my iPAQ 910c. But I really like the phone as well as I am a Winodws Mobile lover. I sold, at a significant loss, my HTC Kaiser :( for the iPAQ 910c. Why? Because of 2 things, size and keyboard. The Kaiser, aka Tilt, is just to large for me and I missed having a KB at my fingertips.
I've experienced Battery Temp To Hot errors with my phone as well as short life, called HP and first they sent me another battery...still got the same error and battery life. They sent me another phone..still got the same errors and battery life. SO what have I done to help this out? I bought the extended battery and that gives me over a full day of use as well as I now have an extra battery. I charge it regularly when I can in the car. I always put it in standby mode when not in use.
I also got into the habit, and can do it without looking at the phone, of closing all programs through Task Manager and keeping WiFI/BT of unless needed.
I have not had a Temperature error in months but I noticed I got them the most when charging in my car, in the cradle which is exposed to direct sunlight ( AC is broken ). Now that it is fall no errors, we shall see this spring.
The extended battery adds quite a bit of weight and size to it.
In all I would not trade my phone for anything currently on the market. The Motorola Q comes close and if it had a touch screen I might consider trying it and its battery.

FOR THE RECORD,
THE HP 910C is NOT compatible with most bluetooth headsets, does NOT have a 2.5mm adapter, uses a proprietary usb headset without any aftermarket options, has very bad audio quality, it is not usable in noisy areas, and the battery life is about 2-4 hours even when you use EDGE instead of 3G.
Mine works just fine with my Motorola H700 BT headset as well as does it not work with a USB to 2.5mm adapter? I do not care for wires so BT is the way to go for me. So I am puzzled with this post.
After battery break-in I've never gotten less than 8-10 hrs standby with the standard battery and >24 hrs with the extended battery. On days where I am on the phone alot and/or email I do need to charge it after 5-6hrs.
I agree it is not the best battery out there though :)

I responded below -- any update on your tech support attempts?

On Bluetooth headsets, my Plantronics 835 and Jawbone II didn't work well with the 910c. With both of these the caller sounds good to me but I couldn't be heard all the time. People on the other end complain of my voise fading in and out. I confimed this by leaving myself voice mails then listening to them. The older Jawbone, (not the "II") seems to work the best. That unit has it's own set of problems, it's big, earloops keep breaking, doesn't stay on the ear very well.
If you find a BT headset that works great with this phone please post it here.

Update, 1/25/09,
The Motorola H15 is working well, callers can here me and no fading in and out (very close but not quite the sound quality os the Jawbone).

jggallegosc - you can change USB charging from slow to fast, if that helps. ALSO make sure the USB plug is all the way in. (I found that I failed to push it in a few times).

Curious to know if anyone else has had this problem: At a certain point, my 910 will indicate that I have a new text message, when I go to my inbox, there's nothing new there. I tried resetting it, It comes back. It's as if there is a overflow inbox that I don't have access to, because I see that theres still 1488 messages, 1 new, even after I have deleted all messages (not using the empty inbox feature) What gives?

Bon marche de Dofus Kamas.achat de dofus.le prix moins cher.nous vendons dofus,or de Wakfu. 24/7 appui-en-ligne et livraison rapide.Wakfu Kamas
Gift: shopcreativegift chinaserving

Its a decent PDA and a decent cell phone. The audio levels are low and that is its main problem. I bought mine of e-bay with the big battery, extra cases, armored case, mobile power supply for $250. I am not sure it is worth the typical $500. However, if like me, you are tired of having PDA and cell phone separate and you need something fully compatible with Windows products this is a very good candidate.

one day i went shopping outside ?and in an links of london store?I found some kinds of links of london i love most?they are: watch Links of london bracelets watch Links of london bracelets watch Links of london bracelets watch Links of london bracelets watch Links of london bracelets watch Links of london bracelets watch Links of london bracelets watch Links of london bracelets watch Links of london bracelets watch Links of london bracelets charms for Links of london bracelets charms for Links of london bracelets charms for Links of london bracelets charms for Links of london bracelets charms for Links of london bracelets charms for Links of london bracelets charms for Links of london bracelets charms for Links of london bracelets charms for Links of london bracelets charms for Links of london bracelets

Some body know of 910c is compatible with any folding bluetooth keyboard?

I love this phone mainly because the phone I know you can edit and read files from Office 2007. I like the touch screen. The function of the script works well. The voice quality sounds good to me. The volume is not as strong as other phones, but never hard to hear even in noisy environments (I keep the volume set to more).