Hands-on with the Jabra BT3030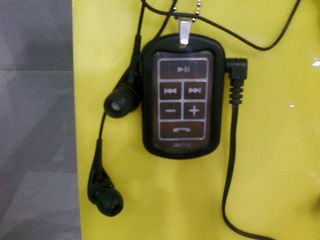 Just had a quick look at the Jabra BT3030 Bluetooth Stereo Headset ($79.95) and color me impressed. It's a little thicker than I'd like, but it will do 7 hours of music (8 of talk), can be worn around the neck like the Dogtag is resembles, or just be clipped to your shirt. This is very likely the first A2DP pendant that I wouldn't be mortified to be seen in public wearing. We have it in the WMExperts store, which means you can expect a full review from us on Monday -- I'm that excited to play around with this headset.
As much as you like them, they do nothing more than relocate where your headphone wires get tangled up, as well as giving you a 3rd item to carry around, instead of just a stereo bluetooth headset. The headphones will still be tangled when you pull them out of you pocket, etc... Motorola S9's are a better example of a stereo bluetooth headset, as are the Plantronics Voyager 855's. Have fun though, sounds like you are enamoured with your new toy ;)

I agree. Having wires just defeats the purpose of having wireless! :)
Windows Central Newsletter
Get the best of Windows Central in in your inbox, every day!
Thank you for signing up to Windows Central. You will receive a verification email shortly.
There was a problem. Please refresh the page and try again.