Hands-on with the new Dell XPS 12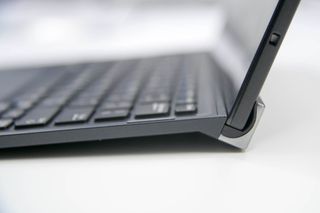 Dell has just introduced the first 4K Ultra HD Display in a 2-in-1. The Dell XPS 12 has a unique design with a magnetic connection for transitioning from laptop to tablet. The mobility base provides a full-size backlit keyboard and precision touchpad for working on-the-go. We got to play with it for a few minutes, so check out our hands-on video!
Dell XPS 12 Specifications
Swipe to scroll horizontally
Feature
Specification
Processor
6th Generation Intel m5-6Y54 (4M Cache, up to 2.7 GHz)
Dimensions
Tablet: 8 x 291 x 193mm
Tablet + mobility base: 16-25 x 291 x 198mm
Weight
Tablet: 1.75 lbs
Tablet + mobility base: 2.8 lbs
Display
12.5-inch UltraSharp 4K Ultra HD (3840x2160) touch display
12.5-inch FHD (1920 x 1080) touch display
RAM
8GB Dual Channel LPDDR3 DRAM at 1600 MHz (On Board)
Storage
128GB SATA or 256GB SATA SSD
Graphics
Intel HD Graphics 515
Camera
8MP world-facing webcam
5MP user-facing webcam with dual array digitalmicrophones
Ports and connectors
Thunderbolt 3 (x2), Headset Jack, SD card reader, Noble Lock
Photos
Image 1 of 7
The Dell XPS 12 will be available beginning in November on Dell.com in the United States starting at $999. What do you think of this new 2-in-1 from Dell? Do you want one? Let us know in the comments!
Get the Windows Central Newsletter
All the latest news, reviews, and guides for Windows and Xbox diehards.
HP, Lenovo and now Dell all with the surface clones arriving for originally planned windows 10 launch date. Microsoft has done a great job as the visionary here. The HP device is the slickest of the bunch, but choice is good and has always been the selling point of windows. Good times!

Stop with the BS. Surface was not the first 2-in-1 design. Asus was making the popular Transformer Book before Windows 8 even came out. It first ran Android and before that it was demoed with Windows 7 at Computex. A tablet 2-in-1 without a stand is not automatically a Surface ripoff. Nor was the Lenovo Yoga a Surface ripoff since the keyboard was attached. In fact the truth of the matter is that the Surface Book idea is a Lenovo Helix ripoff and the idea to put a GPU and batteries in the keyboard base comes from the original Windows Asus Transformer Book demoed in 2012. ​

Ha haa haa! You have a short memory. Check out the HP TC1100, the many Fujitsu machines etc. OEMs were making them WAY before Android was even a dream.

Surface is not a 2-in-1, it is a Tablet with a kickstand that has an optional type cover that made it a unique form factor (kind of a 2-in-1 but not) when it was released. While I agree, this particular Dell device is not a Surface clone as it is more of a 2-in-1, there are others that are copying the Surface form factor, which MS has no problem with. And as for the Surface Book, again MS has created a new form factor. Let's be clear the Surface Book is not a 2-in-1 either, it is a Laptop with a very light detachable and reversible 'clipboard' (again kind of a 2-in-1 but not). Is meant to be used as a laptop most of the time since the GPU and most of the battery is in the base as well. Subtle but distinct features that make this a new and unique form factor as well.

no. you all forgot where the surface came from. the original surface pro is apparently a replica of samsung tablet given away at microsoft build conference in september 2012. it was designed and manufactured for the conference, even didn't have a model name at that time.

yeah i had one that was a nice pc for the time. 1920 x1080 and decent SSD and pen. Small dock that offered ports and great BT keyboard - i very nice little package

How is the balance on this guy? I have a cheap 2-in-1 and it tends to be really top heavy - to the point of tipping over backwards if the tablet part is even slightly leanedbackwards.

After having Hello on my desktop, i wouldn't get anything without it. You sit down and your signed in. Just love it.

I assume you have the developer kit?

Yes, was never that great but, MS updated the crap out of it and now it works flawlessly. Love it.

Not in this system. Dell will be bringing that eventually, but they are working on their own hardware.

where are the 3rd party usb cams to add this to existing desktops? They may be out there but i havent heard anything and i'd just click buy now if i could

Agreed. Looks good! Is that screen angle adjustable or still fixed at one (too high) angle? And that screen... Wow!

it seems to have one angel, thats, sorry, but stupid.

I'll buy any product that comes with it's own angel :) But yeah, I wish there were a couple different options for viewing angles.

Oh, that's a shame. Well surface pro 4 is more flexible in use and where one can use it. Food for thought.

Thats a bummer, indeed, even Surface 3 (regular, not Pro) would be better in this case. I sooo wished Surface 3 was updated... :-( With USB Type-C particularly.

Me too, but sadly it seems Microsoft will not include USB Type-C in the Surface line. I suspect this is to force you into buying their very expensive accessories with proprietary connectors. That is the biggst pro of the XPS 12, USB Type-C supporting Thunderbolt 3. Did you also notice on the Dell website that they will be launching a ThunderBolt 3 dock with discreet gaphics? That is an awesome feature. Plus all the other 3rd party devices that are coming and will not work with any Surface.

thunderbolt 3 dock with discreet gaphics? link please? didn't find any info about it. wish a dock can "bring your own card".

http://www.dell.com/us/p/xps-12-9250/pd?p=xps-12-9250&view=pdetails&isre... Scroll down to accessories and find the Dell Dock WD15.

Not sure where you pick up the discrete graphics from the Dell Dock WD15. It only states it will provide the graphical capabilities to support multiple monitors through a single cable connection - that implies the integrated graphics card will do the work.

Because it states it will increase video performance. But at any rate, there will be alot of options for eGPU scenarios. Check out the link below. https://www.youtube.com/watch?v=BFkp0GHz5v8

I already understand the capability of external GPUs - heck, the SP3 could easily do this, as it basically has a thunderbolt port in the Surface Connect. I feel they had, and still have, an opportunity to create a dock for the SP4 that does this. The point is there is no GPU in the WD15. You can add one without it, most likely, if the device has the capability, which only makes you ask the question why purchase that peripheral if only but to add ports and monitors.

I honestly don't get why these other companies aren't develping their own "kickstands" IMO, that the biggest issue with these as well as the IPAD PRO, you don't realize how important or useful the kickstand is until you actually use it. The fact that it's stuck in just 1 position is a major downer IMO. I love my Surface 3 and I can't wait to see what new features the Surface 4 will bring (if they could add a 4th kickstand position -- half the angle of the lowest position I think it will be nearly perfect in terms of useful angles.

check out dell website, the "premium folio" seems will provide some limited position adjustment. http://www.dell.com/us/p/xps-12-9250/pd?p=xps-12-9250&view=pdetails&isre...

Ooh that looks niice, looking forward to the review.

I wish it had a stylus, but it still looks sweet.

If this got a Pen, I might consider to get this instead of Surface Pro 4....and also Windows Hello. Still pretty slick, minimalist and professional design. Man, Windows PC these days looks great! I really want this only if its got a pen.

There is a pen available I believe separately

That would be amazing. I can't seem to find any reference to a pen, though. I guess we will have to wait until details show up on their site.

Wacom active pen, sold seperately.

dell active pen uses synaptics technology not waccom, it needs aaaa battery just like surface pen, some reliable reviewer said the pen is not as good as waccom but still a pen.

Time for a laptop throwdown!

..can you adjust the angle of the screen when docked?

Hmm, this seems sort of a necessity when it comes to a laptop form factor - there's always a light reflecting in the screen that a slight adjustment to the angle would fix.

Would you considder this a Surface Pro-competitor, or a Surface Book competitor? (Ignoring that fact that you can get a Surface Book with dedicated GPU)

The thing doesn't even come with an i series processor. It's really not even close in specs to even the $1400 Surface Book. Bad comparison

It's a surface competitor, but far better. It's a middle ground device with some decent chops.

Yeah, though it doesn't have Core i-series CPU and other specs, the form factor is pretty much Surface competitor. The downside really is that these doesn't have a pen, which is makes it a big disadvantage from Surface. Still pretty sleek PC and not to mention these are more affordable than Surface, especially compared from Surface Book which is pretty high-end and expensive to many. Still I would consider th​is a Surface competitor, at least the Surface 3(or 4) but not too much a Surface Pro 4/3 and even Surface Book. Though Dell XPS 12 is a little more like a Surface Book competitor too because of pretty much similar form factor approach (laptop-like device rather than a tablet with keyboard cover) but smaller, lighter spec and doesn't have a pen.

Neither. This is core M. It only competes with the lowest speced SP4 that also has core m.

I thought this was the skylake core m, being an atom x7 competitor, our is it a step up from the core m 510x from earlier in the year? Then it would compete with the dell venue pro lot. ... So confusing!!!!

forget about the "dedicated gpu" in surface pro, it won't be anything amazes you. this one has thunderbolt, 2 of them, go figure.

Well, 1k $ for something like this? You can use it in one position only, it's bulky, has no stylus and mediocre proccessor. Anyway, it's probably good device, maybe really good, but there's a Surface Pro4 in similiar price...

That's what I thought. Looks like a great device, but definately not worth $1k. If the price came down to the $700-800 range, it would be great.

bulky? it's slightly smaller than sp4 with a slightly bigger screen. no stylus? it's sold separately but available, not as good as waccom but not much worse than surface pen.

I know this is kind of off-topic, but with all these mobile product announcements, where are XPS desktops/all-in-ones? The XPS 27 hasn't been refreshed for over two years, for example. Is there someting coming up at Dell World later this month? What do you think?

I really like all these new products "Surface like" from Lenovo, Dell and HP, but if I could, obviously I would get the Surface 3 or 4, but sadly, those devices are not available in my country, and bring them from USA will cost an extra money (like 300 or 400 usd more) when you make the change of currency.

Is that the new Microsoft Band 2 on your arm??

No that is the original. You can see the flat screen, not curved

Nah, total pass. One screen position, 16:9 aspect ratio, no kickstand, no Windows Hello. It will work out cheaper than an SP4 but overall this is not as competitive as it first appears.

The lack of a kickstand is not an issue, since it is supposed to sit in the keyboard when being used as a laptop. The lack of screen positions is a tough one though. What concerns me is the M processor. For the price, that seems underpowered.

16:9 may not be a problem with this one. the bezels are thin on the sides, it could be configured in a way make the aspect dynamic, especially with the 4k screen, you have enough pixel stock to do so. though it would be better if the screen was oled so the "software bezel" can be pitch black.

Are those the speakers on the top of the display? Finally! A common sense design instead of the speakers being on the bottom of the keyboard. I want this!

I might settle down with this one. the two cons: screen ratio and single angle. seems I could excuse it for the first one since the bezel is thin enough on the sides, dell said working on the latter, wait and see how it goes. 2 pros: professional look and 2 usb-c type thunderbolts potentially for egpu, sp4 eat this! surface book's nvidia is nothing, you can't have a 980 then why bother.

Looks fantastic - not entirely sure about M processor and whether this will perform well enough.

I agree. I was quite excited about this prduct, but the M processor combined with the $1k price tag has me second guessing it.

Core M would be completely fine for my use, but the problem is the price. There should be a nice discount that goes with dropping down to less power.

If only it has a more powerful graphics card.

nay. you don't expect a "powerful" graphic card in this form factor. it has 2 thunderbolts, you might be able to set up egpu with gtx 980 ti sli when you really need that "power"!

Core M? Will take a SP4 without hesitation. A much better product.

I'm considering to give the Surface like hybrid a go, but no USB port is a no sell for me.

You probably realize that Thunderbolt 3 *is* a USB connection (Type C), but you will need an adapter to plug in the old connectors. Dell has gone all-in on USB Type C, and I'm not sure that's a bad thing. That is, after all, the future.

I am frankly stunned that you didn't address whether you can detach the screen and rotate it around backwards and put it back on, giving you tablet mode connected to the base, like you can with Surface Book. No hands-on of a 2-in-1 is complete without addressing this.

Unless there's battery in the base not sure why you'd even want that on this?

To keep it "together," I think.

I'm loving this Thunderbolt 3 thing. Is that what a "Surface Connect" port is? If not, Dell gets the edge in the ports category.

Don't think so. If it was Thunderbolt they'd have to say it was and not another name. Thunderbolt is a standard.

I eliminated surface pro and surface book from my list because the stupid power supply and lacking usb-c. if sm-w700 doesn't turn out to be better, I'll get this one, and design a sleek epu box for it.

Stylus? If they're going to clone the Surface might as well include a stylus because that's one of the selling points.

Optional. But there is one.

No stylus, and laptop mode, the screen isn't as adjustable (basically what the earlier generations of Surface Pro did). Pass.

Daniel, can you confirm if this device charges via the USB Type-C ports?

According to the spec sheet, yes.

I hope that one day DELL will return to phones and Phablets. They are very good on hardware.

Very nice device. Bummer there is no Hello. I won't be buying a laptop wothout that feature. Just too cool. I imagine Hello will eventually be standard fair in a year ot two. Even on $200 cheapy notebooks.

This no way comparable to Surface Pro 4. First - only single position - something like the most hated function of first gen surface or current ipad pro. Secondly - no stand for the tablet, so actually this is not a convertible, this is just a tablet with external keyboard, same as ipad pro. I think, dell is here wrong on so many levels (as he is for past many years).

This is a MacBook 2015 killer, has all the ports Apple didn't put and instead used a USB Type-C connector. I'm just wondering why it has 2 Thunderbolt 3, does this mean the Intel HD 515 graphics can output 2 daisy chained 4k displays at 60hz at same time? If that is true, it is just amazing, this HD 515 graphics is better for 4K support than some medium range discrete graphics like the GeForce 870M, or the GeForce 950M which don't support these resolutions at all.

I was just reading over this ( obviously im late here ), but why did everyone mention the lack of a pen for the xps 12.... but no lack of a keyboard for the surface :\ little biased here!