Hands-on with Microsoft Screen Sharing for Lumia Phones HD-10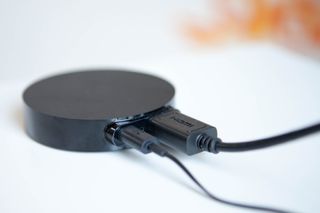 Microsoft has announced a very cool accessory today that a lot of you are going to like. The Microsoft Screen Sharing for Lumia Phones HD-10 lets you beam content from your Lumia phone to an HDMI-connected screen like a TV. This is great for sharing photos and videos from your phone on a bigger screen, browsing the web on TV, or even work presentations. We got to check it out here in Berlin. Go watch our hands-on video!
So, how do you set it up? Microsoft Screen Sharing For Lumia Phones HD-10 works by tapping it with any NFC-enable Lumia smartphone to set up the connection and start mirroring. The NFC disc on top is removable, so your friends or co-workers can pass it around and tap the NFC disc to connect. The base just needs to be connected to your TV via HDMI. It supports audio output up to 5.1 surround sound and video output in full HD, up to 1080p.
When it comes to appearance, the Microsoft Screen Sharing accessory reminds us of a hockey puck. It measures 80mm in diameter, 21mm thick, and weighs 115 grams. The two ports on the back are for HDMI and micro-USB for power.
The HD-10 is compatible with Lumia devices that supports screen projection and other devices featuring Wi-Fi CERTIFIED Miracast. While you might be interested in beaming your games to the TV, it might not provide optimal gaming experience because of latency in screen mirroring.
Microsoft Screen Sharing for Lumia Phones HD-10 is expected to be available in September 2014 for $79 USD. It will be available in white or black starting later this month.
Are you interested in beaming content from your smartphones to your TV? Will you be buying this accessory when it comes out? Let us know in the comments!
Windows Central Newsletter
Get the best of Windows Central in in your inbox, every day!
Isn't that expensive compared to other similar devices?

What do you mean they don't have a choice?! This is just a miracast device with built-in NFC, and since most newer lumias support miracasting, they can buy whatever miracast receiver they want.

Well said. Lumia owners dont have much choice indeed....

Ok, but why did they call it "for Lumia Phones" then?

An NFC contact pad for simple setup.

So people who have no idea what Miracast means but can understand the devices was made for their Lumia will buy it. :-)

Does it work as a general Miracast device though? I bought my Netgear Miracast device for the same price and I can use it with all compatible devices.

It works with other devices. I've seen it demoed with a Surface Pro 3.

How does this compare to Nokia beamer?

Completely different things. Nokia beamer requires an internet connection and is a LOT slower. Playing videos is pretty much not possible. Miracast works through Wi-Fi.

But how smooth is this device when playing a HD movie from a PC? And how is the audio quality? Assuming the Wi-Fi is perfect.

How does it connect with SP3? There's no HDMI input.

@crise Go on youtube and search "miracast" @EMINENT 1 Umm... Wi-fi. Just imagine there's a SP3 in that video instead of the 830. You connect the HD-10 to TV via HDMI, then can connect to it with your phone, tablet, etc. through wi-fi, if it supports miracast that is.

WiFi. The Surface Pro 3, a Lumia phone, or any other Miracast capable device can SEND audio/video to the Miracast receiver. The Miracast receiver then displays the video/audio on a TV/projector via HDMI. I think you thought the SP3 could act as the display with this device, but that isn't what Daniel meant.

Yes. That's what I was wanting. Wireless display on my SP3 or PC. I don't care about seeing my phone on the tv.

@EMINENT Miracast receive was added to windows 8.1 in the august update. http://www.neowin.net/news/windows-81-039august-update039-now-available-for-download You don't need to connect anything to SP3.

Yeah, noticed that in the August update listing, but it was just support for api's to be developed. Nothing has confirmed that there is an app that works yet utilizing the api's.

I assumed the OS itself can also receive miracast connections. My bad. At least the API is there for developers. Hopefully they won't take too long.

A new feature is coming to windows that will allow that

Does it work for non-Lumia Windows Phones?

It works for ANY device that supports miracast, so if your win phone has support for miracast, it will work. Look in the setting for "project my screen" to see if you got it on your win phone

But if you don't have Mira vast you need the NFC option giving those particular users no choice.

Nope. You are confused about the role of NFC for this device. NFC is just used to start the Miracast connection automatically. NFC has nothing to do with transmitting the video/audio stream. Miracast is still needed and can still be used without the NFC quick launch functionality. Lumia phone owners can still use any Miracast recieiver they want as long as they have a recent Lumia that supports Miracast. This device is just Microsoft's "enhanced" offering, but other less expensive options exist and can be used by any Miracast device. This is the important thing about Miracast. It's a simple and open standard that is cross platform.

Doesn't the Lumia 1520 support miracast?

It does. Like also the Lumia 930. I have tested the L930+PTV3000 (Netgear Push2TV) and it works great!

It would be nice if o can us play to on my 1520 to watch whatever video I'm watching tk my Xbox one/360 like I can from my surface

Also tested the Netgear Push2TV and it works great. Very little latency.

Can my phone be connected to a wifi ap and the miracast be connected to the same ap, or the phone has to be connected directly to the miracast?

You seem to be knowledgeable. Do you think you can help me with this issue: I have a Miracast enabled Roku Streaming Stick connected to my TV, I can use it to cast my friend's iphone screen onto the TV and it works flawlessly. Recently i wanted to "Project My Screen" from my Nokia Lumia 1520 to the tv using the Roku. The screen mirroring on the Roku is enabled. But on my Lumia, it does not see the Roku at all, and there is a message saying that "This phone can't project your screen with a wireless connection. Connect with USB." The "advanced" tab in that screen does not even show the "Fix" tab which should be there as per the windows tutorial on this subject on the windows website. Why it is not there? I understand Lumia 1520 supports miracast and some people have been able to connect it to the their Roku dongles. What is missing from my phone? It is running win 8.1, the software release Lumia Cyan. I have tried to update the software, and it tells me that it is updated. The Roku streaming stick is already updated, because I can mirror using android/iphone. Do I need to turn the NFC on? Or do I have to do something with the Beamer app?

Asking such a specific question through a comment on a FOUR month old article isn't the best idea. I'd suggest you open a thread in the forum. I don't have a 1520 or a roku stick, so I can't help on that. Other people have managed to use miracast with those two devices: http://thedigitallifestyle.com/w/index.php/2014/12/11/using-miracast-with-a-roku-streaming-stick-windows-8-1-and-windows-phone/ I can only suggest you do a factory reset on the 1520. Maybe some hidden OS setting(s) or file(s) have become corrupted.

That's true I seen a refresh of actiontec's solution screenbeam which is a widi/miracast receiver that includes a transmitter for desktops, & amd based PC's for about the same cost. But I guess if its smaller then it may be worth it when compatible devices ship in my country

Actually, Lumia owners already have 'Nokia Play To' that does almost the same thing with a networked TV. It works really well. It can send photo, video, and music. Videos made on my Icon look pretty awesome on my big screen.

Strange. Playto hasnt worked on my 1020 or 1520 since Lumia Black. It never did work consistently either and didn't support full screen mirrorring.

Yeah, its "almost" the same. The Play To app was replaced by Nokia Play To. Similar name, updated app. Mine works great on my Icon. It just plays media that has been recorded, not streaming live.

Sorry. That's what I meant. I had PlayTo and when black came out that app said I needed to upgrade to Play To. Since then it has never worked on any device. In fact, I can't even search for the old PlayTo app since Black. Man this is confusing to have one space mean the difference between these two.

@cr_buck Open the store link with IE. Might work. Don't know which one you want, since both have a space in their name. http://www.windowsphone.com/en-us/store/app/nokia-play-to/4d202158-2dba-4530-b5f0-47bc4d80fe7a http://www.windowsphone.com/en-us/store/app/play-to/8257b398-f4bf-4483-97c7-6fd6a1e60bbf

Same here it would and still always crashes.

Not really the same thing.
This broadcasts exactly what is one the screen, it's essentially wireless HDMI.
Play to is just DLNA, it only pushes media content to a DLNA compatible screen.

Didn't the first LG Windows Phone 7 do this?

Precisely. Including HDMI extended screen.

It plays media files to the DLNA compatible TV sets. Miracast lets you mirror your Lumia screen to any TV set.or PC screen.

i paid $70 for my Netgear Push2TV Miracast reciever and it doesn't have NFC. Paying $10 for NFC isn't bad and miracast works on any Snapdragon 800 and up device, including Android devices. It also works on many laptops as well as Surface Pro 2 and 3 and Dell Venue 8 Pro.

It also works with other snapdragon processors. We have the Actiontec, Netgear and C2G miracast devices in house for testing and even got the Lumia 635 to connect. All the true Miracast devices cost between $50-200. Some of the higher priced ones tout better connections for multiple devices.

In your testing have you found one that has less or no problems with lagging and artifacts?

Everything has lag. However, the amount of lag has decreased over the last year as the device makers have updated the firmware and MS has updated the drivers. I started testing with the Surface Pro which rarely connected, then with the Surface Pro 2 which almost always connected, but would occassionally glitch or drop a connection. I have watched several tv episodes that way through a web browser when I couldn't find it on any other streaming services. My best experience has been with the Surface Pro 3 and my Lumia 1520. They connected right away and I have watched 30-60 minute videos with minor glitching. Connecting is much more reliable. Miracast is susceptable to any blockage. I have seen the video quality deteriorate when I wrap my hands around the phone while watching. Also if bodies or walls get between the two devices.

2x the price for 3/4 the functionality. (since a chromcast can both stream AND "cast") seems like another missed opportunity by MS.

So is Lumia 730 nd 830 miracast certified?

Yes. Any phone running WP8.1 should be compatible.

No, only phones with "modern" chipsets. Basically, only x3x devices and the 1520.

Yeah just look for any of the "modern" SoC's like the snapdragon 400 or 800 series. But anyway do your research on w.e chip your next or current device has.

To me it is a lot for something I won't often use. I just use the Nokia Play To app at home and it works well for photos and videos.

What devices are certified and compatible with this? I am hoping the Icon is included on that list!

It will be when it gets cyan.

I thought it was put into denim not cyan.

Dont need Denim, current quad core devices like the 635 already have Miracast and the 1520 got it with cyan.

All Snapdragon 800 and newer devices have hardware support for it.

All Qualcomm Snapdragon Sx00 SOCs have support for Miracast/Wifi-Direct. So S200, S400, S600, and S800 series will all work. The previous generation S4 SOCs don't have the required hardware support.

I hate to be that guy, but does my 925 have Miracast capabilities? Idk what chip it has.....

That's just odd. Another person said it worked on their 630 and yet acording to Qualcomm, their Snapdragon 400 doesn't support it. I wonder if Nokia/Microsoft are using a software method or the specs on the 400 are just incomplete. https://www.qualcomm.com/products/snapdragon/processors/comparison Either way, I have an S4 Pro in my 1020 so no luck for me unless Microsoft surprises with a sucessor. Unfortunately that doesn't seem likely anytime soon from what I have heard. ;-(

Where's one for Surface tablets?

Surface 2, Pro 2 & 3 support Miracast natively so will work with the HD-10 just fine.

Same here. I have an SP3 and Miracast works pretty good.

Does the pro 2 also have NFC?

Does the Surface Pro 3 have this capability, too? i.e. can you use this HD-10 not only for windows phone, but displaying my surface on my TV?

Yep, just go to Devices on the Charm bar then Project and you'll either have a link to add a wireless display or can just select the HD-10 and send your screen to it.

Yes. I use my SP3 with a Netgear Miracast receiver to my TV. The SP2 and 3 both have Miracast.

Yes it will. I have the original Surface Pro and use it with the D-LInk mircast unit.

Wait. You got the SP1 to work with Miracast? I just sold mine and it said no support and never worked. Did you do anything extra?

Yep, works perfectly. I did not do anything special. I use it with the Netgear Push2TV, not D-Link, my mistake.

It did not work when the SP1 was first released, but Miracast was later enabled via firmware and driver updates on Windows Update. It worked very well with my NetGear PTV3000.

I have screen projection on my 1020, but not Miracast. Can we use this device on those phone?

No, newer quad core devices only.

this cant support my 720 right?

you know your answer , miracast requires newer chipset(quad core)

Technically, it's not that it requires quad core. It's just that it requires current generation hardware that happens to also be quad core. I'm just pointing that out so people don't get the idea that this technology requires a huge amount of processing power.

Like it but very expensive

I thought cyan supported Miracast.... Why would this require Denim?

It probably if your device does not have Mira case and has to use the NFC disc

NFC is just for pairing, actual data transfer is thru wifi I believe.

It has to be a Snapdragon 800 or newer processor.

Do you mean NFC pairing or miracast in general? 630/635 also support miracast and have snapdragon 400.

I'm just talking about Miracast. From what has been said in the past is that as of the Snapdragon 800 proc, Qualcomm was supposed to bake in hardware support for Miracast. From what it says, the NFC is just to set up the connection but it is Miracast. As far as I know all Lumias have NFC but not all have Miracast. It wouldn't surpise me if Qualcomm turns around and makes a lower end proc without it just like Bluetooth LE. You keep hearing things about its the new standard and then a "new" low end phone comes without it.

I don't really get what you're trying to say. Sorry. My point is that not only SD800 processors support miracasting, like you said, but SD400 support it too and it works well. http://www.youtube.com/watch?v=e6p332ifaB4 Miracasting casting requires a lot o bandwidth, so I doubt it can be done through bluetooth. HD-10 uses NFC and apparently bluetooth for pairing, just as you mentioned.

The NFC pairing functionality requires the Denim firmware since the data in the NFC tag needs to be interpretted and then used to launch a custom action in the OS. Manually connecting to the device via the normal Miracast methods would only require Cyan (which is the firmware that enabled Miracast).

Does 730 support miracast too? Also, in the video he said that any phone with Denim firmware can work with that device, and that older phones will to once they get the firmware, but isn't he mistaking? The last time it was said that screen projecting is only supported on phones with miracast and apparently older lumia do not have the hardware for miracasting. Can you investigate further?

I don't see the answer in your above comment; and I know all that already. Even if older lumias, like 520, 620, 920, etc., do get the denim firmware, they do NOT have the hardware to support miracasting, as far as I know, so there won't be any point in pairing them with the HD-10 if they cannot stream.

I really wish they had brought the price down to $50 max, so it could have somewhat competed with the Chromecast or Roku stick. That and allowed it to stream through DLNA would have been great (though you'd have to actually BUILD DLNA into WP8.1 natively to take advantage of it - how they haven't done that yet is beyond me, especially with Windows RT already having it - just port if over...)

DLNA is an old and complex technology. Too many different codecs and ways to implement it. It has been infamously unreliable throughout it's history and plauged with incompatibility issues. I'm guess that with WP, microsoft wanted to keep things simple and reliable. Therefore, they have avoided DLNA and gone with Miracast instead. Miracast is a super simple protocol that is hard to screw up.

Will this work for apps like Netflix, Hulu and mytube/metrotube?

Yes it will. I use the D-Link one with my 930 and watch netflix all the time on the big screen through the phone.

Awesome just might have to pick this gadget up!

Sorry, I meant Netgear not D-Link.

Did he say bluetooth to communicate and pair or was that just a mistake. Bluetooth bandwidth is aweful

I think he meant to say that pairing is done through bluetooth, but the actual communication must be done through Wi-Fi, at least that's how miracast works.

I bought a Belkin Miracast adaptor on amazon a couple days ago for $40 and it works flawlessly with my 1520. I actually plugged I into my Xbox ones hdmi in port and snap my Lumia while I do other things all the time, its really great.

Miracast is a pretty exciting feature for Windows Phone/Windows! XBOX ONE really needs this to be a native feature though! When will this happen?

Yes, but if i actually have tv plugged in that wouldn't work. What's the point of the all in one XBOX if i still have to change the input?

It will work with the play to on windows 8? and if it have Netflix or apps?

No, "Play" uses DLNA. This is screen projecting and is done through Miracast. It can be accessed through "Charms bar" -> "Devices" -> "Project", but you have to upgrade to windows 8.1. Windows 8 does not support miracast.

Yes surface three. Lumia 1520 are two devices that I have that have Mira cast and will work with it. The NFC disc is for people who have nfc but not Mira cast support. (that is my interpratation from the previous article)

NFC is only for activating by tapping, it is not used beyond that. If you don't have NFC, you can still use it by opening the Project My Screen app manually.

I don't think this will work with a lumia 1020 - any chance of a list of phones this will support?

I have a Lumia 1020 and no it will not work unless they do something non-standard with NFC. Miracast uses WiFi Direct which requires a Snapdragon 800 or newer proc and the 1020 uses an S4 Pro. :-(

It's actually snapdragon 400 and higher I think (my 630 has Miracast)

Strange. I wonder if they are using something other than on chip. According to Qualcomm, the 400 doesn't have Miracast. https://www.qualcomm.com/products/snapdragon/processors/comparison

This looks great, but I have two questions; 1). Will Denim, and this be available on my L925? 2). Will I be able to use this with my Surface Pro 2?

I can't speak for the L925 as I haven't checked the specs but the SP2 definitely does support Miracast.

In a LETTER -- "S" as in "SUGGESTED" retail price.

I paid $70 for my Netgear Push2TV Miracast Receiver. I would love to know where you can find one cheaper that works. I would like to buy more but at $70 for the Netgear I only bought 1.

Amazon has a cheap Belkin, about $40 and I love it so far. Works great plugged into my Xbox ones tv in and with my Lumia 1520

The wdtv live box is 69-89 depending on where you get it and it just had an update giving it miracast support. Making it the best device out there imo since it can be used for tons of things and not just casting.

Wow, living images looks much smoother!

So will this work for beaming surface pro 3's screens to tvs with built in but flakey mirascast support too? If it works with both devices nicely, then that's a good sell

It reminds me of a palm touchstoned

Stupid device, I thought we would get a Miracast device that you could stream to from tablets and PC's as well. This is way to expensive to stream just from phones.

Seems you dont understand how Miracast works.....

It works for any Miracast device. The NFC part is not required to use it.

It can work with tablets and PC's as well. As long as the device supports the Miracast streaming which is just WiFi Direct. You can even add it to an existing computer with the proper wireless adapter. I added it to my Intel NUC with one of their WiFi adapters.

This device is a waste at that price. Wdtvlive just had a firmware update enabling Miracast and it worms flawlessly for 69 dollars. More useful device and for many that already have it they dint have to buy a new device. I got mine in 2011 so am really surprised it can cast.

This is not worth more than €20.

It's a standard Miracast receiver. It can be used by any Miracast compatible phone, tablet, laptop, desktop, etc. That includes non-Microsoft OSes such as Android. The suggested retail price is fairly typical of a Miracast receiver.

I use a Lumia 925 which doesn't have Screen sharing over WiFi but Nokia PlayTo works fine via DLNA. Does this supports DLNA? I can then buy this and use with my Lumia 925 today and still use it in future with my other hardware.

Does this need in home Wi-Fi or can it direct connect?

If it is using the proper Miracast standard it is WiFi Direct standard which is point to point without an access point.

This is overpriced. I know there is more tech packed into this device with the removable plate but this is very simialr to a chromecast and what is that selling for? They have priced this 20.00 cheaper then the Apple TV and it has bult in Netflix, Youtube and other apps depending on what country you live in. I dont know 79.99 seems like a lot to me.

They are probably paying for something like Miracast licensing. I bet shortly after the price will go down on sale. Sad thing is Chromecast is proprietary or I could have saved some money on my Miracast Receiver. I'm with you though that it is pricy but the whole wireless display market seems pricey. Chromecast would be a great price if it were using a standard like Miracast. Apple TV to me is cheap because you essentially have to buy into the whole Apple ecosystem to use it. It only supports mirroring from Apple devices. :-(

Chromecast has to work with supported apps, Miracast works across devices, platforms and with a PC can be used as second screen for multi monitor work. Way more advanced than just youtube streaming....

Does this device literally just mirror the screen or is it only certain apps? For example could I mirror netflix/youtube from my phone in a goof quality using a device like this ?

It mirrors everything on the screen.

At what frame rate and how is the audio quality?

If following current device standards that are available it would be 1080 and min 5.1

I watch movies via Miracast from my Surface Pro 3 all the time. I don't have any issues with video or audio. It looks and sounds like normal TV.

Been using the NETGEAR Push2TV Wireless Display HDMI Adapter with Miracast (PTV3000) with my 635 for a little while now. Great for letting the kids watch their YouTube videos on the big screen...

Nice for some of the Network TV apps as well -- since they seem to be more stable on the 1520 than on the Surface. Too bad they limit themselves in resolution on the phone -- despite the 1080p display.

This would be really cool if it could be used as an NFC sensor for my Xbox One. Plug in the USB to the Xbox, then just tap to get your phone content mirrored onto your Xbox. That being said, I will still be buying one of these, as it will make music playing much easier for my home theatre.

If you connect I to you tv HDMI in it will.

Nice, now if it is compatible with all Miracast devices and if it was selling for $50 and could be powered by the TV's USB it would be just about perfect.

It is compatible with all Miracast devices (just not the automatic NFC pairing part). It might sell for around $50. $79 is MSRP. It can be powered by the TV's USB port.

Why should get it? i projected my l630 screen easily without any other devices on my tv over wifi direct(just turn on in the settings project my screen) so what's the point of it

Your TV obviously has Miracast support built in so you dont need it. For people with TV's that dont, an adapter is required which is where this device, or any other Miracast adapter for that matter, comes in.

Correct. And it I had the choice of paying hundreds of extra dollars for a TV with built in "smart" features (that probably won't get updated after a couple of years and will be obsolete in several years) or a normal TV and seperate replaceable "smart" components for a lower price, I would go with seperate components.

Wouldn't they have been a little imaginative and creative with the name?

Can't they make it so that my $500 Xbox One can do this without having to buy an $80 accessory?

I belive they are going to eventually, but even if they do, for some people the Xbox One is a $400 accessory that they is overkill for this.

Still rocking with my Chromecast (even thouhg I had a WP). It's a shame that is only available for Lumia Phones.

Any Miracast compatible device will work with it, inc android, Windows PC's and other WP devices.

How about the Lumia 2520?

the 2520 supports miracast and since it is equipped with NFC it should be a perfect companion.

It's cool, but $79 for a Miracast adapter is ridiculous. For that price it should also be a streaming box a la Roku.

Neat but......Riddle me this, wouldn't this device do the same thing for $20 shipped ? Sure not as pretty but, just to get your phone on your TV to view videos or play games ? http://www.ebay.com/itm/Measy-Miracast-TV-Dongle-Chromecast-HDMI-WIFI-Display-Dongle-DLAN-Airplay-EZCast-/131175886278 Oh, we can't do this till we have Denim or at least Cyan ? Oh, worthless for me now, as I have an ICON that does not even have Cyan yet.... :( Come on Verizon....give us Cyan now...

I bought one of those. While the lag is a bit bad, its works for videos and music on my 630. The downside is the size, it doesn't let me use both of my HDMI ports at the same time, and also the build quality is not that good.

Regarding your price question: I'm currently wondering the same thing myself. However, a quick look at Amazon, seems to indicate tha reviews are proprotional to the price. $20 dongles have the worst reviews, and an Asus one that is close to $80 has the best (but not that many to be fair). It seems that there is more to these dongles, than just "supporting Miracast".

While we're on the topic of Miracast, on the PC side, does anybody know if there's a way to find out if my Windows 8 generation PC supports Miracast?

Just go to the manufacturers website and enter your model number/ serial number. I did this once for an old laptop to see if it had it. Of course it didnt. Also the box will usually tell you if you still have it.

As long as you are fully updated on 8.1 shouldn't it work?

Isn't there hardware involved? maybe not?

Yes there is. The hardware/firmware/drivers have to support some fairly recent standards such as Wifi-Direct.

Even if it doesn't support it directly, you can always add a WiFi adapter that does. I did it for mine.

Update to 8.1 and then in the charms bar go to device and then project.

Thanks. That gives me the option to present. So I assume that means it does support Miracast. I just wish there was a more explicit mention.

Sweet, now I wish they'd release/announce a new flagship phone. My L920 is getting dated. I do like 8.1 on it though, but it is taking forever for AT&T to release firmware for it.

Im getting that for sure! That's awesome!

The coolest thing about this device is that I can buy it and it can sit right next to my Nokia Treasure Tag. Treasure Tag won't work until Cyan and this device won't work until Denim. Americans won't be able to use this until Q2 2015 or later. Frustrating.

This device will work with Cyan for the main Miracast part. Only the quick NFC pariing part requires Denim.

I think this could be handy, but the branding is weird. It's a Miracast dongle and I suspect a lot of people will want to buy a Miracast dongle that don't own Lumia, Surface owners for one.

Sadly, it seems more typical than weird for Microsoft to put out a great product and then fail at consumer education. I was just shopping for a Miracast device and after seeing reviews, it seems there is a lack of options for a quality receiver. This should have been targeted more widely, as it's also potentially the best option out there for many users, including laptop and Android users, even. Debating between this, a cheaper Belkin unit with mixed reviews and a more expensive Asus stick (also mixed reviews) for inclusion in my Surface 2 Pro bag.

now if only Show Box for would become available for WP I'd be complete! I could then get rid of my android phone and tablet and then move over to the Lumia 1520 and Surface Pro 3!

If I recall correctly that app just offers free video content? There are options that are cross platform just using HTML5 and work fine in mobile IE. I'll stop short of publicly endorsing any particular site, because I suspect they may be profiting from copyright infringement, but it seems a silly thing to stay on a platform for.

My experience so far with latency on Miracast has been rather bad. Not sure why it doesn't impact Apple TV like that.

Miracast has improved that lag is minimal. Almost enough to play a fast paced game. Try the new miracast devices +L930 for example. And Apple TV can just do 1080p LOL. Mircast is much nicer and is a industry standard. Much preferred IMHO.

I still think MS has not given any answers to Chromcast dongle and apple tv.

I agree. Even with the ability to cast to Xbox the lag is pretty bad. I can cast to my chromecast and it seems to stream with minimal lag.

Just try the new miracast devices like a Netgear Push2TV with latest firmware. Makes chromecast old tech.

Chris Weber explicitly said "works with any NFC-enabled Lumia" which is obivously wrong. It has to be Miracast-enabled, so 1520 and newer device. Not interested in this: if the Microsoft Miracast dongle could have brought wireless projection to WP8.0 generation, it would have been a differentiator. If needed, I'll get a standard Miracast dongle, and I could get 3 for the price of the Microsoft puck.

Does anybody know if it works with a Lumia 1020?
It's not Miracast certified but it can use screen projector...
:-?

What the hell is with that name?! Could they not come up with something longer?

Hmm, is it just me or are there artifacts in the Miracast video from the Lumia 830? I noticed it more during the actual presentation earlier this morning with Excel, but it looked like the 830 was struggling to keep up rendering the Miracast stream? Looks very blocky at times. Is this just an inherent problem with Miracast? Is it because of the weaker Snapdragon 400 processor in the 830? Do the Lumia 1520/930 suffer the same issue? Or is it this particular Miracast receiver?

Most likely it's because the room is full of people with multiple WiFi devices all clogging up the available WiFi channels. I'm actually impressed it works at all in that kind of environment. People that attend these events often talk about how WiFi conjestion becomes a serious problem.

Hmm, I had not considered that; I wonder how the Miracast specification, or maybe more accurately Wi-Fi direct, works with channels. Do they search out the clearest channel? Or just pick a standard channel without any fancy congestion mapping? Though I fear that isn't the case as the blocky-ness I saw seemed directly related to more intense graphic rendering and even caused the device to slow and stutter. I hope you're right though, that it is just Wi-Fi congestion. But, I'd like if someone who was actually there could confirm if there was a noticeable degradation and if Microsoft explained why?

Wouldn't this be better if it also supported Qi Wireless charging? Just set your phone on the puck and BOOM it starts mirroring while charging? I think that might make the price tag more worth it.

Excellent idea...
Of course, you wouldn't be using the phone as a remote / gamepad / video conferencing device.

Sweet! I guess I can plug it upto any TV that has a USB port to provide power as opposed to using a wall socket ? I also like how they are using a combination of tech - nfc, bluetooth & miracast to make life simple.

This is basically the equivalent of a expensive chromecast that I myself can't wait to have. Having an Xbox one in my living room and now with this I can plug it to my bedroom tv and stream all the content from not only my phone but also my PC and my tablets running win 8.1. This is awesome.

And a chromecast can't mirror your screen.

Jerry seemed nice at least...

What's up with Microsoft's current naming convention?
Maybe they should have named it "The small accessory, from Microsoft, that allows your new Microsoft Mobile / Nokia smartphone to display on your TV - HD-10 - for Windows Phone 8.1 / Windows 8.1".
That's almost as bad.

The extra HDMI port on my receiver is ready. And so is my wallet.

Yeah the Lumia 920 will work

So... Will Xbox One be allowing Miracast devices in the near future without the dongle? I get the NFC would not be there, but will my SP2, 3, or Miracast enabled phone at some point be able to display my screen on my Xbox One? The key here is the HDMI cord. I already have one from my cable box into my Xbox One. Where do I put this other one without having to tell my TV to change the inputs (part of the reason I like the Xbox One).

It is good but I was expecting more such as a device that can natively run Xbox music, Xbox video, onedrive etc... Without using your mobile battery Posted via Windows Phone Central App

You're looking for a NUC I think. I saw the Zotac ZBOX mentioned on Anandtech recently and looks like they can be had with 8.1 on them for about $200-300.

so as a miracast, it should be compatiable to Surface miracast, and only if it support some older WP8 phone with 8.1/cyan update with USB cable miroor screen, it would be great.

I think it ahould at least support all Windows and WP devices. I know that Asus did something strange with their Miracast devices, so not sure if they will work. (Asus' dongle only works with Asus' Android phones and tablets.)

How does the NFC pad work? Will you have to charge it?

Yeah like idea bit expensive

I have a Netgear PTV (Push2TV). Works like a charm - just no NFC. Who the hell names MS devices products these days. This is ridiculous. Why not something like Lumia ScreenLeap. Sheeds.

Will this work with Computer Monitors as well as TVs?

Should work with anything that has an HDMI input. If it doesn't have speakers built in, that would limit is usefulness however.

Will this device be lumia only? Or will there be support for other OEM's?

Expensive accessories how can compete with Chromecast.

Andorid Devices can screen mirror without spening 79$..............:P

Not sure if comparing chromecast to Miracast or android to windows.
Chromecast is awesome too, but everything I have read says it cannot actually screen mirror, so you couldn't use it to give a power point presentation for instance, I think, and kindle users complain they cannot stream their amazon video on chromecast while they can to a Miracast device.
There shouldn't be any problem screen mirroring from android if you use Miracast however. And you can do it for under $79 if you get a different model. You'll still want to spend more than you would on a chromecast stick however, maybe. The sub-$30 units don't all look great but there is a lot of market competition at least. That said, while those will let you mirror your android for under $79, they'll also let you mirror your PC if you have one, and plenty of other devices that visitors might want to share with you. Including WinPhone. The MS model is just a nice example of a well built receiver, with an extra perk for users with NFC support.

great for members of the family

specifically it can work with my 1020?

So will this be compatible with Lumia 620 with denim update?

I do the same thing this does with my laptop, "Project my screen, a usb cable and a video out cable. Saved $80.

Just what I wanted for the screen projecting setting, this would make my smartphone like a remote wireless controller for some Xbox games.. Makes video sharing and presentatations more mobile than before. Happy to see hardware advances like these, screen projection demos werent available on my last trip to a Microsoft outlet store.

does anyone know if a regular USB port on the TV is powerful enough to power this device or if the power supply is necessary? I need some flexibility for different work environments (different offices). I like the Microsoft Wireless Adapter but it depends on a USB port and some TVs/monitors don't have a USB port close to the HDMI port and I don't want to carry USB extensions or buy an extra USB power supply.

Advertising should say it works with a limited number of Lumia Phones. Have a 1020, it has wifi and NFC but no Miracast. It isn't until you open the box and see the fine print do you see you need another phone...lame
Windows Central Newsletter
Thank you for signing up to Windows Central. You will receive a verification email shortly.
There was a problem. Please refresh the page and try again.