Hands-on with our pick from the HP's new colorful lineup, the HP Pavilion x360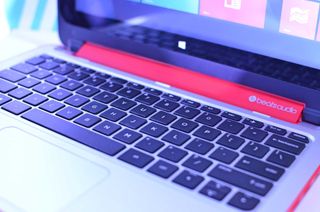 At the HP APJ Summit 2014 in Mumbai, India last week, HP unveiled a colorful new lineup of consumer notebooks. The new HP notebook series - HP Pavilion 14 and Pavilion 15, HP Pavilion x360, and the HP ENVY 15 – features unique designs in eye-catching colors, combining style and function.
I spent some time with the HP Pavilion x360, the touch convertible PC designed for productivity and entertainment. The x360 features a 360-degree hinge that enables users to easily convert the notebook into a stand, tent, or tablet mode.
Design
The HP Pavilion x360 boasts of a pretty good design, and the vivid red one I tried looks impressive and would definitely stand out in a crowd. The unibody notebook is a single color unit, unlike several colored laptops that only have a colored lid with black or grey bottom. The style is not limited to the design, but reflects in the build quality as well.
The 360-degree hinge allows one to easily convert from notebook to stand to tent to tablet mode for different entertainment and productivity scenarios. At a little over 3 pounds though, it's not very light or thin, so it wouldn't really work as primarily as a tablet device to carry around if you are a field professional.
The keyboard is great in form and function. While the typing experience is smooth, the black keys on a grey base looks very good.
Hardware
The x360 features an 11.6-inch HD LED-backlit display with a 1366x768 resolution. The anti-glare, widescreen display is impressive, and the colors are vibrant at normal brightness level.
The convertible is powered by a Pentium quad core Bay Trail processor and 4 GB of RAM. It's not the latest and greatest processor, but good enough for the price point and the positioning. The included 500 GB hybrid hard disk is decent too. There's two USB ports – a SuperSpeed USB 3.0 and a USB 2.0 – and an HDMI as well as a RJ-45 Ethernet port. The last one is a good addition, as it's increasingly becoming a relic of the past in most modern ultrabooks.
The notebook also packs in Beats Audio dual speakers optimized for use in any position. The chic branding aside, the speakers offer rich sound, and are loud enough. There's also the HP TrueVision HD webcam checking all boxes on the feature list.
Accessories
HP also unveiled a variety of accessories to amplify the notebook experience. There's a nice and compact Bluetooth-enabled speaker and a range of colorful headsets. The speaker range starts from INR 1,200 while the HP headphones and headsets range starts from INR 1,900. These would be available in the Indian market from August 7, 2014.
Summary
The HP Pavilion x360 is priced at INR 39,990 in India and at US$ 399 in the US. For a mid-range device, it's a great touchscreen convertible. A little compromise in specifications brings the price to almost half the price of a decent ultrabook in the market, and that should be a pretty good deal for students and average working professionals. You can find the x360 at various retailers or directly through HP.com (opens in new tab).
Do you like the x360, with all its style? At this price point, would you prefer a normal laptop or the innovative convertibles of today? Tell us in the comments!
Windows Central Newsletter
Get the best of Windows Central in your inbox, every day!
insert Gene Wilder gif "You lose. Good Day Sir."

It's got Apple's new beats logo., no thanks.

i had this one in my hand... the sound is very good BUT come on ONLY 3,5h/charge (50% backlight, just browsing twitter)! WTF? Shame

This is the same form factor as Lenovo Yoga series! I wonder if HP got Lenovo's ok or they "borrowed" it.

I saw the hp omni yesterday. I loved it. But too expensive for me. Thinking to upgrade my PC then.

So when's a tent mode useful? WPC App for Android- Lenovo IdeaTab A3000

I was just thinking the same thing. I have the Lenovo Twist and have never used tent mode, but I can imagine it would be useful if you had a very small surface to set the laptop on, like a window ledge. Other than that, just a way for marketers to inflate the number of positions possible.

Tent is the second most frequently used angle we use ours in. My wife and I both use it on the steering while of the truck or her car sitting in line waiting to pick up the kids from school. Thats a line that usually lasts 45 minutes to an hour. Its about 10 inches from your face and perfect for doing light duty work and consuming content on website or video. Both my wife and I use it in bed lying down watching movies on your chest, or beside you on the bed at a perfect 8-10 inches cinema style viewing distant from your eyes. There literally is no position you can't personally get into (sitting or leaning on pillows, laying down, whatever) and still achieve the perfect viewing angle with one of these hybrids.

For watching/reading recipes while cooking. :-)

I'm very Iffy about the Pentium chip in newer PC's... If you're going to pay for an Intel chip, is the Pentium better than the ATOM, is that the benefit? There HAS to be a drawback somewhere in that config... =/

Pentium is an Atom. Its the sane silvermont CPU, rebranded for notebooks.

There's no more the DV series..

What version of Windows will this have?

Does it really matter ? Especially for a PC ? :P If you know what I mean.....:D

If I had an Hp laptop that didn't literally burn out on me after a year and a half, I might be interested. I'm personally waiting for them to die off as a consumer brand.

What's with the weird filters? I can't see what's actually going on.

HP sucks..I work on way too many, and with their new warranty policy... Never buy HP.

Love the design but not good specs... They could slightly increase the price but shouldn't have compromise with specs....

whats wrong with the specs? My gf got it, apart from the awful screen its a very good notebook/tablet for that price! and very good build quality!

I had the old HP Envy, slighlty older processer. It was absolutely fine for all consumption tasks. It might not play DOTA at 60 FPS, but its way more capable than perhaps you realise. No heat, and very long battery life on Bay Trail. A lot to like I can assure you.

guys my budget is 700$s what laptop should i get for my collage..any suggestions

I'd recommend an Acer Ultrabook from their Aspire series. I got a 15" Ultrabook with an i5 Haswell with turboboost, dedicated graphics with a 720m, 1080p IPS panel, about an inch thick and 5-6 hours of battery life for $700 on sale directly from Microsoft. It's the Aspire V5

Oh yeah,its also a touch screen,has USB 3.0 and a card reader. I swapped out the HDD for an SSD and now I have a 1TB external USB 3.0 drive for storage. Works out great!

Here's a link to a similar but not identical model. This has an i7 and is only $600 so you have money leftover for the SSD and external drive enclosure to speed up the machine to the next level. https://www.windowscentral.com/e?link=https2F%2Fclick.linksynergy.co...

I really need something like this. I've gotten so used to using touch on my tablet with Win 8 that it now drives me crazy having to use a laptop without a touch screen because that's how I instinctively interact with a computer now.

I will NEVER buy an HP again,my 6830s battery sucker has bean enough!

Wow. Mine lasts 10 hours. O_0 Posted via Windows Phone Central App

THE SCREEN IS AWFUL!! "The anti-glare, widescreen display is impressive, and the colors are vibrant at normal brightness level." It´s NOT impressive at all! Viewing angles are bad, colors are REALLY bad (too cold / blue), brightness level is LESS than normal!
Maybe get some glasses!?!? PLUS: It has a bug with the "System Interrupts" Service. CPU spending 20 of the time doing strange stuff, you cant even watch a video when that happens (and thats alot!), just restart helps.
Seems to be a problem with the Bay Trail though... See please, be HONEST reviewing a Windows 8 device on a Windows 8 Blog! Oh yes, and the battery is not the best, but there are worse... GOOD THINGS:
Fast (even with "mediocre" specs), Touchscreen working good (just the viewing angles are annoying when used as a tablet), quiet. I still like it, but the screen....no no no!

I thought they killed the beats brand?

No one make a nudge at the x360 name?

Is this the new model? Posted via Windows Phone Central App

1366x768 resolution. Interest level reduced 200%

I wish more manufacturers made colorful laptops and computers. They're all so dull and grey.

Great little laptop for basic use

Not fond of today brought red bit those hardware specs with they price might just push this. At 3 lbs today's as much as my Surface Pro 1 with its power cover. Probably they're better battery life to than mine.

Why so costly in India? At $399, it should be priced at around ₹25000+taxes. ₹39,900 is way too costly! Not going to succeed in India at least! :-/

Just ordered myself the new Dell inception 11 3000 series which basically the same spec but slightly higher price...hmm

Really thought I would get this a few months ago, but after finally seeing it in person at a Best Buy, I went with the HP Split X2 (which cost more, though). The display quality was just not there, and the overall cheapness of the materials and wobble of the screen when in laptop mode just wasn't enough to move at the low price. The price is awesome, and I think it's great that the option for a brand-new 360-degree combo computer is there at $400. If this was going to be a student computer or someone's second computer, or a travel computer, I think it would work pretty well. Glad to see it getting reviewed on WPC! The red color is great (would have gone great with my red 920)

Looks like a child's toy Posted via the WPC App for Android!

HMMM looks a little bit on the down side i think it should have an ssd and not a hdd to start with ......

Beats Audio is so overhyped. Will not buy anything with it. Ironic to have it on a Windows device.

I find it interesting that they prefer Sony when they used to work exclusively for MS. WPC App via Nexus 5.

The Hard Drives are good enough for this kind of devices? Because that computer even if it isn't mobile you'll switch styles over and over. I don't thing the hard drive is good for this type of computer.

I have experience with this device, the screen is in imho one of the worst I have ever seen so I don't know who is paying WPC to say its impressive. The HDD is of the 5400rpm variety to and there is no ssd cache so the thing is one heavy, blind, red dinosaur.

But the real question with any HP device is - how loud does the fan really get, even with light use?
I sold 2 HP notebooks because of that. People would turn their heads in a lecture even if I only opened Microsoft word...

Hi Abhishek, sorry off the topic. Just found Axis Bank app for wp in the store. Expecting article on the same. Downloaded. Seems good.