Hands-on the Vinsic 14W Dual-USB Solar Panel Charger
Leave your power bank at home and go green with this efficient solar charger from Vinsic.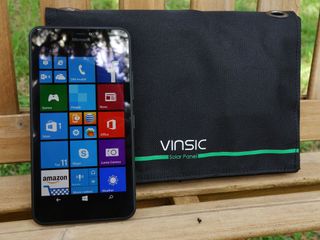 Measuring nearly 33-inches in length when completely unfolded, this solar charger packs 4 durable plastic solar panels that have been sewn into its polyester canvas. There are 4 metal rings on both ends that you can use for securing to your backpack, kayak, or anything else you might be utilizing outdoors. It's even lightweight, weighing only 1.5lbs. Inside the first fold you'll find 2 USB outputs with an LED light in-between. You can keep your mobile devices inside this same pouch, providing a 7.75 x 4.5-inch storage space that shields them from direct sunlight.
As with any solar charger, a sunny day is optimal for the quickest charge, which is 2.1A for this particular unit. If it's a little cloudy outside, it will still get the job done — albeit a bit slower. With 2 devices connected, the fastest rate you can expect is approximately 1A per device. Included with the solar charger is a single 28-inch microUSB cable, so you'll need to pack an extra if you're planning to charge a second device. The 14W monocrystalline solar array is pretty efficient for general use, and manages to juice-up a single device as quick as a traditional charger from my experience. I actually left mine out during a brief sun shower, and my Lumia 640 XL stayed dry inside. It's not completely water-resistant, but it can certainly handle a little rain.
Image 1 of 3
Our take
The Vinsic 14W Dual-USB Solar Panel Charger (opens in new tab) isn't the most efficient way to charge up your devices, but it's definitely great to have on hand in case of an emergency. Its foldable design makes it compact enough to toss in your bag and carry with you during long hikes. Stay prepared and nab it from Amazon for $47.90.
Windows Central Newsletter
Get the best of Windows Central in in your inbox, every day!
works even if i time travel ;)

Yeah. You can use your phone when time traveling or trapped in pararel world

Only the Lumias do. Something Nokia learned from the Doctor.

Sounds like a functional and affordable solar tech. I love it!

And in Britain, it'll provide a max of 1/4 amp on an average summer day to charge your phone in only one month! But take care in winter, as it'll only charge at -10 amps which will quickly suck your phone dry...

india- full charge pump out!

Would be a very nice product to have in my cabin wich lacks electricity.

Haha... Mine too but it's in the woods so sun is pretty scarce

Pretty sure it'll going to give out 20A easily here in middle east lol

Quick charge for $50. I may get this. Good for in the car if car dies.
Windows Central Newsletter
Thank you for signing up to Windows Central. You will receive a verification email shortly.
There was a problem. Please refresh the page and try again.