Hands on with Windows 10 build 17074 showcasing new changes
Windows 10 build 17074 includes a whole bunch of new improvements to Microsoft Edge, quiet hours and more!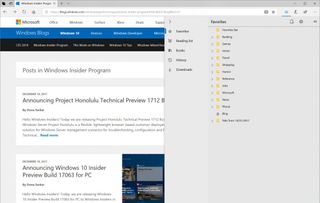 We're back with another Windows Insider Preview build video! This week, we're showcasing all the noteworthy new changes and enhancements found in build 17074. This build includes lots of new features and changes to Microsoft Edge, including a new Hub UI, reading mode and more.
Also in this build, Microsoft has updated quiet hours with lots of new configurable options and features. It's no longer just an on or off switch, with it being now programmable and schedulable. Other changes include the ability to quickly personalize the Start menu folders from the right-click menu and more!
Build 17074 is now available to Insiders in the Fast and Skip Ahead rings. You can check out the changelog for this build here. Make sure you let us know below if we missed any undocumented changes!
Zac Bowden is a Senior Editor at Windows Central. Bringing you exclusive coverage into the world of Windows 10 on PCs, tablets, phones, and more. Also an avid collector of rare Microsoft prototype devices! Keep in touch on Twitter: @zacbowden.
It's time for the "Live" Tiles to go.

just remove your from start menu. I like mine :)

I agree. I wish they would remove the tile behind icons in the start menu.

I'm just wondering why they never did anything with them. They work exactly like they did in WP7. That's like 8 years at least. Kind of disgraceful that they just left it with 0 addition of features for so long.

Ackchyually, they've been adding features to Live Tiles, the last being Chaseable Live Tiles

Chasable live tiles is great, but I still want interactive tiles that they showcased years back.

No. It's not time for them to go. It's time for them to be enhanced so that you don't have to actually run apps to do certain things interactively. If you don't want tiles, then don't pin them.

I LOVE the Live Tiles and depend on them for one-touch access to updates on everything -- Slack, Facebook, Weather, News, E-mails, upcoming NFL and NHL games, Skype messages, and to see nice randomly-selected pictures of my family. My only gripe is that they are only availbale on the Start Menu. Live Tiles are effectively little super-low CPU and memory eating widgets, like improvements over the older Windows 7 Gadgets, but unlike Gadgets, we can't put them on our desktops. That would be my single biggest request -- let me position Live Tiles on my Desktop too so I can see them w/o having to open the Start menu. That becomes especially useful with chaseable Live Tiles -- click to read a particular news story or open a particular photo full-sive. But please, please don't get rid of them or downgrade them.

What's the difference between "Show desktop" and Open start menu to see your beloved useless Tiles? Its one click away either way..

Those who care for changes like this (Edge browser!) seems to me like basic, amater users of OS. Why is MS leaning toward basic consumers and selling us stories of focusing on enterprises? Am I the only one thinking that kind of policy is just undermining already shaken confidence in advanced, enterprise users?

Can you give a single example what you mean?

Ok, just to name few. When is MS going to address topic of future native development for Windows? What technology should I use for my future projects? Win32/MFC, WinForms/.Net, UWP/.Net? UWP being incapable/slow/ugly... Can you imagine big business application written in UWP? :) Why there is constant slowing down of flagship applications? Visual Studio is crowded with features people rarely uses and is becoming painfully slow. Office is more sluggish than ever before. Outlook is more terrible with each new version. Skype become useless. SQL management studio is in same box as Visual studio. All MS software became slow! This indicate some serious architectural issues and no Paint3D, Weather, Settings, or any other crappy UWP app cannot save the thing.

UWP being incapable/slow/UGLY Yeah ugly is a very enterprise-centric consideration. LOL.

UWP is slow and ugly? Ok... How many purpose built, for UWP, applications have you come across? Apart from all the small apps I personally can only think of 2 large applications, one being MS' office mobile suite and the other Adobe XD. Neither of these are slow in any shape or form, nor are they ugly. Incapable on the other hand I can understand. Yes UWP's API area is fairly small compared to the win32 APIs but it has improved a lot since introduction and has been continuing to do so. It's a much cleaner interface though and there's little to no reason apart from legacy that new apps won't be written on the UWP platform. On the otherhand you're going after non-UWP applications (VS, SQL Management studio, standard office) and equating their feature bloat with UWP. Not sure how/why you think that. Also you're beginnning argument was targeted at Edge yet nothing you stated elaborated on MS' new browser.

Yes. I'm not sure what "Enterprise" means to you.

NCC-1701 runs LCARS not windows :P

Anyone having any success w/ the LastPass extension for Edge in this build? I enable it, but get no LP functionality - no ico, no passwords, no vault.

have you tried a rest or repair edge

Why Microsoft threw away the calendar event based quiet hours from 8.1, I will never understand. Much less why they are unable to bring it back.

To make space for new Paint3D? :D Paint 3D is supposedly going to revolutionize business... :D

You do realize that they are handled by different teams, don't you?

Did anyone get broken silverlight apps primarily, WhatsApp and extras&info (that stuck on loading screen) caused by the recent W10(m) cumulative update that came with Meltdown and Spectre fix? I'm on build ...15063.850. Release Preview on L930.

Any way to manually enable sets via a registry tweak?

Killed playback sound on my Surface Book

Audio playback from Microsoft Edge is sometimes unexpectedly muted. A workaround is to minimize Edge, count to three, and then unminimize. form the known issues list blog post this may help

Yep, that was broken on the previous update and hasn't been fixed in this one. Very annoying. I just end up using IE11 more because it just works.

Have they fixed Edge to work with the virtual keyboard on the Surface Pro? https://forums.windowscentral.com/microsoft-surface-pro-4/469941-surface...

You missed something in the sound panel. You set for every app, which sound source you want the audio of the app to be going to, same for microphone. (Go to:Setting > System > Sound > scroll down and pick: "App volume and device preference". You also have right bellow audio settings for your AR/VR Headset)

For those saying the Live tiles are old and that more features have not been added since, I was just curious what further advancement and future improvements the static icon with rounded corners have since 2007?

At least they don't take sh*tload amount of space without need. Because that's what "Live" Tiles (icons in disguise) do.

I think you missed the biggest new feature: ability to write into a textbox "directly" in UWP apps. It's kludgy in this release, and Edge/Mail/etc. aren't enabled yet as they're working on custom integrations, but this is HUGE for pen users, and should result in an increase in pen usage when in tablet mode. As a long-time tablet fan (pre iPAD), I'm totally jazzed by this development!

I find it almost adorable that Zac always starts by showing off changes in Edge, as if desperately trying to convince people that it doesn't suck. Obviously it doesn't work, but it's almost adorable nonetheless.

I'm glad Zac shows those (thanks, Zac!). Edge is my main browser now (since LastPass extension became available, but it's gotten really good with recent production updates). I also use Nik Rolls' uBlock Origin (is that different from Raymond Hill's uBlock Origin on other browsers?) and the Policy shift to share bookmarks with IE so I can use Xmarks to sync bookmark changes between all browsers (Edge <-> Firefox <-> Opera <-> IE <-> Chrome). There are still some things for which I use Firefox or Opera, but generally I prefer Edge. I like Firefox for it's Live Bookmarks based on RSS feeds (like for WindowsCentral). I like Opera for its awesome printing capabilities (Edge printing is still severely limited). And every once in a very rare while, there is a site that won't display properly with Edge, so I'll go to Firefox or Opera (or IE, if it requires old ActiveX controls). But for typical browsing, Edge on Windows 10 is more stable and can handle dozens of tabs open without struggling better than the others, at least for me. And if you do any browsing with touch rather than mouse, Edge seems to me to be far better than the alternatives. My only complaints with Edge: Printing is so limited as to be useless on many sites Favorites Bar still a little buggy with nested folders -- hangs for about 15 seconds on first access, but works fine after that, as long as Edge remains open, problem recurs if you close and restart Edge Lack of native Xmarks support in Edge (going through IE works, but I'd prefer a native Edge extension) I also occasionally use IE and Chrome, but IE is pretty bad now (typically crashes for me if I get more than a few tabs open) and Chrome I avoid because it adds nothing over Opera and, well, it's Google.
Windows Central Newsletter
Get the best of Windows Central in in your inbox, every day!
Thank you for signing up to Windows Central. You will receive a verification email shortly.
There was a problem. Please refresh the page and try again.