Video hands on with the Windows Phone 7.8 beta and custom ROM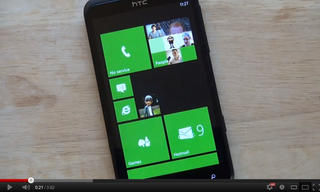 A custom ROM with Windows Phone 7.8 bits on the HTC Titan
Although Windows Phone 7.8 is not expected to arrive until after Windows Phone 8 launces, bits of the OS are evidently floating around and are being incorporated in custom ROMs for various 1st and 2nd gen Windows Phones.
One of those is the 'EB Edition' found at XDA Forums and meant for the venerable HTC Titan. We decided to flash it on to one of our devices and give it a go, so make sure to check out the video after the break…
Truth be told, so far Windows Phone 7.8 (build 8835.35) is just a new Start screen (with multi-sized Tiles) and nothing more. The custom ROM itself features of a bunch of neat things, including the Bazzar homebrew Store and even USB Video Out, but none of that is part of 7.8.
So how does it run? It's actually quite neat, as to be expected. We're really excited for the new Start screen as it makes organization a lot easier, with lower priority apps getting a tiny tile, while important ones can go 'double wide'. It is odd seeing the Tiles that large, due to the removal of the "gutter" to the right but you get used to it quickly. The EB Edition ROM also handles quite well and we have yet to experience any major issues.
Is it worth unlocking (HSPL), flashing on a compatible ROM and then re-flashing 7.8? Depends on your time and ability to follow directions. The actual process only took about 25 minutes, but it is considerably longer if you have to read up on it. And you should, the risks here are substantial if you don't do things right. And although the 7.8 beta Start screen is nice, there are some quirks here and there that makes this optional only for those who have the spare time and strong desire.
We should note that there is an AT&T Titan edition, but hard-unlocking an AT&T phone may be more work (needs Y-cable and GoldCard; correct us if we're wrong).
Daniel Rubino is the Editor-in-chief of Windows Central, head reviewer, podcast co-host, and analyst. He has been here covering Microsoft since 2007 when this site was called WMExperts (and later Windows Phone Central). His interests include Windows, Microsoft Surface, laptops, next-gen computing, and for some reason, watches. Before all this tech stuff, he worked on a Ph.D. in linguistics and ran the projectors at movie theaters, which has done absolutely nothing for his career.
Man you giggle alot, its moments like this that I wish I never gave away my HD7 that was already running a custom rom. Now I can't wait for somebody over at xda to crack the Lumia 900 wide open software wise.

If I wanted to hack my phone, id get a android. So im not up for that. But cheers for the video and the look / feel of the start screen

Does windows Phone 8 do MHL?

A custom ROM "bits" on the Titan? I think you mean hits.

Nope... It's clearly stated that it only has bits of the 7.8 update...

I will wait until there is a more complete 7.8 and not just tid-bits of it.
I have already updated my AT&T Titan to Tango and am very happy.

Is there an easy way to do this? My AT&T Titan is still stuck on Mango...

I was gonna do this over the weekend but the y-cable and gold card stuff had me feeling like a bomb diffuser so I simply flashed cab files of tango Tommy ATT titan instead. Nice to finally have a keyboard that stays in place! Lol

So 7.8 truly is just the new start screen and nothing more.

Maybe. Maybe not. This does nothing to confirm anything one way or another.

I flashed Jaxbot's 7.8 ROM to my old Focus, and while it's just start screen and more accent colors, it's a developmental version that doesn't reflect the final product. For instance, my "Games" tile will have an Xbox logo on it, but as soon as I alter the size, it changes to a accent-colored tile. On top of that, my Pictures tile will shrink to a tiny tile, but then I can't resize it to double-wide. It's still buggy.

Yup the start screen is a bit buggy yet. It's only a test build.

How'd you flash the mod to the Samsung focus? Can you tell me please man I've been dieing to do it too!

Check windowsphonehacker.com blog out.

Maybe the versions floating around were made for demo purposes, to be used by premium developers for trying the new live tiles on a real phone. Or maybe for use in marketing, to avoid bad mock-ups in photos and videos.

Hi! I watched the video and saw an "Ease of Use" option in the settings. Has anything improved there in this ROM? Some accessibility features (like a screenreader/magnifier) would be nice ;)
Thanks!

Dan,
Yes the Titan does need the Y-cable and SD card to go along. It can be a bit tricky if you don't know what you're doing.
Thanks for the shoutout on the AT&T edition :)
Here's a link to that version.

I'll wait. I'm fact, I may not even update to 7.8 depending on the cost of a true windows 8 phone.

Which again begs the question, if this can be done and maybe all we're getting is the new start screen(which is lovely I might add), why is Microsoft making us wait til after the launch of WP8?

So it's Monday guys and I've been hearing all over the news that the new iPhone hasn't sold as many as it thought... I guess their stocks fell too.

I can confirm it working on HTC arrive the start screen is pretty sweet and ill keep using it until it comes out officially overall its much snapper and my compasitvie touch buttons have a lighter buzz or vibration to them ....internet sharing works tooo

+1, there are multiple 7.8 ROMs for the Arrive ATM... Its great, I had a small issue with the size of the tiles at first (I like the original with the gutter). But once I started resizing them and "customizing" my home screen, it became ohhh-so-sweet... Definitely worth the update... Even if it is just a beta is pretty stable (other than not all tiles changing colors, but easy fix by resizing them). Like Tango, you can share pix & vid through MMS... That's a plus too... Internet sharing works (as Quis0822 stated) and so do the ## codes... I think if you're thinking of updating, you really should people... I'm quite satisfied ATM since its just beta and there should be more with the official release... This will hold me over till WP8 (or the next leak)... jejeje

Does bluetooth already work conveniently ??
With WP7.5 we cant transfer files between devices!! Microsoft promissed to resolve this problem on WP8 ...
Lets see...

I wish they ripped the update so I can put it on my trophy


Is there a cab file we can just manually update without having to unlock and flash it? Otherwise, no thanks, I'll pass for now.

Cab method is only for official updates. This is still beta, not yet completel so there are no CAB updates just yet.

If they're getting rid of the gutter on the home screen, why leave it in the apps?

Will rather wait for final.version 7.8 don't want anything happen to my phone

So my thoughts are:
1. How stable is this thing?
2. Can I use the backup tip WPCentral tip'ed on before to get game saves and text's back and forth. That's all I need to know to take a stand if to install this.

Hey Daniel, sorry for the possible off topic but, do you know where I can get that Wallpaper with the coloured spash paint? Thank you in advance!

New home screen, a ton of accent colours and more than 6 multitasking tabs to use running on my Titan

I'd be really interested to see the video go into settings, and cellular, and edit APN and see if the MMS option is there like it is in WP8.
Windows Central Newsletter
Thank you for signing up to Windows Central. You will receive a verification email shortly.
There was a problem. Please refresh the page and try again.