Hands on with the new swipe keyboard in Windows Phone 8.1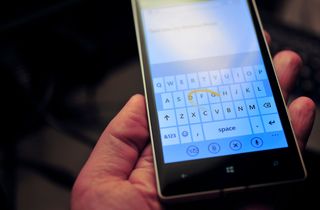 We're here at Build 2014 in San Francisco. Microsoft is showing off Windows Phone 8.1 to the world for the first time. Cortana and the notification center might dominate headlines, but it's the smaller features in Windows Phone 8.1 that really make it a joy to use. One change you can look forward to is the new keyboard. Ready to swipe?
It's not a big feature, but it's one we're going to use every single day. The swipe keyboard in Windows Phone 8.1 will automatically give you the word you want to type as you glide your finger from letter-to-letter. You'll see suggestions for the word you're typing and even see emoticons suggested. Type in 'happy' and you'll see a smiling face above to insert into your message.
Small feature, but one we love. How about you?
Windows Central Newsletter
Get the best of Windows Central in your inbox, every day!
What about ability to save games on sd card

...What does that have to do with the keyboard?

Arre it is coming !! Why are you going crazy over it ? I have just 200mb free, yet I'm not going crazy, you are ! Please calm down !

It's available. Don't spam with this question anymore. You can save new apps in your sd card in Windows Phone 8.1.

Kill yourself immediately. I've only seen your question twice and already I dislike you.

How long to wait upgrade to WP8.1 from WP8 to my Nokia Lumia 521

That notif (markguim took a photo of you) looks EPIC!!!

Now I can say this without a doubt that "this shall seem faster"

You can say that again!!!!!

Wow, something that wasn't leaked. I hated switching from Android and not having swipe on my 1520. This screen is too big for tapping.

Same here..hated having to go backwards and hunt and peck...love swype

this was already leaked.. ;)

If I wanted Blackberry 10 on a windows phone, I'd buy a Blackberry.

eagerly waiting for the announcement date of the WP 8.1 Developer Preview..

Really? I was going by this WPCentral article: http://www.wpcentral.com/windows-phone-81-preview-developers-program-april-10

8 April is the release of Windows 8.1 Update 1. The Developer Preview of Windows Phone 8.1 is still going to be mid - late April. Well that's what I've heard from the youtube vids.

The windows phone site itself says first part of April. And it's largely said as between 8 and 10. Plus the keynote slide looked like it said 8th for dev preview too

Finally,Thank you very much..now more people will switch to Wphone and also add file and app manager...plz plz plz...

So, that's about it, right? They have already moved on to W8.1 now. File pickers etc etc., The new FB app, the new People and Photos hubs etc.? What about those?

Slay Microsoft, slay 'em!

Yes!! I love Swype on Android and miss it when I use my Lumia 1020. So glad WP will support it now B-) Posted via the WPC App for Android!

"Sure looks the same..." I was really hoping for a low profile keyboard that doesn't eat half of the screen. Also, I wish they open up to developers. SwiftKey is something I really miss on Android. Otherwise, it's great to include Swipe for those that like it. I don't think I'lll personally use it. Never liked it on Android, but we'll certainly check it out on WP. Glad to see improvements nontheless!

They could make the keys less tall, similar to Google's keyboard on the Play Store. It doesn't help that we have out ellipsis bar underneath the keyboard half the time.

Dang it, I wanted a 3x4 T9 keyboard...

I don't even know how swipe works

Uh instead of pressing 'w' 'h' 'a' 't' in order you simply being at W and swipe to H keep swiping to A and T in one go, the Software will do the work to figure out what you wanted to type.


Couldn't really see it in the video too well, so thanks for this description! I'm kind of disappointed. I was hoping it would be where you could draw the shape of the letters to have them appear. So, draw a W, draw an H, draw an A, draw a T to get "what", for example. I've seen this on W8 tablets and have hoped they'd bring that to WP! But I'll be willing to give this a chance. Oh well, sounds like this was a big hole to a lot of people, so for that sake it's a good addition.

This is much faster. Trust, I can type using swipe with one finger as fast I can get with two thumbs. And nearly as fast as a real keyboard.

It is like join the dots with letters.

I loved Swype, this can only make my typing faster

"its not a big feature"? I was gonna ditch my phone but then I heard WP was getting this feature soon, so I stayed.

I know brah. Its a HUGE feature

I have never used it on android but the demo was pretty cool! Not bad for being on stage. Not to mention the world record was typed out using swype on a WP 8.1!

My wife used swipe all the time on her Android phone. It was the thing she missed the most when she moved to iPhone. True story.

iPhone doesn't have that option?
Wow, now they're behind the times.

Wow Thanks for not actually answering any of the real questions we had about it, like can u swype to have custom words that u add to the library come up? Pretty useless video as we have already seen it in action

You can add custom words. It will also learn words as you use it

My fiancé truly will love this.

Seriously can't wait for this :)

i have to ask.. what phone is that? I can't quite recognize it :\

I've been waiting for Swype for ages and the lack of it is one reason I went to a Samsung Galaxy Notes 3 late last year. I can hardly wait to update my Lumia 1020 and 1520 with 8.1 and list my SGN3 on eBay!

I'm in the same boat as you. I got a note 3 because T-Mobile doesn't have a 5" or more high end Windows 8 Phone. If T-Mobile gets the 930 I'll be using my jump and trading my note 3 in.

I miss Swype! Looking forward to the update!

I actually don't like swype. I hope you can turn it off. I'm glad it's coming though. I know people really like it.

Never swiped before (wp7 my first smartphone) we'll see how it is now))

2 MAJOR things I love on my Note 3 that I haven't seen yet.
1. Numbers across the top of the letters so you don't have to toggle back and forth.
2. Remember your emails. Whenever I go to login on a website my emails pop up. You can just tap the one you want. It's a very nice short cut.
I really hope these features are included on 8.1

Yes! I also really want quick access to numbers

just a tip you might already know, but alot of people i know don't. about point 1, you don't have to 'toggle' per se. just tap and hold the shift key and swipe to the number you want, then release. it automatically switches back to the letter layout.

I never knew that. Thanks!

No funny "I wish I had a way to type faster intro" for the video....was enjoying them

Like Swype on Symbian.....Nice

the thing i'm really happy about is THEY MOVE THE COMMAAAA!!!!!!!!!!! no more,message,like this one,on my,phone :)

Yes.now.it.will.look.like.this
:P

Jessy, the reason you have the comma next to your period button is because you have additional keyboard languages activated. You can move the comma yourself and give your space button more room by going to your keyboard settings and removing the additional languages. :)

thanks for the tip. I need the additional language. If I understand the comma will be at the same place with the update :S. I write in french and in english everyday. I never had just one language in the setting, I did't see the "basic" keyboard. I use it now. they should put the language button with the "copy/paste" button.

Like the current keyboard hope you can swap

This is my main reason to be excited about 8.1!!!

Feels like I'm the only one who likes the current system Swiping seems cool and all, but when I'm really tired and my typing is less accurate, I enjoy the ability to just it a key near the one I want and then be able to select my letter with greater ease by dragging my finger to the enlarged letter. I'm sure I'll like swiping, but I also hope you can toggle it on or off.

i wonder if i can save a random letter by swiping randomly, like cursing or something :P

definitely going to use swipe, but if i am tapping, i'm sooooo glad they moved the comma to the left of the spacebar!! cause whenever i type now on my windows phone it,looks,like,this. hitting the comma wayyyy to often instead of the spacebar! which is annoying to say the least.

I wouldn't even consider getting android anymore. WP 8.1 update really coming along nice.

Swiping is big im damn near was gonna go back to Android until I heard about some of the 8.1 features...i guess I'll wait and see what it holds

I don't know if I'll use it, but it is the favorite feature of a friend's Android... I smell a convert.

So many new improvements here on 8.1. Great to hear.

I want this feature more than I do Cortana. I'll take this feature w/o Cortana truth be told. This is going to be a welcome update.

I don't see myself using this, but I'm certainly glad that it's finally becoming available as an option for the platform. From the comments i can see that this is obviously a popular feature on other platforms.

I miss swipe so much from my Android days. So glad we are getting it!! Can't wait to use it again. I already thought the WP keyboard was the best one out there in the market but this will be overkill!

In my opinion that's the best feature in WP 8.1

I've tried Swype. It wasn't for me. It's great that they're making it available for those who doo find it useful, but I'd like a toggle, as I'm concerned about how it will affect usability for those of us who still prefer to tap. Is it going to result in interpreting less precise taps as swipes? This could result in a new source of maddening typos.

question! does it supports Indonesian language?

Sorry to say, the swipe keyboard does not work on the nordic keyboards (da, sw, no), as with Cortana. /Svein

Hi I have a Lumia 520 with 8.1 and i can't use this feature :/ Something needs to be activated or in the settings? Thanks for the time spent to read this :)

Does anyone know which languages will be supported?

I'm in assention there. Particularly on bigger screen gadgets I feel a level swipe might be less demanding. Besides it might likewise be a differentiator from Android and ios warning focus.

Never tried swipe feature, my last phone was nokia E63. Anyway i am looking positive to use this new feature with all other features in 8.1. What feature I personally want is a clipboard , in which we can save few of lines or emails or whatever .. to use them later. Right now there is only one copy paste feature, which is not enough.

Can anyone tell me where/how to get this?

The swipe keyboards does not work in other languages...