CableMod's sleeved cables are an extravagance that's worth the asking price
Looking to spruce up the look of your gaming rig? You should take a look at these cables.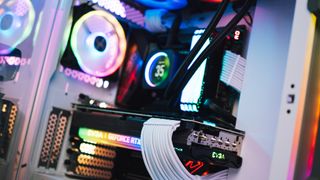 (Image credit: Harish Jonnalagadda / Windows Central)
I knew about the existence of CableMod, but it was only recently that I started paying attention to the brand. Most of my gaming rigs over the years have been utilitarian, but I upgraded to the Corsair 5000T last year, and the elegant design of the chassis made me focus a little bit more on aesthetics.
That's where I ran into CableMod. The manufacturer is well-known for highly customizable cables, and having used the ModMesh PSU cables in my gaming rig for just over six months, I can confidently say that they make a big difference visually — particularly when used with a chassis like the 5000T that's designed to showcase the internal hardware.
The biggest differentiator for CableMod is its configurator tool. You can use it to make unique designs that add a lot of flair to your gaming rig, and there's extensive customizability on offer — whether that's materials or colors. I just went with the all-white PSU cables as that color scheme worked well with Corsair's design language for the 5000T, and the end result was that the cables made the entire build look that much more elegant.
Going this route gets pretty costly very soon — individual PCIe 8-pin cables can run up to over $35 based on the material and colors, but the upside is that you can change the length of the cable, choose a color for each individual wire, and add cable combs.
The extensive customizability is what makes CableMod great, but if you just want a basic color scheme without all the extra tweaks, you should pick up the brand's cable kit instead — they're available for most PSU vendors, and debuting at $99 for the kit, you get a good value. If you don't want to buy direct, the cable kits are sold on Amazon (opens in new tab) as well.
Just so you understand, these cables are purely for aesthetic reasons; it's not like switching to CableMod will make your gaming rig run any faster. That said, I realized just how big a difference they made two weeks ago; I started using the Colorful GeForce RTX 4080 in lieu of the RTX 3080, and that meant utilizing NVIDIA's new 12+4 pin 12VHPWR connector.
As I didn't have an extension cable for it yet, I had to use the adapter that was bundled in the box and connect that to the ModMesh PCIe 8-pin cables. This looked ungainly to say the least, and I can't wait to get my hands on CableMod's custom 12VHPWR cable. The best part is that the brand's 12VHPWR offering is just as inherently customizable as the rest of its portfolio.
What makes the ModMesh cables such a good choice is the durability and ease of cable management. Although the 5000T is a large chassis, it was a bit of a hassle to route the bundled RM850x cables to the motherboard, and it was significantly easier to use the ModMesh cables, and it makes the chassis look much more tidy.
I also intend to get my hands on CableMod's coiled keyboard cables at some point, and put the brand's mobile charging cables to the test and see how they fare with the best Android phones.
The only downside here is that CableMod's products tend to be costly, but after using the ModMesh cables for over half a year now, I understand why that's the case.
Windows Central Newsletter
Get the best of Windows Central in in your inbox, every day!
Harish Jonnalagadda is a Senior Editor overseeing Asia for Android Central, Windows Central's sister site. When not reviewing phones, he's testing PC hardware, including video cards, motherboards, gaming accessories, and keyboards.
Windows Central Newsletter
Thank you for signing up to Windows Central. You will receive a verification email shortly.
There was a problem. Please refresh the page and try again.