Lenovo once again provides the ideal all-in-one computer with the IdeaCentre AIO 5i 27. The 27-inch 1440p IPS panel displays hues and brightness levels beautifully, while the 12th Gen Intel Core i5-12500H processor easily handles multitasking. Though not a good pick for intensive gaming or hardcore video editing, this desktop is perfect for video calls and most programs.
Pros
+

Sleek design

+

Easily handles multiple programs

+

Great retractable webcam

+

Wireless charging base

+

Small footprint & sturdy build
Cons
-

Narrow phone stand slot

-

Only one HDMI out port
Why you can trust Windows Central Our expert reviewers spend hours testing and comparing products and services so you can choose the best for you. Find out more about how we test.
The Lenovo IdeaCentre AIO line has long been a contender in the all-in-one (AIO) computer space with its compact power. Now, the latest model has also proven to be an excellent desktop, whether you're working from home or simply want a reliable PC for the family to use. It doesn't take up much room but still provides the performance and conveniences to suit most users.
I spent over two weeks testing and using the Lenovo IdeaCentre AIO 5i 27, and in that time, I've come to learn that this desktop is as sturdy as it is reliable. Just don't expect it to handle any intensive gaming.
Disclaimer: This review was made possible by a review unit provided by Lenovo. The company did not see the contents of the review before publishing.
Lenovo IdeaCentre AIO 5i 27: Price and availability
This particular configuration is available at Best Buy, priced at $1,240. Additionally, you can often find other configurations of this desktop selling cheaper than its MSRP at places like Amazon, Best Buy, and Newegg. As expected with an AIO, there is no assembly required as the monitor comes attached to the stand from within the packaging.
You can view the full Lenovo IdeaCentre AIO 5i 27 specs below:
Swipe to scroll horizontally
| Category | IdeaCentre AIO 5i 27 (2022) |
| --- | --- |
| OS | Windows 11 Home |
| Display | 27-inch QHD (2560 x 1440) IPS, anti-glare, touchscreen, 350 nits |
| Processor | 12th Gen Intel(R) Core i5-12500H to Core i7-12700H |
| Graphics | Integrated Intel Iris Xe |
| Memory | 8GB DDR5-4800 |
| Storage | 512GB SSD |
| Webcam | 1080p + IR Camera |
| Connectivity | Wi-Fi 6 2x2 AX & Bluetooth® 5.1 or above |
| Ports | USB 3.1 x 2 |
| Row 9 - Cell 0 | USB 2.0 x 1 |
| Row 10 - Cell 0 | USB-C 3.1 x 1 |
| Row 11 - Cell 0 | Ethernet x 1 |
| Row 12 - Cell 0 | HDMI input x 1 |
| Row 13 - Cell 0 | HDMI output x 1 |
| Audio | Certified JBL speakers by Harman, Dolby Audio Premium, 2 x 3W tweeters,1 x 5W woofer |
| Dimensions | Width: 614.8mm (24.2 inches) x Depth: 200mm (7.87 inches) x Height: 481.81mm (18.97 inches) |
| Weight | Starting at 10.96 kg (24.16 lbs) |
| Colors | Mineral Grey |
Given the large 27-inch display, the Lenovo IdeaCentre AIO 5i 27 sells at a competitive price of $1,240 USD. It features an Intel Core i5, 8GB of RAM, and 512GB of SSD storage. Altogether, it handles video calls, music playing, and multitasking very well.
However, while it can easily run less graphically-intensive games like Among Us, it cannot run highly graphic-intensive video games like the recent Hogwarts Legacy. Of course, this is no surprise, as this AIO was not built for intensive gaming. There are more powerful configurations on the market if more processing power is wanted.
Lenovo's other configurations of this IdeaCentre AIO include other 27-inch display models as well as versions with a smaller 24-inch screen. Some of these have the same Intel Core i5, while others utilize an Intel Core i7 and offer more RAM. However, each iteration employs the integrated Intel Iris Xe Graphics Processor. As expected, prices vary depending on the internal hardware utilized.
---
Our recommended Lenovo IdeaCentre AIO 5i configuration: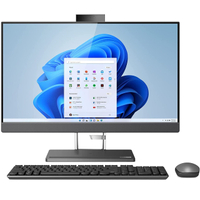 (opens in new tab)
Intel Core i7 | 16GB RAM | 256 SSD (opens in new tab)
The IdeaCentre AIO's ideal configuration offers an Intel Core i7, 16GB of RAM, and 256 SSD. There's plenty of storage space and processing power at a good price point of $1,000 for this setup.
Lenovo IdeaCentre AIO 5i 27: Design & build quality
Lenovo made, what I consider to be, some rather strange IdeaCentre design choices in the last few years, with past models featuring asymmetrical stands. This was likely done for a mixture of aesthetic reasons and to prevent any ports from getting blocked by the monitor base. However, they sometimes resulted in past Lenovo AIOs being somewhat wobbly. Fortunately, the IdeaCentre AIO 5i 27 has a much more stalwart build that also looks elegant.
Though not the thinnest monitor I've ever seen, the IdeaCentre AIO 5i's casing still looks sleek and classy. The 27-inch screen is held up via two metal poles that connect to the computer base. The screen can be tilted upward or downward, but the stand cannot be extended or shortened. Still, the display rests at a good height, and pivoting it up or down should fix any viewing issues for taller or shorter persons.
I took a moment to shake my table rather violently to see if the IdeaCentre would wobble. It stayed planted on the table's surface and made me feel a lot better about allowing my cats to explore next to it. There would have to be a significant amount of movement and/or force to knock it over.
Various ports are found on the backside of the monitor, and they are spaced in such a way that the metal stand shouldn't cause any conflict with connecting cables. There's also a SuperSpeed USB 3.0 port on the left side of the monitor for easy access, which is convenient for microphones, the included wireless keyboard and mouse adapter, charging up a phone, or other accessories.
Image 1 of 2
As with previous versions of this AIO, the base doubles as a wireless charging station and phone stand. The phone does have to be placed in just the right spot for charging to occur (on the battery symbol), but it's a nice convenience when you'll be sitting at your desk for a while. Lenovo was also considerate enough to include a USB-C to USB-C charging cable for phones that do not have wireless charging capabilities. Either way, your phone will be taken care of. My one complaint about the base is that to actually use the phone stand, I had to remove the case from my phone for it to fit in the narrow slot. This is frustrating and takes away from the convenience that the stand is attempting to provide.
All in all, this is a very handsome desktop that will look good in any home or office. The sturdy base makes me more confident that my cat won't be able to knock it over, while the plentiful ports give all of the connecting points needed.
Lenovo IdeaCentre AIO 5i 27: Display
As you'd expect, the 27-inch display is large enough that it's easy to show two different windows at once. The Intel Iris Xe Graphics Processor used within this Lenovo IdeaCentre AIO 5i 27 can support up to three displays at a time. However, there is only one HDMI out port, so you will need to purchase a USB-C to HDMI adapter to connect a third monitor. Alternatively, the HDMI in port allows this AIO to act as an additional monitor if needed. This makes the IdeaCentre AIO 5i a perfect laptop companion.
Since the monitor is also a touchscreen, it's easy to jump between different programs or zoom in and out of an open page using your fingertips. This can make working on Lenovo IdeaCentre AIO 5i very convenient. However, my cat ended up slapping at the screen and changing windows, so I was pleased to find that touch capabilities can easily be turned off if they aren't wanted as a computer cat-proofing measure.
Lenovo IdeaCentre AIO 5i 27: Test benchmarks
The monitor's brightness is adjusted from within the Settings → Display menu, but there are no physical buttons on the monitor to make these changes. It can get dim and bright, and the image that comes through is crisp and vibrant with its 2560 x 1440 resolution. There is also a Night light mode to block blue light, making the monitor easier on the eyes late at night.
To test how well the monitor performed, I turned off HDR video mode and used a colorimeter to see how well the display worked on default settings. The IdeaCentre AIO 5i 27 does a good job of displaying various hues, brightness levels, and contrast with its IPS display. So much so that there wasn't much of a need to calibrate this monitor. As always, the amount of natural light in a room can alter the experience significantly, so things might be slightly different from one owner to the next.
Swipe to scroll horizontally
| Setting | Brightness | Black | Contrast | White Point |
| --- | --- | --- | --- | --- |
| 0% | 15.0 | 0.00 | 150410 : 1 | 7400 (0.302,0.312) |
| 25% | 89.0 | 0.10 | 910: 1 | 7300 (0.302,0.313) |
| 50% | 179.5 | 0.17 | 1060 : 1 | 7300 (0.303,0.313) |
| 75% | 265.7 | 0.27 | 1000 : 1 | 7200 (0.303,0.314) |
| 100% | 347.6 | 0.36 | 960 : 1 | 7200 (0.303,0.314) |
Bleeding can plague many displays, especially when the brightness is at its lowest setting. However, even with the IdeaCentre AIO 5i 27's display dimmed all the way, the screen was uniform and didn't have any distracting bleeding. It makes for a better user experience that won't take away from any late-night basic use or video watching.
Lenovo IdeaCentre AIO 5i 27: Performance
The Lenovo IdeaCentre AIO 5i 27 is not intended as a gaming computer, and as such, it does not have the processing power of the latest and greatest graphics hardware. However, it performs admirably when using most applications and is an excellent multitasker. I tested performance by using Adobe Photoshop while running other programs, playing Among Us, listening to music, watching videos, and/or attending video work meetings. It could do all this easily without stuttering, blasting the fans, or slowing down.
The 12th Gen Intel Core i5-12500H that this AIO uses provides slightly higher-than-average performance. We tested the IdeaCentre AIO 5i 27 in several benchmark tests, including Geekbench 5, CrossMark, Cinebench, PCMark, and CrystalDiskMark. You can find these results below:
Image 1 of 5
Note: These benchmark charts are not intended to show the IdeaCentre AIO 5i 27 as middling but rather show other desktop and laptop benchmarks to which it is most similar.
I also tested the Lenovo IdeaCentre AIO 5i 27 (2022) with the brand new Geekbench 6, where it scored 2,039 for single-core and 7,967 for multi-core in its benchmarks. While not the most impressive computer on the market right now, the i5 CPU is more than ready to handle most applications and tasks. It's perfect for video chats, music listening, video watching, and simple games with low-level graphics. However, it definitely struggles with intensive gaming, complex video editing programs, or other applications that require a lot of processing power.
Lenovo IdeaCentre AIO 5i 27: Keyboard & mouse
Image 1 of 2
There's nothing super standout with the wireless mouse or wireless keyboard, but in some ways, that's preferred. They're both relatively simple but very reliable. Batteries are included for these devices, with the keyboard running off two AA batteries while the mouse functions off one.
The keyboard is very satisfying to use. It has a number pad and a few function shortcuts for locking the computer and opening the Snipping Tool, Settings, Calculator, and the default web browser. As is usual, there are also audio function shortcuts for muting, adjusting volume, pausing/playing, or muting a mic. This gives plenty of convenience without doing anything over-the-top.
Lenovo IdeaCentre AIO 5i 27: Cameras & audio
Image 1 of 2
As with past IdeaCentre models, the 5MP Infrared camera on this Lenovo AIO extends up from within the monitor and can be pushed down flush with the display casing to conceal it. This means you can be more secure in knowing the camera isn't capturing any footage when you don't want it to.
For testing purposes, I specifically took time to see how well audio and video were handled in work meetings. The camera visuals aren't groundbreaking, but they are very clear— auto-adjusting brightness and coloring to help display me to the best possible advantage. It also worked much better in lower lighting than I would have expected.
Meanwhile, the 5W JBL dual speakers are located under the monitor and point downward, where the sound can be amplified nicely depending on the surface that the sounds reflect off. During video calls, the Lenovo IdeaCentre AIO 5i 27 carried my voice clearly and allowed me to be displayed cleanly. However — as with most AIOs — if you want to hear louder volumes, deeper bass, and higher tones in your music or videos, then you'll want to purchase external computer speakers to improve the audio experience.
Lenovo IdeaCentre AIO 5i 27: Software
As expected with current-gen desktops, the Lenovo IdeaCentre AIO 5i 27 runs Windows 11. Discussing how well this operating system works is a whole other subject, of course. I'll just say that Windows 11 doesn't have any horrible elements to it, but it does have some significant changes from Windows 10. For instance, if you're not used to the new layout, it might take a while to get comfortable with the Start button being in the central bottom area of the screen rather than on the bottom left. But once these changes are adjusted to Windows 11 feels great to use.
This AIO also comes with Lenovo Vantage preinstalled, which is a program that helps update drivers, run diagnostics, and request support. That way, it's easier to check how the IdeaCentre AIO 5i is doing and get official help if needed. It's a helpful program that helps users keep tabs on things.
Lenovo IdeaCentre AIO 5i 27: Competition
There are a growing number of best All-in-One (AIO) PCs on the market today. Though a bit older now, the HP ENVY 34 is still an impressive desktop that runs Windows 11 and comes in configurations that offer 11th Gen Intel Core i7-11700 to Core i9-11900 processors. As the name of this AIO implies, it has a long 34-inch screen for all your viewing needs. It also features 32GB of RAM, a 16MP camera, Qi wireless charging, and can have up to an NVIDIA RTX 3080 graphics card — which is perfect for gaming.
But as you'd expect for a computer with greater hardware, the HP ENVY 34 does cost significantly more, with an MSRP of $2,350. The tradeoff is that it can handle more intensive programs, making it ideal for gamers, video editors, or anyone who utilizes hardcore programs.
Lenovo IdeaCentre AIO 5i 27: Should you buy it?
You should buy Lenovo IdeaCentre AIO 5i 27 if...
You need a reliable computer for basic work and family use.
You tend to use multiple programs at once and want something that can handle multitasking.
You'd like something that can keep your phone charged up.
You should not buy Lenovo IdeaCentre AIO 5i 27 if...
You like to play hardcore video games.
You don't need that big of a screen.
You need a computer with high processing power to handle intensive programs.
It was a delight to work with the Lenovo IdeaCentre AIO 5i 27 over the last couple of weeks. The QHD IPS anti-glare display shows off hues, brightness, and contrast to a wonderful degree allowing it to be more than suited to handling office work, homework, and videos. While by no means a flagship powerhouse, this desktop can handle multitasking most programs easily and didn't show any signs of stuttering or slowing down while using programs with average processing power.
Since this AIO's base doubles as a wireless phone charger, it adds a significant amount of convenience to the IdeaCentre. Plus, Lenovo was considerate enough to include a USB-C charging cable for phones that don't have wireless charging. Plenty of ports are available to get more use out of this desktop, including the ability to attach additional monitors or accessories. Overall, the Lenovo IdeaCentre AIO 5i 27 is a great choice for any home or office and will look good there too.
Our recommended Lenovo IdeaCentre AIO 5i configuration: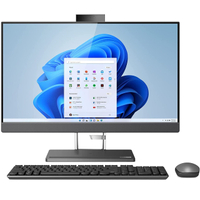 (opens in new tab)
Intel Core i7 | 16GB RAM | 256 SSD (opens in new tab)
The IdeaCentre AIO's ideal configuration offers an Intel Core i7, 16GB of RAM, and 256 SSD. There's plenty of storage space, and processing power, and it's at a good price point of $1,000 for this setup.
---
Self-professed gaming geek, Rebecca Spear, is one of Windows Central's gaming editors with a focus on Xbox and PC gaming. When she isn't checking out the latest games on Xbox Game Pass, PC, or Steam Deck; she can be found digital drawing with a Wacom tablet. She's written thousands of game guides, previews, features, and hardware reviews over the last few years. If you need information about anything gaming related, her articles can help you out. She also loves testing game accessories and any new tech on the market.