First look at HP's incredible ENVY 34 All-in-One Desktop PC with 5K display, RTX graphics
We go hands-on with HP's stunning juggernaut 34-inch AIO, which features a 16MP camera and other hefty hardware chops.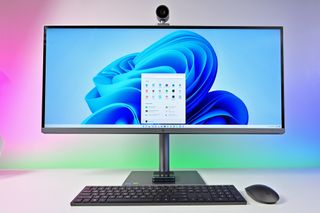 (Image credit: Daniel Rubino / Windows Central)
While a lot of last week's news was focused on Microsoft's momentous Surface event, HP announced quite a few new Windows 11 PCs. Some of those computers included a few All-in-One (AIO) desktops, which have seen a resurgence thanks to the transforming work environments and work-from-home.
The HP ENVY 34 All-in-One Desktop PC was one of the computers, and it wowed us.
Featuring a 5K, color-calibrated 34-inch display, a desktop-class Intel 11th Gen processor, 16MP webcam (with multiple attachment points), and NVIDIA GeForce RTX Laptop graphics, this do-it-all computer is the complete package.
HP was nice enough to send over a late-stage prototype sample of the new ENVY 34, which goes on sale later in October and ships with Windows 11. Here are some photos of it in action and five things you need to know about it.
Swipe to scroll horizontally
Category
HP Envy 34 AiO
OS
Windows 11 Home
Processor
11th Gen Inte Core i7-11700 to Core i9-11900
RAM
Up to 128GB DDR4-2400 (user accessible)
Graphics
Up to NVIDIA RTX 3080 Laptop
Storage
Up to 2TB M.2 PCIe NVMe SSD (user accessible)
Display
34 inches
5120x2160 (5K)
IPS, anti-reflective
500 nits, 98% DCI-P3
Ports
Six USB-A
Two Thunderbolt 4
USB-C
HDMI
SD card reader
3.5mm audio
Ethernet
Audio
2x Bang & Olufsen tuning
Connectivity
Wi-Fi 6
Bluetooth
Camera
Front-facing 16MP
IR camera
Keyboard
Included
Mouse
Included
Security
IR camera
Dimensions
32.17 x 8.78 x 14.50 inches
(81.7cm x 22.3cm x 36.8cm)
Weight
24.36 pounds (11.05kg)
Color
Turbo silver
Extras
Qi wireless charging
The model I'm testing features a 65W 11th Gen Intel Core i7-11700, NVIDIA RTX 3060 Laptop GPU, 32GB of DDR-2400 RAM, and 1TB PCIe NVMe SSD.
1. The 5K display is insanely good
With a resolution of 5120x2160, this color-calibrated 500-nit display is flat-out ridiculous. Is it almost too good? (Hint: No.)
The best way I could describe it is like taking the best laptop display (Dell XPS 17) and blowing it up to 34-inches while knocking up the resolution. The colors are punchy, the sharpness is excellent, and the blacks are inky with a delta e<2 color accuracy. It's also glossy but anti-reflective and reminds me very much of an Apple display. Additionally, it's a very consistent image from corner to corner.
The bottom line is I'm using it right now to write this, and I'm not sure I can go back to anything else. Sure, it's "only" a 60Hz display, but we are not quite there yet for a 120Hz 5K screen in an AIO. Plus, this isn't a gaming PC; it's meant for creatives doing photo and video editing.
2. Just one single cable
Considering the horsepower this thing packs, it's incredible that HP squeezed the power brick into the PC itself (like how Microsoft does with its latest Xboxes). That means there is just one single gray cable for the whole machine. This wasn't the case on the older ENVY 32.
Don't forget, the included keyboard and mouse are wireless. And the 16MP webcam is the only other cabled system with a Type-A.
The ENVY 34 is truly a minimalist's dream.
3. It's easy to move around and set up
The whole computer weighs 25 lbs, which is heavier than a laptop but not bad for a 34-inch AIO.
Once out of the box, you can cradle the display under your arms and move it with ease. While many people may not move their desktop PC, the fact you could do so easily with this machine is a nice bonus. The included mouse and keyboard are pre-paired, so the initial setup is fast and easy. You just add batteries, and the system is good to go.
4. Yup, there's a fan
Putting that much silicon into an AIO has been done before — after all, HP did with the ENVY 32, which I used for a very long time. And like that PC, there is a fan here, and you will hear it when under load, like during a Windows update or rendering something with that RTX 3060 GPU. That's likely more valid for the Core i9 model with an RTX 3080 Laptop GPU.
The fan has a whooshing effect and is akin to a gaming laptop in heavy use. It's mostly silent when using ENVY 34 for productivity (Word, web, Slack, Skype, etc.), but can ramp up when watching 4K video. HP seems to have done a solid job with thermals — air is pulled in through the bottom (the whole thing is grilled) and is expelled at the top (more grills), letting the fan and natural convection do the work. But it's definitely not a silent machine.
Still, when considering what this thing is doing and the output in performance, I'm not even mad.
5. It's the most complete AIO I have ever used
While I gave the ENVY 32 high praise a few years ago, the ENVY 34 pushes things even further. What makes this AIO so great, though, is everything about it is top tier. For instance, upgrades.
AIOs are notorious for being feature-locked. But HP put a panel onto the back of the ENVY 34, letting you upgrade RAM (up to 128GB) and the SSD (up to 2TB) with ease. Like, the panel simply pulls off (magnets hold it in place). It's genius.
The 16MP webcam can move to one of eight zones as it's magnetic. It does Windows Hello and has a privacy shutter built into it. So far, it's very good, although Logitech still wins on color science and features.
And being built around, and for, Windows 11 has its perks too. Windows Hello is extremely fast for logging in, and the PC can cold-boot in about 11 seconds. Cold boot, not resume.
The included keyboard and mouse are excellent. Sure, if you prefer the best mechanical keyboard or want a high-DPI gaming mouse, you'll want to use those, but out-of-the-box, these are fine accessories, not cheap "better than nothing" offerings.
The stand has Qi wireless built-in for your phone (15W). It even has LEDs to let you know charge status (orange = charging; white = charged). The extra ports on the stand (two Type-A, SD reader, one Type-C) are super practical as you don't have to reach behind the computer.
And for my needs, this now has enough ports. The ENVY 32 only had three Type-As — this has six. Instead of just two Type-Cs (one being Thunderbolt 3), ENVY 34 now has three (two being Thunderbolt 4).
While the speakers here pale to the ENVY 32, they are better than I thought. They're akin to good TV speakers and get quite loud. I've opted not to use external speakers because I find these suitable.
HP ENVY 34 All-in-One Desktop PC = gorgeous
Just 24 hours into using the ENVY 34, and I'm smitten. Pricing starts at $2,000 (i7, GTX 1650, 32GB), which is not cheap, but it seems fair for a 5K display like this and all the other bonuses. The maxed-out version with a Core i9 and RTX 3080 will be substantially more, but at least HP gives you a choice.
Being a production prototype, I can't publish benchmarks, but off the cuff, it's very good (the SSD is quite fast).
There is no word on the exact October release date for the ENVY 34, especially with the ongoing chip shortage, but we'll let you know when it goes live. We'll also have a full review when HP gives us the green light to do so, so stay tuned for that.
In the meantime, if you have any questions about the ENVY 34, ask away in the comments, and I'll try to answer!
Windows Central Newsletter
Get the best of Windows Central in in your inbox, every day!
Daniel Rubino is the Editor-in-chief of Windows Central, head reviewer, podcast co-host, and analyst. He has been covering Microsoft since 2007 when this site was called WMExperts (and later Windows Phone Central). His interests include Windows, laptops, next-gen computing, and for some reason, watches. Before all this tech stuff, he worked on a Ph.D. in linguistics, watched people sleep (for medical purposes!), and ran the projectors at movie theaters because it was fun.
Stop with the coming soon and just let me order it now! Seriously, we ordered 3 Surface Studio 2s to use with Adobe CC. And nearly 3 months later, still nothing. At this point, I'd rather order 3 Envy 34s and return the Studio 2s. (Assuming they ever arrive!)

Maybe you should just do that - swap the Studio 2s for the Envy 34s.

Other than bumping the RAM (64/128) and graphics card (top tier) up, that's the exact config I'd want. Although it's not meant for gaming, I'd be curious to get your take on how it fairs. Almost scared to ask what those bumps would increase the price to... Good thing that the end of October is so far off. Oh, wait... Well, there's always Black Friday /Cyber Monday...

A fan or multiple fans? A too small fan (or three) that gets cranked up because it really isn't big enough to do the job in the first place? So, HP still doesn't know the value of a bigger fan (120mm) that actually moves enough air to keep the processor cool enough without sounding like a jet (or, as with HP's other stuff, waves washing up on a beach somewhere--great for a "white noise" machine, eh)?

Assuming a lot, no? I didn't mention multiple fans nor do I believe there are multiple, that's you. I'll find out for the review as I have yet to talk to the PMs/engineers who worked on this desktop.

Certainly a nice device likely coming with some beastly performance. The only thing that would be missing for many is a touch screen, but that's pretty subjective, especially for a desktop solution. I think the webcam thing is really, really cool. HP is clearly thinking hard about what home offices are doing these days.

I noticed a single hdmi port. Is it just hdmi in or out?

I'll have to check. Haven't had an engineering breakdown on this machine yet, but the ENVY 32's was both in and out, so may be the same here.

Why does most windows based all in ones look just like a normal monitor, have no style whatsoever. The iMac at lest have some sort of style. Hp tries to do an iMac style with the Pavilion 27-d1021na.
i also wonder if windows home can be replaced by windows pro when the machine is ordered. Windows 11 home is awful as it forces people to use the MS account, while you can get rid of the MS account after it is set up, you still need one to set the machine up. windows 11 pro won't.

What style do you want? This looks like this because it isn't taking unnecessary space like the iMacs. I really don't get what you want, this is like asking to have a huge chin on your phone because every phone now is just a screen with a notch or hole punch.

You don't need an MS account. Just don't connect to wifi/internet until after setup is complete.

You don't buy an AIO pc for style. You buy it for it's size. But this level of hardware in that stupid small chassis is a ******* waste, regardless of how it looks.

"But this level of hardware in that stupid small chassis is a ******* waste"

And yet you're OK with workstation laptops or gaming PCs? Conceptually, this is not much different. In fact, due to the larger size and the vertical orientation (heat flows upward), you can think of this as a really efficient workstation laptop with a more powerful CPU. I don't understand what you think the tradeoff is here vs workstation + dock + monitor vs. this except a much cleaner, simpler package.

"i also wonder if windows home can be replaced by windows pro when the machine is ordered."

HP typically does let you upgrade to Pro when ordering. As far as style, I think this looks awesome. Clean, minimal, professional. Sure, no candy colors, but personally, I'd never buy a purple or orange PC.

Would love to see some benchmarks results on this device and how it compares to Apple's iMac with M2 processor.

What a huge waste of silicon. Oem's need to give it up, this form factors is garbage. The thermals are going to be terrible. That's going to throttle the hardware to a point where a lower, but more efficient, sku would be better. We're in the middle of a silicon shortage and these companies just keep wasting silicon.

Says the person not even using this PC 🙄 So a Lenovo P15 workstation laptop is OK with a i9-10885H and Quadro RTX 5000, but this is too far because it's bigger, has a larger fan, and has way more thermal headroom. Sure.

"That's going to throttle the hardware to a point where a lower, but more efficient, sku would be better."

For who? You're assuming every customer/client who buys this has the same needs. This isn't a gaming PC and for rendering CAD or compiling a 4K video I don't see why it's going to thermal throttle vs. any high-end workstation or gaming laptop.

"We're in the middle of a silicon shortage and these companies just keep wasting silicon."

If they sell the PC how is it "wasting" silicon? The point of HP is to sell computers.

It's a pretty good solution for companies who need screen real state and decent 3D performance and keep it as minimalistic as possible (cables, space etc). I think there are too many frustrated people waiting for their new shiny GPU, lol. Gamers are not the only ones who need it.

These are good points and AIOs have been seeing momentum lately. I think this is a unique device. And, at least for me, I'm loving it so far.

Hey, thanks for early look,
Could you share the dimensions? Wondering how wide that really is.
Also does the screen tilt and lift? Also interested in what others are asking in regards to gaming, even if you can't share benchmarks wonder how it fares.

Dimensions are in the specs in the article. The screen tilts forward/back and lifts by 100mm (~4 inches). Lowest part of the bezel is 4 inches between it and desk, goes up to 8 inches. Will talk about gaming for the review. I haven't tried it yet.

Thanks I see that now!
Got focused more on the article details than the specs section.

I like this form factor. I had the 32-inch version but returned it. A minor reason was the screen wobbled on that pedestal more than I liked, but the big reason was that HDMI in port: it routinely dropped the connection from my Xbox 360 when switched to that device. I bought it because I liked the form factor for my PC needs, but also because I could use the screen for the Xbox. Daniel, when you do your review make, check to see if this model can handle input from the new Xboxs.

"Daniel, when you do your review make, check to see if this model can handle input from the new Xboxs."

Will do. Agree about wobble on Envy 32. This one is fine so far mostly because this is so much less mass.

Unfortunately looking at HP's product video, I can see the HDMI port is labeled 'out'. If that's the case, I hope at least it could take 4K in from USB-C. Given weird aspect ratio, that might be reason if HDMI doesn't take input.

This machine looks fantastic! The colour accuracy across the screen is promising indeed, I feel a machine like this could tempt me away from a dual monitor setup), and I love the idea of the ports on the monitor stand's vertical arm - so much more useful than when they are tucked away behind or underneath (ie bloody annoying to access). Lastly, on a screen with this sort of width, the centralised location of the Windows 'Start' button makes perfect sense (imo). Looking forward to your full review Daniel.

"Lastly, on a screen with this sort of width, the centralised location of the Windows 'Start' button makes perfect sense (imo)."

Totally! I used TaskbarX for a long time because of that. So much easier to have stuff centered on Win 11 now by default lol.

I like it. How many Qi devices will the base accommodate?

Just one, one charger in the base.

do you like the magnetic camera compared with the camera in ENVY 32? feels like the new camera has a extra cable, which is against the minimalist design

WARNING: HP customer service is Horrible. Remember that when you had over $2500.
Also, read the reviews of the 32" ENVY. Seems like 7 out of 10 units over heat or just simply crash non stop because of the pre installed, embedded junkware/duplicate software from HP. HP QA is also not so good.
I would never buy this direct or online. if you can't take it back to a local store. do a hard pass on it.

Not if you buy their consumer products through the business portal and opt in for extended warranty. My experience with HP's Support has been some of the best, lot better than Lenovo, Dell and Asus.

How do you access the business portal? I've been disappointed with the consumer offerings for extended coverage from HP, but I'd be buying this for my sole proprietor business

Does this use the panel found in the LG 34WK95U-W and the MSI Prestige PS341WU 34" 5k2k monitors?

Is this ever coming out? Not much of October left...
Hope it's not like most launches lately where if you don't get it in the first 10 seconds you have to wait months and months....

Finally launched! I've been checking regularly, and it's available for pre-order as of Nov 12 in US at least (says shipping by Nov 30). Only 1 config, i7/16GB/1TB/3060 - $2349
Hopefully @daniel rubino gives us an update on how it's been performing now he's had it for a month or two

I just ordered one. Hoping to get it by Christmas.
Windows Central Newsletter
Thank you for signing up to Windows Central. You will receive a verification email shortly.
There was a problem. Please refresh the page and try again.