The Beelink SER5 Pro 5800H offers great CPU performance thanks to its AMD Ryzen 7 processor, paired with configurable RAM of up to 32GB and storage of 1TB, this mini-PC is great for productivity and some creative tasks. It's just not good at high-end gaming.
Pros
+

Compact form factor

+

Upgradable RAM and storage

+

Premium build quality
Cons
-

GPU is weak

-

Could use more USB-C ports
Why you can trust Windows Central Our expert reviewers spend hours testing and comparing products and services so you can choose the best for you. Find out more about how we test.
The SER5 Pro 5800H from Beelink is one of the company's more recent barebones mini-PCs to hit the market and one of its most powerful to date. With an 8-core AMD CPU and 32GB RAM under the hood, the SER5 Pro should be able to handle most tasks with no sweat.
But the company markets this mini-PC as one for gaming... does that hold up? I've been using the SER5 Pro 5800H for the last few weeks, and this is my review.
Disclaimer: This review was made possible by a review unit provided by Beelink. The company did not see the contents of the review before publishing.
Beelink SER5 Pro 5800H: Price and availability
SER5 Pro 5800H
Price: $469
CPU: AMD Ryzen 7 5800H
GPU: AMD Radeon RX Vega 8
RAM: 32GB DDR4
Storage: 500GB SSD
Size: 126 x 113 x 42 mm
Weight: 455g
The Beelink SER5 Pro 5800H can be purchased online are retailers such as Amazon for a retail price of $469. It can also be configured directly on Beelink's website, with several configurations available. The box can be had with either 16GB or 32GB RAM and 500GB or 1TB of SSD storage.
Additionally, the SER5 Pro 5800H is upgradeable, meaning you can open the box and add more RAM or storage after purchase. So, if you want to save a few bucks on a model with 16GB and 500GB storage and upgrade those components later, you can do just that.
Beelink SER5 Pro 5800H Recommended Configuration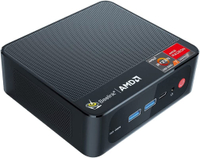 Our recommended configuration of the Beelink SER5 Pro 5800H is the one with 32GB RAM and 500GB storage, which is the model we've reviewed. The additional RAM really helps with multitasking, and we think it's a better spend over additional storage, as it's so easy to expand or upgrade after the fact.
Beelink SER5 Pro 5800H: Design & ports
Like most of the products from Beelink, the SER5 Pro features an excellent high-quality design. The chassis is made from a combination of metal and plastic, feels good to hold (not that you'll be holding it much), and looks great on a desk. The top of the box features a metal grill where the built-in speaker outputs sound.
On the front, we've got a selection of USB ports, two USB-A 3.2 Gen 2 and one USB-C, and a headphone jack and power button. The power button is coated in red and is very satisfying to press, with a nice clicky feeling. On either side of the device, we have two more metal grills for airflow and even more ports around the back.
The back features a gigabit ethernet jack, one more USB-A 3.2 Gen 2 port, a slower USB-A 2.0 port, and two HDMI 2.0 ports for outputting to external monitors. There's also a barrel-style DC power connector on the back too. Unfortunately, since this is an AMD machine, we don't have any Thunderbolt 4 capable ports, meaning we can't hook up something like an external GPU for additional graphics performance.
The underside of the device features two rubber feet running along the right and left sides of the base, providing grip when on a desk.
The design of the SER5 Pro allows for user upgrades too. Unscrewing four screws on the bottom will pop the base off and allow the user access to upgrade things like the SSD and RAM. So, if you want more storage or memory, that's an easy upgrade down the line.
There's even room for a 2.5-inch SATA drive if you need to expand with more storage, in addition to being able to upgrade the already included 500GB SSD.
Beelink SER5 Pro 5800H: Performance
Image 1 of 7
Beelink prides itself on building mini-PCs with excellent performance, and the SER5 Pro is a great example of the company doing things right. The device is tiny yet houses an AMD Ryzen 7 5800H, found in high-end laptops and all-in-one desktop PCs. It is an older chip launched in 2021, but it's still a great choice for mini-PCs like this one.
This is an 8-core processor with 16 threads, a base frequency of 3.2 GHz, and a max turbo frequency of 4.4 GHz. It's a mini beast and is capable of most medium to heavy workloads, such as creative work in Photoshop or video editing in Premiere Pro, as long as what you're working on is primarily taxing on the CPU side of things.
The weakest point of the SER5 Pro is its graphics, which is an integrated AMD Radeon RX Vega 8 GPU and is fine for tasks like Photoshop and 1080p video editing. Beelink markets the SER5 Pro as a mini-gaming PC, but we can't say that's a fair claim to make unless you're okay with playing older titles at sub-1080p resolutions. Our 3D Mark test ended with a score of just 1,577.
In our testing, older titles such as CS:GO and mobile titles like Asphalt 9 or PUBG would run close to 60fps with low-medium settings at 1080p. Any recent AAA games, like Call of Duty, and Halo: Infinite, would run well below 60fps, often closer to 30fps, and not smoothly. Any higher settings or resolution would render these games simply unplayable.
So, ultimately, this PC is not for gaming, no matter how much Beelink says it is. It's great for productivity, and even some creative workflows, but anything that requires a relatively powerful GPU will not work well on the SER5 Pro, including gaming.
Beelink has done extra work to ensure the device is properly cooled under load. You'll often hear the fan spin up and down as the device keeps itself cool, but you won't hear it that often unless you're constantly taxing the CPU or GPU. The fans do an okay job keeping the box cool and limiting thermal throttling (though it definitely can happen.)
SSD performance is also excellent, with read and write speeds of 3,057 MB/s and 2,318 MB/s, respectively. This puts it up there with the likes of a high-end Razer Blade or Lenovo ThinkPad X1 Yoga and beats other Ultrabooks like the HP Envy x360 15 and Lenovo ThinkBook 13s.
Beelink SER5 Pro 5800H: Competition
As mentioned above, the SER5 Pro is not the latest mini-PC from Beelink, with the SER6 already out and SER7 on the way. However, the SER5 Pro is still relatively new, only launching less than a year ago, and features great performance on the CPU side. That said, if you are looking for other options on the market, there are newer devices to consider.
The SER6 Pro from Beelink features an AMD Ryzen 7735HS, with 8 cores and 16 threads, and offers a bump in performance over the 5800H in the SER5 Pro. It also has more powerful integrated graphics in the form of the AMD Radeon 680M, which boosts performance and aids in the gaming department.
Elsewhere, we have mini-PCs powered by Intel, such as the Intel NUC 12 Pro, with an Intel 12th-gen 1260P CPU which offers great performance in such a small package. You get less ram with 16GB, but Intel Iris Xe graphics will be great for creative tasks requiring a GPU.
Beelink SER5 Pro 5800H: Should you buy it?
You should buy this if...
You want a mini-PC powered by AMD for a good price.
You need a small computer for daily tasks and some creative work
You value upgrading RAM and storage over time
You should not buy this if...
You want an Intel powered mini-PC
You need a powerful GPU
You need Thunderbolt 4
You want a more recent CPU
The Beelink SER5 Pro 5800H is an excellent mini-PC with great performance in the CPU department but, sadly, lacking in the GPU department. It has a nice selection of I/O, though I would've liked to see two more USB-C ports on the back for peripherals and video out.
If you're looking for an affordable mini-PC with a powerful AMD processor and don't mind it being on the older side, the SER5 Pro 5800H is a great choice. And because it is older, you can often find it on sale for less than $599 at retailers like Amazon.