Has Surface Go lived up to our expectations?
Does Microsoft's newest tablet rise to the level of what we wanted from a successor to the Surface 3?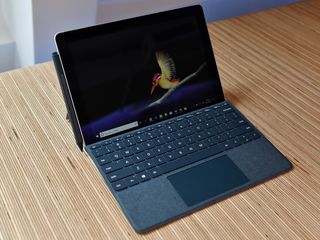 When the Surface Pro 4 came out in late 2015, there was some disappointment that a cheaper and lower-specced and Surface 4 didn't accompany it. The beloved Surface 3 — compact, affordable, and capable — was showing its age with no clear successor. When the first rumors of an affordable 10-inch Surface tablet percolated to the surface I sketched out my hopes for the device as a modern incarnation of the Surface 3 — and that's what the Surface Go ended up being, albeit at an even lower starting price.
So, now that the Surface Go is out, did it live up to my expectations? Let's compare.
A slightly larger screen in the same size body
The first thing I wanted to see in a new, smaller Surface was a bigger screen in the same size chassis that was the Surface 3. Unfortunately, Microsoft did the exact opposite of this. Instead of shrinking bezels and making the screen bigger, Microsoft made the display and chassis on the Surface Go smaller than its predecessor. This means it has big bezels and is physically smaller than the old Surface 3.
While I would've preferred a bigger screen in the same size chassis, I do understand why they did this. First, price. The Surface Go is $399 starting, which is no small feat. To get prices this low, Microsoft needed to make the screen smaller, but a 10-inch screen is too small for a keyboard accessory to be comfortable when in use. To fix that, it enlarged the bezels so that the keyboard was sized appropriately alongside the Surface device itself.
Updated Type Cover accessories
My next wish was that Microsoft would update the Type Covers with the new designs and fabrics found on the Surface Pro 2017, and Microsoft did exactly that! The new Surface Go features all-new Type Covers that are very similar to the designs found on the Surface Pro Type Covers, including options for Platinum, Burgundy or Cobalt Blue Alcantara covers or a standard black Type Cover.
In the future, Microsoft could also release even newer Type Covers for the Surface Go, some with a fingerprint reader perhaps, or maybe even a newer Power Cover for extended battery on the Surface Go. For now, though, I'm super happy with the new Type Covers on the Surface Go.
An ARM edition
This one was a long shot to begin with because we already knew that the new smaller Surface would be Intel-based, but I was hoping that Microsoft would also have an ARM version of the Surface Go available for those who want better battery life and instant-on capabilities. Unfortunately, it appears there will be no such option for the Surface Go, which is a real shame.
Microsoft says it will launch an LTE version of the Surface Go later this year, and perhaps that model will be available with an ARM processor, but I'm not holding my breath.
Unlimited kickstand positions
The Surface 3 had a weird three-position kickstand that felt really outdated when compared with the any-position hinge found on its big brother Surface Pro 3. I'd hoped that a new smaller Surface would adopt that same unlimited hinge, and that's exactly what Microsoft did with the Surface Go. Just like the current Surface Pro, the Surface Go has an adjustable kickstand that can fold back up to 165 degrees, allowing it to lay almost flat without any locked kickstand angles throughout.
Windows Hello integration
Windows Hello is easily one of the best new features that were introduced with Windows 10 back in 2015. Unfortunately, the Surface 3 was released a few months before Windows 10 was finalized, which meant it didn't have any of the hardware needed to support Windows Hello authentication. Naturally, I had my fingers crossed that Microsoft would add that to the new 10-inch Surface, either through facial recognition or fingerprint.
The Surface Go does have Windows Hello support through facial recognition, which is the best news. Facial recognition is easily the best way to do biometric authentication on Windows 10 devices. It's fast, and super simple, and it even works in any orientation.
So, there we have it. The Surface Go met some of our expectations, but it did miss out on things like a bigger screen and ARM processor. I think the Surface Go is the best small tablet yet, thanks to its small size, better processor and battery life!
Get the Windows Central Newsletter
All the latest news, reviews, and guides for Windows and Xbox diehards.