Haypi Kingdom version 3.0 update breaks the game, but there is a fix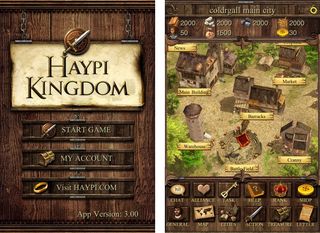 Game updates are usually a cause for celebration. They are supposed to add new features, improve existing ones, and fix bugs and glitches. But sometimes, an update introduces new problems or even breaks the game entirely. See the last Crackdown: Project Sunburst patch, for instance. The latest game to receive a bad update, or downdate as I like to think of it, is Haypi Kingdom, the only massively multiplayer online game on Windows Phone. Before we get into what's gone wrong, let's look at the release notes.
Haypi Kingdom version 3.0 changelog:
Retina display support
New buildings in City view: Battlefield and News Center
Honor added in General tab
Map tab fully redone
Oasis and forts now say what city they are associated with
Alliance war added. Also added alliance war guide link in Help tab
Alliance tab fully redone
Alliance rank now based on Alliance Prestige
Alliance events now sorted: Three stars for coin donations, two stars for resources and money donations, one star for requests to join, quit, etc.
New languages added
Head past the break to learn more about these changes, how the Windows version is semi-broken, and a workaround to make the game playable.
The Retina display is the fourth-generation iPhone's high resolution screen. Haypi Kingdom is available on three platforms, you see: iPhone/iPod, Android, and Windows Phone. One might reasonably expect the Retina display line not to apply to the Windows Phone version, but that's actually not the case. Even on Windows Phone, the game's entire graphic library – everything the player sees – has been redrawn in a higher resolution. The city display (the game's main component) looks much nicer thanks to new details and animations. Most everything else is more pleasing to the eye now too, though I find it curious that crops have changed from green to brown. It's harder to read the levels of cities from the map too.
Alliance wars are the big new gameplay feature. These wars are intended to keep alliances (clans) competing as well as encourage players to join and participate in alliances. A group of mines have been added to the map. Alliances can occupy mines and gain Alliance Prestige. They are defended by huge numbers of NPC troops and thus not easy to take over. Alliances will battle each other to maintain mines and get the most prestige. Only alliance Leaders and Vice Leaders can actually direct these battles, but regular members contribute troops and resources to fund the battles. For more information about how alliance wars work, read this thread on the official Haypi forums.
Each version of Haypi Kingdom has been experiencing erratic performance and other problems since the 3.0 update. On Windows Phone, the game hangs on a white Loading screen after players log in. This makes the game unplayable.
Thankfully there is a workaround! First, delete and reinstall the game. Now after logging in, don't press the Close button on the Welcome screen. Instead, press the phone's Back button. This closes the Welcome screen without freezing the game.
You're only halfway there – tap on your main city's buildings and you'll find that nothing happens. Now press the City button at the bottom of the screen and choose to enter one of your subcities. The game will run properly after that, though you'll need to repeat the process every time you start the game up. We're not sure if players without subcities can actually play the game right now, but probably not.
Another issue Windows Phone users are experiencing is a bug in the Oasis menu. Normally, pressing the Oasis tab from the City menu will list all of a player's oases. Yes, that's the plural of oasis. Anyway, right now only one oasis will show up on the list. The other oases aren't actually gone; they're just failing to show up. They can still be located by manually searching for them on the map, but that's a huge hassle.
WPCentral has contacted the Haypi developers to find out about their plans to fix these new issues. We'll let you know what we find out.
Haypi Kingdom is a freemium online game. It's free to download and play, though players can purchase in-game coins with real money in order to speed up their progress. For details on purchasing coins on the Windows Phone version, read this official forum thread. You can download Haypi Kingdom itself here (Zune link) on the Marketplace.
Get the Windows Central Newsletter
All the latest news, reviews, and guides for Windows and Xbox diehards.
Paul Acevedo is the Games Editor at Windows Central. A lifelong gamer, he has written about videogames for over 15 years and reviewed over 350 games for our site. Follow him on Twitter @PaulRAcevedo. Don't hate. Appreciate!