HDHomeRun Connect Quatro gives you four tuners to watch all the things
By Richard Devine published
SiliconDust has announced a couple of new HDHomeRun boxes with one of them doubling the previously available number of tuners.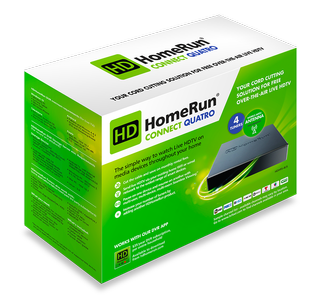 We're big fans of the HDHomeRun family of products, mainly because it's a great idea that executes well and doesn't discriminate against your platform of choice, which includes support for both Windows 10 (and Mobile) and Xbox One. You can use these boxes in so many ways it's really quite remarkable.
The makers of the HDHomeRun, SiliconDust, has announced a pair of new boxes in the Connect lineup: Duo and Quatro. The clue as to the difference between them is the last part of the name.
The Connect Duo seems to be a refresh of the existing connect, giving you two tuners in a now, sleek looking black enclosure. As ever, it isn't a North America only product, though it does support U.S. and Canada OTA TV channels, also working in Europe, Australia, and Brazil. Find out more about it on the SiliconDust website.
The Connect Quatro is the most interesting of the new products, namely because of the four tuners it now gives you. That means watching or recording four channels at once on different devices if you wish, which gives you a lot more headroom in particular if you're a DVR user.
More: HDHomeRun DVR is a slick and simple way to record TV on Windows
Otherwise, it looks to be the same as the Duo, supporting OTA TV in the same locations, including HD channels where offered.
In the U.S., the HDHomeRun Connect Duo and Quatro will be exclusive to Best Buy until the end of 2017 and will be in stores it's expected in the coming days. Outside of the U.S., there's no sign just yet, but it's important to remember that you'll always need to buy your country specific model, not import, because of differing standards.
Richard Devine is an Editor at Windows Central. A former Project Manager and long-term tech addict, he joined Mobile Nations in 2011 and has been found on Android Central and iMore as well as Windows Central. Currently you'll find him covering all manner of PC hardware and gaming, and you can follow him on Twitter and Instagram.
Was stoked for a few seconds thinking it supported CableCards

They do have a cablecard version, the HDHomeRun Prime. Don't know much about it personally though, as it's not available in Europe.

Yeah, thanks. I own that model, but it's a triple-tuner. It's a great device. Four is better! :D

Look for HDhomerun primes on craigslist. Found 2 for $40 ea, so now rocking 6 tuners

No argument there! That's great!! With no cable television competition in my town, Comcast charges for every little thing. I'm allowed one CableCard for no additional cost. Any additional CableCards will cost me an extra, monthly charge for the "honor" of another CableCard. Does your provider force you into that?

Even if it did, most cable providers encrypt their premium channels (including SD sports channels) with DTCP-IP, which requires end client support. Windows dropped DTCP-IP support when it killed Media Center, and Android apparently dropped (or broke?) it somewhere in the 6.0 to 7.0 dev cycle. Currently the best alternative solution I've found is TiVo's in house streaming, which streams live video from your (compatible) TiVo DVR to the corresponding (Android or iOS) app. The only problem with this is TiVo insists on mandating that any streamed video be automatically recorded. I can't figure whether this is to enable DVR features on the client or to prevent/mitigate buffering, but the result is you can clutter your My Shows list fairly quickly with shows you happened to stream but had no interest in actually recording. TL,DR: Even the HDHomeRun PRIME can't support premium channels like ESPN, FS1, etc.

I'm familiar with that and I've been supporting Plex and HDHomeRun with their DVR development in lieu of Media Center. I love the Plex DVR so far and I haven't had a problem recording them it playing them back yet on other devices.

Interesting. Seems like you're dealing with a few things at once. First, try and wire it even if you have to sling it across the house; if that's the only issue, you can focus on your Wi-Fi. If it's not, at least you've isolated your networking for the time being. Second, your Plex-playback devices, force them into specific playback types. Try Direct Play, then Direct Steam, then Transcode. Then try again with much lowered bitrate/resolution. On Plex Media Server, you can see when another device plays. It might show the type of playback, I don't remember. However, you can monitor performance in Windows with Task Manager and Resource Monitor. Maybe it's the transcoding like you suggested, you'd be able to see a Plex Transcoding Process spike a core of your CPU, be sure to view by logical cores. If it's drives, you might see extremely high disk activity. Networking for it is always a hurdle. With a single gigabit port coming out of the tuner, it's either plugged into a spare NIC on the server with hard-coded IP addresses, or putting load on a switch. Since everything is recorded back to the server, it is possible to record a few incoming streams while piping other, recorded streams out to clients. This can be an insane amount of work. Also, recorded, digital shows like this are much, much larger than what we're used to for content sourced from torrents. Down it over Wi-Fi is always going to be a challenge. Try to keep it in 5Ghz only for better speeds and less interference. Also, try running some RF site surveys to see if there is unexpected interference you can avoid by moving to another channel. Also, if you cannot get around the need to transcode or if the large sizes are killing your setup, try making use of Plex's preconversion feature. It will take those massive files and will convert them to streamable formats with spare resources. Feel free to PM me on the forums or something. I have the same username on Reddit.

Wait, does Plex DVR support DTCP-IP protected channels like ESPN?

Oh, forgot about that. I called Comcast and explained what i wanted, and of course they have no clue what i'm talking about. Somehow i got an additional one and they are not charging me for it. Maybe that's karma for their BS.

Will these tuners be compliant for ATSC 3.0?
Windows Central Newsletter
Get the best of Windows Central in in your inbox, every day!
Thank you for signing up to Windows Central. You will receive a verification email shortly.
There was a problem. Please refresh the page and try again.