Hear how good the Nokia Lumia 1520 sounds with this music video shot entirely by it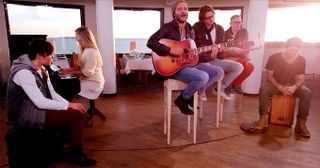 The Nokia Lumia 1520 is coming. It's the next flagship Windows Phone device that you'll be able to use. Like the Lumia 1020 before, it has an incredible camera that you'll soon be using. How incredible? Watch this music video filmed on the Lumia 1520 and you'll not only see how incredible the image quality is, but you'll also be pretty impressed with the audio recording capabilities.
The song is "Bottle of Wine" from artist Niila. It's pretty catchy, but we're here for that camera and the technology behind it.
The image quality is certainly impressive. The 20MP PureView sensor on the device is putting those photons to work. The Lumia 1520 can capture full HD (1920 x 1080) video at 30fps.
But it's the Nokia Rich Recording that uses 4 microphones to capture audio that has us most impressed with the music video. Put on some good headphones to really appreciate what Nokia has done with the Lumia 1520.
Bonus. Watch a behind-the-scenes video to see how the music video was shot with the Lumia 1520.
What do you think of the video recording powers? Sound off below.
I'd go with sabotage :p works perfectly fine

Well, we don't know yet if AT&T removed the microphones in these units to make them less attractive that their bread and butter (Iphones), so I'll reserve my joy until I see one in the store.

I heard AT&T removed the headphone jack on the 1520 because going forward it will only support the new Lightning headphone jack standard Apple will introduce next year...

Damn, just had 1520 in my hands at my local store....damn that phone is amazing and huge, but still amazing....and I thought I had big hands hahaha I guess not

I think any official At&t store (I dont mean official representative but the actual store) should have a demo model, and im from PA

Did you see Fallon last night? He did a live promo for the 1520. It was an Indiana Jones take-off. The first thing that struck me when I saw the phone sitting on it's perch was how huge it looked. But then when it was in Jimmy's hand, it didn't look any bigger than a Note.

Video not found?? Come on...

Just checked, it's working everywhere - site, app, etc. Try again?

Sorry. Your computer or network might be trying to send automated queries.

Fantastic! I'm buying Lumia 925 in a few weeks. If only existed a smaller version of Lumia 1520... No problems with the video here

Awesome not my kind of tune though

Needs a electric axe doing solos more fast pace i like my metal tunes alot more XD

I feel ya', had to stop listening when I felt the urge to start a bonfire and start hugging everyone around me.

Agreed! I'm guessing Nugent wasn't available.

Elianomarques - Verizon 928/9?

I'm from Portugal ;) If there was a global version of it. I'll have to buy the 925, which is totally awesome compared with my Nokia X6. But thanks!

ROFL. Yeah, I was wanting to break out the lice shampoo after watching that.

What is the drummer playing?

"Can't find video"
Something with the link? or more sabotage by scroogle??
Edit! Behind the scene works, but not the other one

Should of had testament do a video

Absolutely - test those mics properly.

Pretty impressive for a phone, but that's what I expect from Nokia.

Video quality is decent. Sure, it's only a mobile device, but could definitely be improved. But the audio quality? Out of this world... Seriously, that's professional grade audio, marvelous.

What quality were you in on ehat screen? On my laptop in 720p it was spot on. They should make one with the iphone just to prove how shyte it is! Haha

Here is one with iPhone 5. Try not to cringe :D http://youtu.be/I_tXCxvDews

Oh mah Jesus, nevermind! I take it all back!

OH DAMN!! i still had my earphones on and that horrible noise pierced my eardrums!!

No qi, no care. Quit pimping the ruined version of the 1520.

I'd love to see a comparison against the 1020. The 1020 may have the better camera for still pics, but it's not as good as my 920 was for video. If this is better, I may consider selling my 1020 and getting the 1520 instead!!!

Go to a small dive bar and record a band playing....very loud and so forth...i think the 1020 has the edge there in video and audio for sure! I would prefer to see them record a band that's in a small space and loud as hell! Still very nice!!!

Well they suck as a band, but the video and audio quality used to record it by the 1520 is very rich and pure. Can't ask for a better video/audio recorder that's in a smartphone.

Audio quality : Really awesome ! Enough said. Video quality : Since my internet is slow, I didn't watch it in full hd so no complain at this section.

How big is 1520 compared with galaxy note 3? Any side by side picture, anyone have this now?

http://www.phonearena.com/phones/size#/phones/size/Nokia-Lumia-1520,Samsung-Galaxy-Note-3/phones/8109,7984

THATS INCREDIBLE...no not Droid.

Cool stuff for sure. But does anyone know the dimensions of that 20mp sensor? I'm just wondering if it is of similar size to the 1020 sensor, or more like the 920. Half the megapixels on a 1020 sized sensor will give some amazing low light performance!

Wow! This just makes me want this phone so much more!!!

Terrible music, but great quality audio.

The note 3 picture quality is pretty bad! Especially for a flagship phone! Had it one day and the video record was horrid too!

I'll post a concert video I shot on the 1020 from the BnL concert I went to recently.

Funny how people have to announce whether they like the song or not. It's about the phone and this style of music is actually a great showcase for the nuaced pickup of the mics.

Here's a link to a video I took with the 1020 at the Barenaked Ladies concert in St. Louis. Bear in mind that we're in the Peabody Opera House so it's going to sound like the "Opera" equalizer on your stereo. Also bear in mind that we were nearly all the way back on the balcony. I'll let the zoom speak for itself. It's also pitch black with the exception of the stage lighting. http://sdrv.ms/1gxPidS

The Lumia 1520 is AWESOME!!!! Android and iOS are on the way out as Windows Phone comes on strong globally.

Damn!! That looked and sounded awsome!! Nice stereo sound.
Windows Central Newsletter
Thank you for signing up to Windows Central. You will receive a verification email shortly.
There was a problem. Please refresh the page and try again.