Hearthstone is introducing a new core set and format
Players will also be getting more deck slots.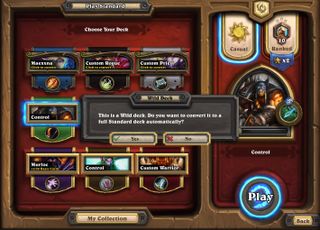 (Image credit: Windows Central)
What you need to know
Hearthstone is going to introduce a new core set to the game.
Existing Basic and Classic cards will no longer be playable in competitive matches.
Expect more information to be released at BlizzConline on February 19.
Hearthstone is getting a big refresh with the next set rotation, which will feature both a new expansion and a new core set. The set of 235 cards will replace all of the game's Basic and Classic cards and includes 29 entirely new cards plus the return of some cards from previous sets and updated versions of past favorites.
Players will be able to earn Core Set cards by leveling up each of the game's classes and completing class-specific achievements. The rewards will also be retroactive based on a player's current class level. The Core Set will be refreshed each year going forward.
The current Basic and Classic sets will be phased out of competitive play and be marked as Legacy cards in the Wild format, which can be used in Adventure mode and casual Tavern Brawl matches. However, players looking for an old school experience can try the new Classic format, where they'll be able to make decks using the 240 cards available when the game launched in 2014. To make that easier, the number of decks players can have at one time will expand from 18 to 27.
A date for the next set rotation has not yet been announced, but expect more news to come out of BlizzConline on February 19. The new core set should provide a great time to get back into Hearthstone. If you're looking for something to do until then, check out our guide to all the World of Warcraft novels so you can learn about the lore and characters also featured in Hearthstone.
Stock up
An easy way to pay

With Battle.net currency, you can grab different games on Battle.net, such as Blizzard titles and new packs of cards in Hearthstone.
Get the Windows Central Newsletter
All the latest news, reviews, and guides for Windows and Xbox diehards.