The 5 best PWAs to use on Windows 10
PWAs — Progressive Web Apps — merge websites and apps in a simple and easy-to-use package. Here are the best PWAs to try out right now.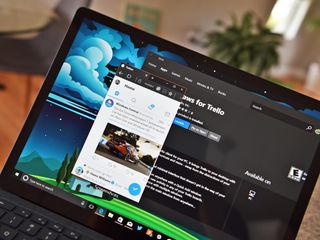 Progressive Web Apps, or PWAs, are an emerging technology that allows developers to make a unified experience for their website or service across various platforms. We've spoken about them at length in the past, and now that they are officially supported on Windows 10, it's time to take a look at the best of the first wave of PWAs.
Twitter
Twitter is one of the biggest names to switch over to the PWA model. They've officially replaced their older, and rarely updated, UWP app with a progressive web app. Because of this, Windows 10 users now have access to newer Twitter features such as being able to use 280 characters within tweets.
Twitter is actively upgrading their PWA, adding new features on what seems like a weekly basis and discussing their plans, including adding the much-requested dark mode. It's not the perfect replacement for the old Twitter app. It's still missing multiple account support and dark mode, but it's a great example of the PWA platform leading to more updates on Windows 10, especially when compared to when Twitter outsourced the development of their app.
Twitter has replaced the previous version of their app with their PWA so you can download it from the Microsoft Store.
See in Microsoft Store (opens in new tab)
Starbucks
If you can't go to work without grabbing a hot drink, or you just enjoy a roasted beverage, the Starbucks PWA can save you some time. You can use the PWA to browse their menu, add items to your cart, customize your order, and view nutritional information.
To use the Starbucks PWA, you have to be in the United States, but then it's as simple as going to Starbucks' website.
Pinterest
Pinterest switched over to the PWA model as well, and it helps Windows 10 users more than users of other platforms — it's the first Pinterest app for Windows 10. In adopting PWA, Pinterest has opened to door to users on their PCs having a similar experience to those on other platforms.
You can pin your favorite content, browse through boards, and access all of Pinterest's standard features from within a clean environment. You can access it by going to Pinterest's website.
Uber
Uber has a good track record of supporting Windows, and with their switch to a PWA, it's a safe bet that Windows 10 users will have access to all of Uber's core features going forward. The PWA works like you'd expect an app to, allowing you to book a car and use Uber's service as usual.
To access the PWA, you have to go the mobile version of Uber's website (opens in new tab).
Tinder
While Microsoft is working on connecting developers to the Microsoft Store, you can work on finding a different kind of connection with Tinder. The PWA supports Tinder's standard interface including liking, super liking, sending messages, and more. I admit that I've never used Tinder, but the PWA seems to work well.
You access the PWA by just going to Tinder's website.
A promising start
The first wave of PWAs include some big players from a variety of industries. They aren't going to close the app gap instantly, but people on Windows 10 can have hope for more big names to become available in the future.
There are many naysayers of progressive web apps, but both Twitter and Starbucks discussed this week how they increase engagement and are being used by people on desktops. Due to this and the fact that the platform as a whole is backed by Google, it likely is here to stay.
While there's no one place to find a cumulative list of PWAs that are available, two good sites are Appscope and PWARocks.
News Writer and apps editor
Sean Endicott brings nearly a decade of experience covering Microsoft and Windows news to Windows Central. He joined our team in 2017 as an app reviewer and now heads up our day-to-day news coverage. If you have a news tip or an app to review, hit him up at sean.endicott@futurenet.com (opens in new tab).
Out of all of those, the only actual service I use is Twitter, and, I'm sorry, but that PWA is HORRIBLE. Simply bad. I'll stick with Tweetium. I'm not a fan at all of Starbucks' coffee (or their politics). Not even my wife--who is a huge scrapbooker--has an interest in Pinterest. I drive myself everywhere -- I LOVE driving -- and I do NOT like being someone else's passenger, so Uber or Lyft are a non-starter for me. And Tinder? Ugh. I'm happily married (and wouldn't use a social network to date even if I wasn't). I have no doubt PWAs will come into their own, but so far they either are lame/lazy website wrappers or simply services I have no use for. Until someone creates a PWA that truly hits on all cylinders for a service I actually use, it's hard for me to get excited about them.

Ok. Thank you for telling us your life story...

So basically if all of those PWA apps are excellent then you'd still only use Twitter.

Sorry to disappoint you. DRDivercentral dot com doesn't launch until next week. Seriously, this isn't about what xxxxx reader thinks of these services/apps/politics yada yada. Sean has rounded up the best PWAs that have launched so far that Windows users can use. I'm married as well, but guess what? I'm not really offended at Tinder having a decent PWA.

Yawn........so glad I wasted those two minutes reading about your personal life story......i always come to tech blogs for that sort of thing

Just because you don't use any of those doesn't mean that they're not relevant or useful for others. I don't use most of those apps. PWAs are here to stay and I for one am happy about that...

https://www.windowscentral.com/e?link=https2F2F...
download this app to find all android pwa in one place

I hope the feature to add PWA directly from Edge will be added soon. Just like on Android. Btw Google Maps is a good PWA too and strangely the only PWA that Google offers.

On the surface PWAs seem like a ray of hope for the Windows Store, but without a mobile device to run them on, I'm not sure how much of a difference they will make. I think that's why only one of the PWAs listed is actually on the store presently. The others may find their way there, eventually, but it will probably be Microsoft themselves wrapping, testing, and publishing them.

So you mean ALL THE PWAs to use on Windows 10?

Correct me if I don't completely get PWA right, but aren't they supposed to be platform independent? So that there is no Android or Windows PWA but simply a PWA of a site/app that runs on all as 1 and 1 PWA only?

Yes, but W10 also aims to provide ways to add UWP functionality if you wish (e.g. Live tiles)

only if developer wishes to add it

It is funny to compare WC enthusiasm for the PWA with another "windows site" absolute dispise for them... But then again the other site still calls Andromeda the Surface Phone.

similar to some of the comments on articles like these 😎

Readers are gullible here. They get excited for anything new.

At least the analysis here isn't 100% apple approved. Seriously, these guys get more right than wrong.

I bet it is going to be called Surface Phone. Microsoft will try to redefine what phone is.

I would not use any of them, we do not have a starbucks, that closed down months ago and to be honest they serve awful coffee, I do not use twitter or Pinterest or Tinder. Uber we do not have here and I would not use it if we did, I prefer to use local taxi companies.

Kinda funny a PWA of Windows Central doesn't exist (yet)

m.windowscentral.com is ok... Find it slow though, like the reply button takes time to respond. Browsing is ok

Mainly because they are not supported till the April update, so why push it before it was viable. I expect it is in the works. At least their app hasn't had a comment functionality broken for months... Unlike some sites.

Seriously, I want a YouTube Go PWA so I don't have to download videos using a third party web service (like typing SS instead of https://www - ex SSyoutube.com/watch?v=0OJ24kCV-J8 ) or an application like YTD (YouTube Downloader).
If downloading videos is now legal on Android phones, it should be also available on Windows 10.

Totally, MyTube is so much better than actual YouTube.

It actually is not. The only advantage it has is price. The YouTube app looks much better than MyTube and has more features like picture in picture and a music subscription service.

Twitter PWA is promising, but it's far from a good native experience. For example, scrolling through tweets is a painfully stuttery experience on my SB2. No doubt it'll get better though.

I am very disappointed about the 4 pictures from a browser on a landscape window?

I just really love how the Join the discussion on the Windows Central forum, or the Read in browser button work when you have windowscentral.com set up to open in the app by default in Windows. Probably the best scenario of the controversiality of the functionality.

So (not a developer here) PWAs don't have to be in the Microsoft Store - just use the normal website with Windows 10 and if it uses PWA there'll be enhanced features such as live tiles if you pin the site (e.g. Pinterest)? So why the specific Windows Store app for Twitter?

If I understand the PWA model correctly when installing the PWA it'll actually download some code and assests (icons etc) tot he phone as if it was a real app. Then it only pulls the dynamic content from the internet. It pretty much behaves like a normal app as well as a normal website.

Still confused then as the Pinterest example above doesn't seem to involve downloading anything - just using the website?

I was on uber a few weeks ago and couldn't see where there was a mobile version. Didn't try too hard because it was a one time thing to try but, uber.com didn't auto detect my mobile device :) 950xl

Those deprecated phones don't get the April 2018 updates which brings full PWA support to desktops. So I doubt all stuff works. The core of PWA (service workers) isn't implemented in Edge on WM10 which is on no new features-life support

Lovin this PWA thing and all it promises. Bright future ahead.

take also a look at construct.net , a whole game developing environment as a PWA . Make iOS, Android, Linux, WIndows and Max Programs and Apps. (Also Demo available) SketchUp the 3D Constructor is now also a PWA and run directly in your Browseras a PWA
see: https://www.sketchup.com/

and how do we use it like "apps"? Pin to start opens PWA in browser with url adress...in MS Build they talked about a download button in browser...so we must wait complete PWA support for Edge(with Chrome is ok but they promote Edge PWA)..and ..is any chance that Edge to support 120 and 144HZ monitor?

I think this is what's confusing me...

Doesn't mean anything that is backed by Google. MS will sure find a way to FAIL this, as they always do. Why on earth would I need a PWA on a desktop OS instead of using the website :))?? with bad implementation, lack of features...

I have yet to see what these PWAs offer that the website does not. Its good to know they exists but where are the benefits?

Working Offline...Push notification...low data usage..app format

All native Chrome features that have been available for years now.

Maybe but now they are standards and supported on all major browsers. Also on windows, Store hosted PWAs have access to all UWP APIs.

Working Offline - so you are going to order a Starbucks coffee or Uber offline?
Push Notifications - every browser supports notifications that are absolutely no different than these, if not better
Low Data usage - wrong
App Format - who cares, when you pin a website as Favourite isn't it one click away with its fav icon just like an app? Asking again, where are the benefits?

PWAs, and UWPs for that matter, are really both best suited for mobile devices. Sure they will work on a PC, Twitter is a great example, but where they really shine is on mobile devices. Of course we all know Microsoft has abandoned mobile. Unfortunately, they seem loathe to publicly and formally acknowledge it, so everybody can just have some closure. The really sad part is, I really don't think Microsoft knows what to do next. Do they encourage everyone to move back to Win32/64 and stick with that for eternity, in the face of a mobile world? Do they put ALL their eggs in the Azure basket and just stop making Windows devices altogether? Both of those seem unreasonable. So we're stuck with a 1/2 baked Windows store full of "mobile" PWA and UWP apps that have no mobile device to run them on, and no indication from Microsoft whatsoever that they actually care, or if they do, what they plan to do about the situation.

UWP has advanced much farther than just good for mobile devices. That might have been true for version 1, but it has matured since then. I think you need to update your information.

Aside from Twitter all of these PWAs run in the browser, instead of on their own. So what makes them "apps" and not mobile websites if they don't run outside of the browser?!

Ugh, the twitter "app" is terrible. Granted, it works, but it shows that awful Edge scroll bar and lost useful stuff like the tabs and the dark theme. I don't want to get blinded each time I open twitter

I think PWA has potential, but it's the lack of deeper offline caching wherein I think this app platform is missing potential, no matter if it's iOS, Android or windows. Without this, I might as well just use the browser and switch to the mobile app view in the browser on mobile devices with smaller screens. If microsoft can adress this achilles heel, then for me the PWA in the windows store would look a lot brighter and I could see me use this platform more often for personal, educational and business use. Otherwise PWA is merely a glorified shell for a webapp, whichever OS you use.
Windows Central Newsletter
Get the best of Windows Central in in your inbox, every day!
Thank you for signing up to Windows Central. You will receive a verification email shortly.
There was a problem. Please refresh the page and try again.