Here are 5 things you need to try in Forza Horizon 3
Don't miss out on these highlights during your Australian adventure!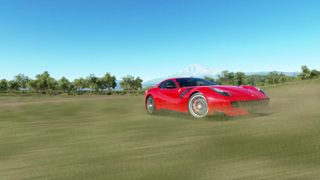 The latest entry to Microsoft's premier racing franchise is finally here, taking racers to the roads of Australia. With two years passed since its predecessor's release, Forza Horizon 3 introduces a range of new features for both novices and veterans of the series.
Forza Horizon 3 has seen some drastic changes this time around, with the introduction of a brand new cooperative mode, cross-platform play, and other features that expand upon gameplay. The game also debuts with significantly more content, including 350 cars and a map twice the size of Forza Horizon 2.
But where should you start? Here are the five things you can't miss during your trip to the Outback.
Customize your music playlists
With each iteration in the Forza series, it seems that the accompanying soundtrack bundled alongside the game plays a major role in the world it creates. In previous years, Forza's wide range of radio stations have provided hours of varied music but failed to stay fresh after investing dozens of hours into the game.
This is where Forza Horizon 3's introduction of Groove Music integration comes into play, giving players more choice in the music they listen to. By connecting up to Microsoft's in-house music service, players can stream their personal playlists seamlessly through a dedicated Groove Music radio station. This integration also extends to Microsoft OneDrive, allowing players to access any of their personal music files hosted online through the service.
You'll need a paid subscription to take advantage of Groove Music integration, but Microsoft is currently offering 14-day trials to Forza Horizon 3 players to give you a taste of what the full experience can provide.
Visit the Auction House
After a four-year absence, Forza's renowned Auction House is back. As in earlier Forza games, the Auction House serves as a platform for buying and selling cars with other players over Xbox Live.
Accessed through the Horizon Festival hub, the Auction House houses a range of stock cars, artistic masterpieces and finely tuned beasts. Each of these can be bid on with your in-game Forza credits, with the highest bidder taking home the prize. If you're desperate to get your hands on a certain ride, players can also 'buyout' the auction for a significantly higher price.
Play anytime, anywhere
One of Forza Horizon 3's biggest changes in the multiplayer space is the introduction of a four-player cooperative campaign. This adds a new level of player interaction into Forza Horizon 3's career, with interconnected solo and multiplayer experiences.
Through this feature, groups of players can now band together and grind through content traditionally played solo. All progress made during these play sessions is transferred back to your single-player experience, to keep both versions consistent and varied.
This move is especially interesting given the introduction of Microsoft's Xbox Play Anywhere program, which allows for a game bought on the Xbox One to be played on Windows 10 (and vice versa) and for multiplayer between the two platforms. Forza Horizon 3 is one of the first games to be included in this initiative, providing a platform for Xbox One and Windows 10 gamers to partake in the same multiplayer sessions.
Stay in the spotlight
As the Horizon Festival manager in Forza Horizon 3, attracting fans to your event is one of the game's core aspects of progression. By increasing the number of people making their way to the event, you'll be given the go-ahead to expand the line-up of events taking place. In turn, this will help unlock new events and locations to explore.
While completing races is a great way to increase your fan base, taking advantage of 'PR events' around Forza Horizon 3's world is a fast way to gain a following. From speed traps, stunt jumps and drift zones – any outstanding events will bring in even more fans to the Horizon Festival.
Work up some blueprints
Forza Horizon 3 also introduces blueprints – a new way for players to create their own custom races. Blueprints allow players to fine tune the details of an existing race to their liking, and share their variant with the world. Tuneable options include a wide range of variants including environmental options such as weather and routes, to the types of cars allowed on the track.
These events still bestow the same rewards as official events, rewarding players of any play style. Each event can be shared online and seamlessly fits into the official roster of races pre-loaded with the game.
Forza Horizon 3 releases on September 27 for Xbox One and Windows 10. For those who purchased the game's $100 'Ultimate Edition', the game is set to launch four days early, on September 23.
Windows Central Newsletter
Get the best of Windows Central in your inbox, every day!
Matt Brown was formerly a Windows Central's Senior Editor, Xbox & PC, at Future. Following over seven years of professional consumer technology and gaming coverage, he's focused on the world of Microsoft's gaming efforts. You can follow him on Twitter @mattjbrown.
Groove integration needing a Groove Music Pass for listening to OneDrive is ****** up, I'll just play my music in the background instead for free, seeing as I already bought the music.

Can't you use the OneDrive mp3 music list for free? I'm not sure you need Groove subscription for that. It does say "OR". Maybe someone can clarify that.,,

I would clarify it for sure. They don't charge for Groove from OneDrive anywhere else so would seem strange to have to pay here.

Yeah, it's bad enough they won't let us play from an external device or rip CDs...like we could 10 years ago.

Play Anywhere is really cool, but I'm not up for dropping $200+ to play FH3 on my PC in the same room as my XB1. I'll be sticking with the physical, discounted copy for this release. Maybe I'll buy into this once digital stops costing more and I upgrade my PC.

How does digital cost more? B&H Photo has the standard edition for $59, the same price as the digital version in the USA. Also, why would you need to pay $200 to play on your PC? Hardware upgrades? That's not the game makers fault. Its a great feature for those of us who have XBO and gaming PCs.

It's the devs' fault, only because of the work they put in to male a great-looking product, but it doesn't change that I need a new video card to play it. Digital costs more for me because Best Buy offers GCU, to get 20% off new games. That, and physical sales are typically more frequent and for greater discounts than digital XB1 titles. Plus, as someone who doesn't keep many games long-term, losing the ability to trade in games means future purchases cost more. My statements are more an indictment on the title chosen by the author, that we "need" to try these things in FH3. All are optional, some cost us more money, and some aren't implemented in the best way. They're all things that can enhance the experience for those who want it, but buying a new GPU to play on a PC isn't something I "need" to do.