Here are the first 104 Xbox 360 games that will be backwards compatible with the Xbox One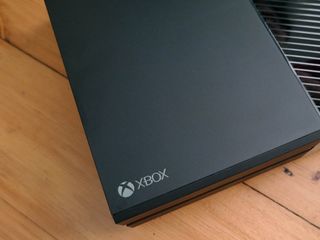 Microsoft has released the list of Xbox 360 games that owners of the Xbox One will be able to play when that console's backwards compatibility feature goes live on November 12 as part of the New Xbox One Experience.
The list contains 104 Xbox 360 games. Here's what you will be able to play on the Xbox One soon:
A Kingdom for Keflings
A World of Keflings
Alien Hominid HD
Assassin's Creed II
Asteroids & Deluxe
Banjo Kazooie®: Nuts & Bolts
Banjo-Kazooie®
Banjo-Tooie®
BattleBlock Theater
Bejeweled 2
Bellator: MMA Onslaught
Beyond Good & Evil HD M
Blood of the Werewolf
BloodRayne: Betrayal
Borderlands
Call of Juarez® Gunslinger
Castle Crashers
CastleStorm
Centipede & Millipede
Condemned: Criminal Origins
Crazy Taxi™
Deadliest Warrior: Legends
Defense Grid: The Awakening
DiRT 3
DiRT Showdown
Discs of Tron
Doom
Doom II
Dungeon Siege III
Earthworm Jim HD
Fable II
Fallout 3
Feeding Frenzy
Feeding Frenzy 2: Shipwreck Showdown
Gears of War
Gears of War 2
Gears of War 3
Gears of War: Judgment
Golden Axe
Halo: Spartan Assault
Hardwood Backgammon
Hardwood Hearts
Hardwood Spades
Heavy Weapon
Hexic HD
Ikaruga
Jetpac Refuelled
Joy Ride Turbo
Just Cause 2
Kameo: Elements of Power
LEGO Pirates of the Caribbean: The Video Game
LEGO Star Wars: The Complete Saga
Lode Runner™
LUMINES LIVE!
Mass Effect™
Metal Slug 3
Metal Slug XX
Might & Magic Clash of Heroes™
Mirror's Edge™
Missile Command
Monday Night Combat
Monkey Island: Special Edition
Monkey Island 2: Special Edition
Ms. Splosion Man™
Mutant Blobs Attack!!!
N+
NBA JAM: On Fire Edition
NiGHTS into dreams…
Operation Flashpoint™: Dragon Rising
Pac-Man: Championship Edition™
Pac-Man: Championship Edition DX+
Perfect Dark
Perfect Dark Zero
Phantom Breaker:Battle Grounds
Pinball FX™
Plants vs. Zombies
Prince of Persia
Putty Squad
Rayman 3 HD
R-Type Dimensions™
Sacred Citadel
Sega Vintage Collection: Alex Kidd & Co.
Sega Vintage Collection: Golden Axe
Sega Vintage Collection: Monster World
Sega Vintage Collection: Streets of Rage
Shadow Complex
Sonic CD
Sonic The Hedgehog
Sonic The Hedgehog 2
Sonic The Hedgehog 3
Super Meat Boy
Supreme Commander 2
Tom Clancy's RainbowSix Vegas
Tom Clancy's RainbowSix Vegas 2
South Park: The Stick of Truth™
Torchlight
Toy Soldiers
Toy Soldiers: Cold War
Tron: Evolution
Ugly Americans: Apocalypsegeddon
Viva Piñata
Viva Piñata: Trouble In Paradise
Wolfenstein 3D
Zuma
Microsoft added:
Which Xbox 360 games are you most excited to play on the Xbox One from this list? Let us know your picks in the comments.
Source: Microsoft (opens in new tab)
Guess I'll wait for Halo Reach.

I was eager for forza horizon

:/ no transformers fall of cybertron

No need for speed most wanted'05

Nooop I frekin love that game. I don't see Burnout Paradise either.

Is there a list that shows how many of these have been GwG? Maybe a star next to the ones that are.

Dirt 3 is games with gold game for november.

Still no JRPGs. That's annoying but I know it's probably not MS's fault. :sigh:

There were JRPGs on the 360?!?!?! /s

So basically, none of the most popular games...

You're right, Gears of War and Halo are both pitiful franchises. Same with Bioshock. What terrible games.

I agree, I have over 50 games on Xbox 360 and only one is on the list. No Xbox One this Holiday.

Even at 299 at Gamestop for a Gears of War bundle??? That's pretty much bargain basement pricing to me. I paid 349 last year and that was the on sale price.

These were voted on by people, and then some of those removed because publishers didn't want to submit to Microsoft. So yes, they are, for the most part, popular games.

and MOST of the top games that WERE voted on are not here....

Looks like that voting thing that we did. Did work at all. The list is here https://xbox.uservoice.com/forums/298503-backwards-compatibility

It probably worked just fine. It's likely that Microsoft is doing the low-hanging fruit first, those games that need the least work to get running. After that, they'll start working on the list of the most popular games. And by working on them it's negotiate with the rights-holders first, and make them backwards compatible second. To expect all the highest-voted games to be available at launch is simplistic.

This is the same rigamarole we went throuh with BC games from the Xbox to the X360. The "low hanging fruit" theory is partially correct, but you also have to factor in how many of the X360 publishers intend to RE-publish their games themselves to sell them for another $30 rather than missing an opportunity for cash vs. just letting us bust out our old 360 disc version "for free". The BC list is nothing more than a gesture of good will to show they didn't leave their last-gen crew behind with a pile of money sitting around in the form of discs they purchased and can no longer use. They fully expect everyone to bleet about this for a year or so, then move on and forget about it in light of new XOne things happening, at which point they will abandon the effort. Sony did/does the same thing with its last-gen PS games. We can thank the console wars causing the mfgs to roll with whatever the cheapest equivalent to PC hardware is at the time, which is inevitably not compatible with last gen's.

It was based largely on game engine.
Yeah psn is missing some titles some obscure ones like reboot, etc, etc

On the way, buddy.. All 3 of them.. Read the article to the end

...yet. Read the quote below the list and your hope will be restored.

Reading is hard. Why read when you can throw out comments and let people correct you?

That's assuming they read the comments... I'm not at all sure that would happen if they didn't read the article.

Only a handful of decent games...

And yet people can find a reason to complain. If it would be up to me I would disable back ward compability for all of those people since the only thing they can do is to complain about it anyways

No kidding. A feature that wasn't even expected with a bredth and committment to future titles and people still complain. :( Man.

He/she has every right to complain...out of the top 50 voted, there are less than 25 of them that were on the list and these were not the top ones.... Voting didn't work at all here, If you look over the user voting page, the first 25 with the top votes, 2-4 are on the list now...

Blame the studios who insist you buy an HD remake of a game you already bought, instead of you know leaving the copy for dust, that's still completely playable to todays standards even without the bonus fluff. I refuse to lay down more dollars for the Xbox One version of GTA V because of how much of an afterthough the Online mode was (heists, a main game type, delayed for two years? Really?).

I'm both sad and happy that Dark Souls isn't on the list, lol.

I can't wait to play Condemned again. Great game.

Fallout 3, but no Skyrim :(

Not too impressive to me. Give me Witcher 2, max Payne 3, The orange box, etc. Some real heavy hitters.

On the way. Read the article until the end.

Oh god. I've become what annoys me the most. A user who doesn't read the whole article.. Thanks for enlightening me Jas00555

Yeah, that's disappointing. That was the one game that me and my buddies were all hoping for. I'll remain optimistic that it does eventually get allowed. I hope it isn't Valve being pessimistic about the XBO vs Steam Machines and stuff.

Portal, Alan Wake, please

No Need for Speed series!

Yeah, I would have wanted some Need for Speed games too! NFS Most Wanted or Carbon would be nice on Xbox One.

Mass Effect but not 2 or 3 which kinda makes putting it on there a little pointless.

Plus according to Phil, they are trying to figure the multi disc games emulation for Mass effect 2 and 3 Posted via the Windows Central App for Android

We need a backwards compatibility digital download section in the store so we can buy old games!

Yup yup xbox.com works great!

Yeah, this would encourage devs to put games into the BC program because then X1 players can start buying them.

we own the games let us play.

Microsoft is not blocking you from installing those games. Try running a 16 bit app on a 64 bit Windows. Even if you own a $999 software that is 16-bit, your modern 64-bit Windows will not be able to recognize it. It won't understand the meaning of the computer code. The Xbox 360 ran a different processor architecture altogether. Xbox One is much more like your everyday PC in that it runs on x86 instructions. The old games need to be recompiled by the publisher in order for them to be backwards-compatible, because emulation is likely very, very slow. (You would know if you've tried to emulate Xbox on PC)

They said that they can run any game in the emulator without any modification. Just watch the microsoft videos

I stand corrected. Even so, due to the nature of the contract terms, they need permission from the developers to allow it. :\

see here https://youtu.be/3PMjqmggn_o?t=151 I dont know how come WI did with WIU in all games. It is like if you bought a game for Windows Vista and you can load in windows 10. without ask any perm

As he said in the comment you replaied to, there's legal issues. Nintendo has a pretty tight grip on the games that get released on their system, Microsoft and Sony, not as much for emulation purposes. It's basically new to them so MS needs to get permission before emulating it.

What a pointless list of games. So they have us vote on what we wanted just to ignore the best games voted on? This is a joke and a complete failure. And whats with only putting 1 game of a series on there AC II but none of the others, ME 1 but not the others, Halo:SA but not the others... WTF Microsoft? This is a stupid list.

Microsoft doesn't control what's on this list--the developer has to agree to enable it. Think of it this way: this is 104 more backwards compatible games than what's offered on the PS4. Also remember that this is just the beginning. This list will grow.

If they truly had zero control over it then why ask us to vote on it? That's just setting them up for failure because they knew they wouldn't be able to get the games that people voted on because when you look at the vote list the top games are all major series, like COD, Halo, Mass Effect, Batman..etc. They had to have known those would be at or near the top of the vote list.

You definitely have a point about the voting deal. I will say this though, with it being free and the list continue to grow, it's a step in the right direction so not a complete failure yet. They said they do have to figure out the multi disc games to emulate too Posted via the Windows Central App for Android

free ? We did pay for these games right ?

I'm sure it may take more than just one game developer talking to one person at MS. For instance, Capcom has reiterated numerous times that they support backward compatibility, which in my mind says that we'll get Ultra Street Fighter 4. But currently Ultra Street Fighter 4 is an exclusive on PS4 in conjunction with Street Fighter 5. So I imagine it's things like this that may be holding games up. This is obviously just one specific example but it's something to consider. I also bet there are some instances where things will be "bundled" i.e. buy Grand Theft Auto 6 and GTA San Andreas and Vice City will be available too digitally as backward compatible.

They asked to vote, maybe because they wanted to show to game publishers that there's still demand for allowing old games and get them to agree.

IMO, voting is kinda an asset while dealing with the developer studios. Ask them to allow, if they deny show then that 100k people are asking for it and if u decline all of them are going to flood your Twitter feed with demands.

It tells Microsoft how much effort to put behind various titles. How is that not a thought that occurred to you. If Microsoft has to convince publishers to do this, i'm sure they're not sending out a blanket email to these guys. They're probably contacting them directly and tried to negotiate with them. No one said that Microsoft has zero control but they also don't have absolute control. I fail to see how you don't understand there's a possible gray area where Microsoft can exert influence, but not force a decision.

Easy. Because they can't know ahead of time what people will vote on. So, CoD4 didn't make the list. I'm sure it got voted on. Do you think Activision wants people flooding back to that game vs buying Call of Duty 17: The Same Crap Yet Again? It might eventually come but publishers care for one single thing only: money. They don't give a darn about what you like. So that's why the list is the way it is. Plenty of good games on there. Also, the list will grow. When publishers learn how to make money from it, it'll grow exponentially. ;)

Yes, unfortunately, this is how it must be.

How the hell are you so ignorant? Do you not understand what this backwards compatibility entails at all?

Could not agree more....some good titles on the list, sure but, ones that were top voted, where the heck are they ? Maybe 1 or 2 out of the top 10 voted, not impressive at this point,,,,

I was looking forward to seeing my Tom Clancy's ghost recon games

Was hoping for Halo Anniversary, Mass Effect 2...

No trials HD or evolution :(

Maybe in the future. But this time, we don't have a Coming SoonTM​

That's like a lot of Xbox Live Arcade games

Or any COD, even the very first ones would of been nice.... COD/ MW / Black ops....come on, none ? and BTW, top voted, shows it did't work....

Whoa. 35+ comments without a One Drive rant. I'm surprised.

I hate that they are cutting One Drive storage.

Me too. How dare they reduce my free storage which I don't pay anything for down to a lousy 5GB.

Damned if you do, damned if you don't.

I would love Call Of Duty Modern Warfare 2

Contact Activision. They said they are not bringing their 360 titles to the XBO. For the record, I want Modern Warfare 2 also.

Just bought far cry 3 because it was meant to be om that list, baa !!

And it will be-just isn't yet

So...when they say "Mass Effect" do they seriously mean Mass Effect 1 and not the whole franchise?

"Mass Effect 1" isn't a game, it's just Mass Effect, the series is "Mass Effect, Mass Effect 2 and Mass Effect 3" so, just the first game.

Don't be obtuse. Everyone knows that when I say Mass Effect 1, I'm referring to the original title. For clarification in a series, adding the 1 is completely appropriate.

I'm not being obtuse, I'm pointing out that Mass Effect is Mass Effect, not a series of games.

So you never refer to the franchise as a whole as Mass Effect? It is a series of games set in a singular universe. Mass Effect is the game and Mass Effect is the franchise just as Dragon Age is both the game and the franchise as a whole. The TM watermark appended to the title also adds further confusion. It suggests that the trademarked property that is "Mass Effect"- i.e. the franchise - is what is being refreneced.

While technically true, that's about as nitpicky as pointing out there was never a movie called Star Wars (the actual title of the 1977 film is A New Hope). Just sayin...

Yes because that's what the rights holder agreed to so far

What about Xbox live arcade games?

I literally don't have any of these games except the Gears of War series, Dungeon Siege III(of course), and Mirrors Edge... :(

You can buy any of them and play them via backwards compatibility. You don't have to already own them.

I bought the original Borderlands on eBay for less than $5 and it works just fine. Also got Bioshock Infinite waiting...

Hopefully Burnout Paradise makes it to the next round

I was hoping for some of the Splinter Cell or Batman: Arkham games. Maybe later...

Here I was thinking all the previous Assassin's Creed games would be available. Now it seems only AC II will be. In which case, "meh". I'll wait for it to go free on Gold. I don't care much for any of the other games. Maybe South Park: The Stick of Truth but even that one...

AC 2 was already free on Gold, it was like the second title...

I have quite a few of these. He'll yes to Ikaruga too. Doubt I'll ever beat it though!

I hope they hurry up with adding Deus Ex Human Revolution to that list, I want to play it through again before Mankind Divided comes out ^^

I'm surprised by how many Sega games are on this list. This gives me hope that we will see even more Sega games being made backward compatible soon.

Dirt 3 and Showdown are nice, but where's Driver San Francisco, Burnout Paradise, Need for Speeds or Forzas?

Glad to see Crazy Taxi, Ikaruga, NiGHTS, Pac-Man CE DX+, and Stick of Truth on the list. Disappointed that Braid, Child of Eden, Gunstar Heroes, Deadly Premonition, and Radiant Silvergun are not, though.

Do be patient, it was already explained, bigger games roll outs start this December with games like call of duty and some other voted for games. If some games aren't on Backwards compatibility list... Ask the developer NOT Microsoft. Developers have to agree and Microsoft does the rest and that is how it goes. Keep that in mind. Again, voted for games start with this December!

Damn, really wanted Top Spin 4 on this list.

I'm disappointed that none of the Forza games have been mentioned. I was wanting to go thru Forza Horizon again.

Hoping the Forza titles on the leaked list from last week are true. I need to get my tier level up and have nothing prior to Forza 5 on the XB1. Since they are a Microsoft property I would hope they would get the backward compatability treatment.

Halo Reach and Halo Wars not part of the Launch setup??? I don't get the guys at Microsoft...

I agree, it seems like they don't really know what to do when it comes to the X1. You would think the Halo & Forza games would have been the first ones on the list.

They're coming in December. They probably had some minor glitches that Microsoft wants to fix

They come in December, again read around, it has been announced.

Lots of popular titles... More to come. But people are still complaining. Appreciate this move. Such a great concept. And Microsoft has done the things. It's now depends on developers.

Publishers, not developers. Developers would love to see their games live on. Publishers have a different tune. I suspect with MS allowing EA Access, they may have a tentative deal to bring backward compatible titles to the One.

I agree. Would be stupid for Publishers not too and they would generate a few extra pounds out of their old games. I've saw Fallout 3 go from £3 to £13/15 now because of BC.

It seems like their 1st party titles would be a given with all the hype that has gone into BC on the X1. Hopefully this isn't something that will fade away like it did on the 360.

The leaked list was better. To me, it's Rare Replay, Gears: Ultimate, and then mostly indie stuff I jsut don't care about. It would have been nice if they got all of my retro XBLA arcade purchases (Galaga, Dig Dug, Pac-Man, etc.) running, or at least first first 2 Geometry Wars. BC won't be a part of my life for a while, I guess.

Everything you just mentioned has zero bearing on my life. Every game I own is on that list except for two games (Orange Box and Lost Odyssey) and any games that require extra hardware (kinect or rockband based games). So, surprise, the selection of games will have a different impact on different people. Can't we just be happy that its even happening at all? Talk about looking a gift horse in the mouth.

Nothing you said has any bearing on my life, either. I never asked you to be disappointed for me, so why should I have to be happy for you? Being happy that I can't play Halo: Reach yet is about as useful as being happy my One can't play a decent MLB game. You be happy. I'll be disappointed.

Someone needlessly makes your system more valuable and for free to boot. But no, lets be disappointed. That's like a random guy walking down the street, giving you a $20 and then getting disappointed because you wished it was a $50. What the hell?

Not really. How is MAYBE being able to play games I want at an undisclosed time making my system better? This would be more like getting a $10 gift certificate to Chick-Fil-A when the closest one is 90 minutes and $20-30 in gas away. Yeah, it's great if you're already making the trip (read: if these games are ones you want to play), but it's otherwise useless.

Also, no Skyrim? What the hell? But bullshit like Viva Pinata??? And why is Doom I and Doom II compatible, but Doom III is not? Doom I and Doom II can only be played, of the Doom III BFG Edition works. What a scam...

Viva Pinata is already BC because it was a Rare game (which MS owns) it's up to the publisher to give permission. I'm not sure why you think it's a scam, you werent forced into buying anyhting or promised anything that you didn't get.

Why would they do skyrim
Rim when xbone already has Skyrim online. That would be stupid for them.

Black ops 1 (wish it was 2) and Just Cause 2 for me. Is it any game you played/saved on 360 (even ones I borrowed)?

Any game where you still have the physical disc, or digital license. Digital license games show up in your games list as 'available'
Disc based games download from Xbox Store when you insert the disc. Disc required to play.

it'd be neat if you could pay a small fee to change a physical license into a digital one. hell, i'd even be willing to send them the disc as proof that i own it.

Well I used a ps3 more. Had a few 360 games. Dont think they made the list but one.

No Battlefield Bad Company!?!?

Hell yeah! I've got a lot of those!

I think Soulcalibur IV is supposed to be on that list as well.

Miss Red Dead Redemption, Witcher 2 and Halo Wars the most.

Halo Wars is for December

COD Black Ops 2 was the most requested title, where is it on the list?

I don't think they would have allowed that because Black Ops 3 has literally just come out. Would have been damaging for their game. But they did say the original Black Ops games will come so probably after some time.

Dang, no Lost Odyssey or Blue Dragon yet. I guess Halo Wars is the one I'm most looking forward to that's on the list.

You know where playstation is, try their backward compatibility games!

and then you can look at their free games each month and have blown away the Xbox selection over the years.... Dont go there

GRAW2, Family Game Night, COD4, GTA: San Andreas, Medal Of Honor...

I doubt medal of honor will ever make it considering it crumbled and the franchise has been cancelled..

Which is why it makes to s if sense for them to make it backwards compatible it was a super popular game.

if the publisher is still selling the game, then yes, it'd make sense. otherwise, it doesn't make sense, at least not for that reason. if they aren't selling it anymore, the only thing of value they have from allowing BC is th